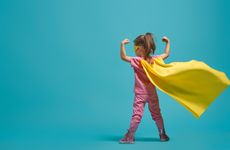 NEW YORK – Although there are well-established treatments for many of the cancers that occur in children, there are cases where reliable treatments do not exist, particularly for pediatric cancers that recur.
Those difficult-to-treat cases are among those being tackled through KidsCanSeq, a Texas-based  genomics-centered pediatric oncology study. The effort was launched in 2018 with $2.8 million in funding from the second phase of the National Human Genome Research Institute's Clinical Sequencing Evidence-Generating Research Consortium, known as CSER2.
"In KidsCanSeq, we're really focusing on individuals who have recurrence of their cancers and seeing how this information might guide treatment at that point where there is a lot of clinical uncertainty about what the best course of action is," said Amy McGuire, a co-principal investigator for KidsCanSeq and director of Baylor's Center for Medical Ethics and Health Policy.
For the study, investigators are looking at how genetic testing is implemented in pediatric cancer care at five sites in Texas. The study will look not only at how testing is used to inform treatment, but also explore the experiences and perceptions of oncologists and family members, who are also participants in KidsCanSeq.
"For a child with a hard-to-treat or relapsed cancer … some type of molecular testing would be part of what you would want to do, in terms of identifying patient treatment options,'' explained Donald Parsons, a pediatric oncologist and cancer genetics researcher affiliated with Texas Children's Cancer Center and the Baylor College of Medicine.
"It's not so much a question of doing molecular testing or not. It's more [a question of] what are the most useful ways to do it," added Parsons, who also serves as the Children's Oncology Group (COG) chair for the National Cancer Institute-COG Pediatric MATCH trial. 
The work builds on other clinically focused pediatric cancer genomics projects done at Baylor and Texas Children's Hospital over the past decade, including an initial CSER consortium study called the "Baylor Advancing Sequencing in Childhood Cancer Care" (BASIC3) that ran from 2012 to 2016.
"We did tumor and germline exomes clinically [for BASIC3]. All of our work is done with [CLIA-] certified testing and goes back to the medical record," noted Sharon Plon, a KidsCanSeq co-principal investigator, molecular and human genetics researcher at Baylor, and director of the Texas Children's Hospital cancer genetics clinical and research programs. "It's very different from some of the large tumor genomic studies where people collect a whole series of tumors of the same type and do sequencing to make discoveries."
The BASIC3 study was launched before many of the current molecularly targeted treatments arrived on the scene and were approved by the US Food and Drug Administration, Parsons said, noting that tumor sequencing studies, precision oncology trials, and molecular testing have also expanded dramatically in recent years.
In KidsCanSeq, the team is building on those advancements in precision oncology to bring tumor sequencing and other precision oncology approaches to oncologists and patients at a range of hospitals, including Texas Children's Hospital; the University of Texas Health Science Center in San Antonio; Cook Children's Health Care System in Fort Worth; the Children's Hospital of San Antonio; and the Vannie E. Cook Children's Cancer Clinic in McAllen.
"The goal was to involve a set of institutions across Texas, where we could study what we can find in the tumors for those patients, and in those different settings, how the results would be used in terms of enrollment of patients on trials or other treatments," Parsons said.
While BASIC3 relied on exome sequencing, the KidsCanSeq team is testing several distinct tools for tumor and matched normal testing — from panel sequencing and exome sequencing to transcriptome sequencing and array-based copy number analyses — to weigh the utility of these approaches, along with related logistic and ethical considerations.
Clinical panel testing is carried out at the Texas Children's Hospital molecular pathology lab, and is being compared to an integrated tumor test, and resulting cancer genome report, based on array-based copy number testing done at Texas Children's Hospital and exome and transcriptome sequencing done at Baylor.
Members of the team are keeping tabs on which patients end up on treatments or on trials that are informed by the molecular features found through KidsCanSeq. More than 300 patients have been enrolled in KidsCanSeq since the study began, and the investigators plan to enroll as many as 1,000 patients.
Molecular pathologists at Texas Children's Hospital routinely interpret the data from tumor analysis, searching for variants informative for care, while germline experts such as Plon focus on inherited cancer susceptibility factors that may affect pediatric cancer patients and their relatives.
Along with teaching rounds and other resources to help clinicians become familiar with, and work through, the findings, groups of KidsCanSeq investigators focused on interpreting the tumor or the germline results convene regularly to review test turnaround times, challenging variants, and unusual findings.
Those meetings have moved online due to the COVID-19 pandemic, which has also sparked an increase in telemedicine appointments with patients and their families, particularly in situations where an in-person meeting is not needed.
Gauging the effectiveness of telemedicine for genetic counseling and other appointments was an element of the KidsCanSeq study from the beginning but has taken on more urgency in recent months.
"You can imagine if you have children with cancer who are potentially immunosuppressed, you're going to be more cautious about getting them into a clinic setting to do non-urgent care," McGuire noted.
Oncologists, who are enrolled as participants in the study, are completing surveys along the way to share details, such as their comfort with using sequencing data in clinical care and their perceptions of the potential benefits.
"One of the things we're really interested in is trying to integrate this into more of a community setting," McGuire explained. "How do oncologists and patients and parents manage the information? That's something we're in the middle of studying with our oncologists."
Though the study is ongoing, the surveys oncologists filled out when the study started suggested that most feel fairly comfortable with the idea of applying sequencing to clinical care and are confident about the potential benefits of clinical sequencing, she noted. McGuire acknowledged though that the initial optimism captured in the survey may have been more reflective of oncologists' comfort level with tumor sequencing, since germline analyses were sometimes less familiar to oncologists at the study's baseline.
"With the germline findings they were a little less comfortable," McGuire said. "It was kind of outside of their area of specialty. But we did have them partner with genetic counselors to communicate that information and they felt that that was particularly useful for returning germline findings."
As the study progresses, the investigators are aiming to tease out effective strategies for educating oncologists and families about the clinical sequencing approaches, and to return results to families in a clear and meaningful way — be it in-person sessions with genetic counselors, a telemedicine appointment, or a letter, in the case of some families with negative findings.
"We're still very much in the midst of data collection," McGuire said. "We don't have a whole lot of data from our six-month follow up yet. But so far, our data has been encouraging in terms of the ability of oncologists and parents of these patients to understand the study and to engage fully in it."
For clinicians participating in the study, for example, Plon highlighted the importance of ongoing communication with the KidsCanSeq investigators to discuss issues facing the families they are seeing at their centers and work through clinical sequencing reports.
The team also has hints about how such approaches may be received by children and their families from the earlier BASIC3 study, McGuire noted. In that study, parents also often cited a sense of parental duty behind their interest in participating in the study, which they hoped would reveal an avenue for improving their child's treatment.
"When we talk about sequencing children, particularly germline sequencing, oftentimes people raise a lot of concerns about future discrimination and how this information might get used," she said. "All those concerns exist for our patient population. But I think the potential benefits, in terms of the ability of this information to help guide their child's cancer treatment or care, kind of outweigh those."
For KidsCanSeq, parents are offered educational videos available in English and Spanish, as well as integrated genomic testing reports and genetic counseling sessions held in person or via telemedicine.
"We're extremely careful in our education and informed consent process," McGuire said, "and we have additional videos in both English and Spanish, and really try to help parents understand what kinds of information they might get back from this type of sequencing and what it could be used for."
These family members also fill out a baseline survey and provide feedback immediately after they receive the results, and again six months later on how they are using the information from the tumor and germline sequencing tests, if at all.
The team is also exploring the possibility of directly surveying with adolescents and young adults being treated for cancer within the program, McGuire said. For example, CSER consortium member projects have discussed the possibility of adding new survey questions to explore how research participants and clinical care strategies are being impacted by the COVID-19 pandemic.
Enrollment in the KidsCanSeq study has dipped somewhat since the pandemic began, though patients who are already enrolled are continuing to be evaluated, and non-essential in-person visits have been scaled back.
"We're continuing with testing for patients who were previously enrolled, but we have not been approaching new patients in the clinic," Parsons said. "If there was a patient that, for some reason, we thought it was clinically essential to do it, then we could do it."