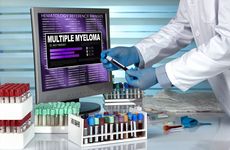 NEW YORK – If the goal is to enroll as many people as possible in a precision medicine program, the process has to be easy for patients, regardless of their condition, geographic location, or socioeconomic situation. That is the aim of the Multiple Myeloma Research Foundation's (MMRF) recently launched at-home genomics initiative.
The MMRF's CureCloud program is designed to give multiple myeloma patients around the country easy access to genomic testing, saving them from having to travel to larger cancer centers far from home to undergo bone marrow biopsies. Instead, the program utilizes online resources, centralized sequencing and interpretation, and a network of phlebotomists who retrieve blood samples from patients' homes for genomic analysis on a 70-gene cell-free circulating DNA test.
"A patient can click a button, a phlebotomist shows up to their house, and now we're sequencing their genome free of charge. Why? Because they need that data, but the entire myeloma community needs that data, too," MMRF Founder and Chief Mission Officer Kathy Giusti explained in a video presented at the online launch for CureCloud last week.
From the sequencing results, the program aims to uncover tumor and immune alterations that may identify targeted treatment options for patients or inform clinical trial eligibility. Physicians will also receive a list of drugs that their patients may be eligible for, including treatments approved for the same alteration in another cancer.
More broadly, the team will search for alterations with potential ties to treatment responses or patient outcomes by testing around 5,000 individuals in the next five years — part of a prospective, observational study known as the CureCloud Research Initiative.
Precision medicine "is really in its infancy" in multiple myeloma, said Anne Quinn Young, MMRF's chief marketing and development officer. With this initiative, the MMRF is hoping to lift access barriers to genomic testing and advance molecularly guided treatments for multiple myeloma. 
"It's no longer an issue of where you live, or who you know. Do you have insurance? Do they cover it? This is available for everyone with myeloma, and it breaks down all of those barriers," said Ellen Matloff, a certified genetic counselor and co-founder and CEO of My Gene Counsel.
The MMRF, in launching this initiative, has partnered with the Broad Institute, Dana-Farber Cancer Institute, My Gene Counsel, Cota Healthcare, the research operational management services company Prometheus Research, the Prophet consulting firm, and Prophet's digital services company Springbox. The cell-free DNA sequencing is being performed at the Broad.
"Having genomic data from everyone who develops the disease is really going to be what's critical in breaking barriers, not only [for individuals of] different ethnic backgrounds and [from] different socioeconomic backgrounds, but for the entire disease."
Resource for all patients
Around 100 multiple myeloma patients signed up for CureCloud within the first day. Traver Hutchins was one of them.
"I signed up before the end of the webinar," he said. "I got the form out to the doctor and signed all in a day."
Hutchins, who works in consumer health education, was first diagnosed with smoldering multiple myeloma in 2008. He became involved in fundraising and other efforts for MMRF not long after and participated in the foundation's bone marrow-based MMRF CoMMpass research study.
But after four bouts of relapse, and shorter remissions each time, his treatment options were flagging.
"I've burned through 12 new drugs over the last 10 or 12 years," he said. "But they weren't being guided by genetic pathways."
Already on the hunt for clinical trials before signing up for CureCloud, Hutchins is looking forward to getting the data from the 70-gene cell-free circulating DNA test in front of his doctor to help make personalized data-driven treatment and trial decisions. His results are expected within four to six weeks of signing up.
Beyond informing his own care, Hutchins is eager to contribute data to a resource that will improve options for other multiple myeloma patients. "It's all upside: more information has to be a good thing," Hutchins said. "It's for all patients."
Genomics at home
For patients, the process is simple — perhaps deceptively so, given the collaborations, coordination, test validation, and pilot experiments leading to the IRB-approved protocol, CLIA-certified liquid biopsy test, and CureCloud's launch.
Those who are interested in being part of the study enter their contact information online and answer a few questions about their medical history. If they are eligible for the study, patients then fill out a waiver allowing their medical records to be shared with, and stored on, the CureCloud network, before moving on to the blood draw stage.
Those blood draws do not happen until each patient's doctor signs a sample requisition form provided by MMRF, making it possible to send a blood draw kit to the patient, who goes on to schedule an at-home appointment with a mobile phlebotomist.
From there, patients' samples make their way to the Broad for sequencing using a cell-free circulating DNA 70-gene panel test developed jointly by MMRF and the Broad.
Each patient's sequences get evaluated by a molecular pathologist at the Dana-Farber Cancer Institute, who searches for actionable alterations to include in the test report. In the physician portal, doctors will learn of clinical trials and therapies that may be relevant for their patients based on the identified alterations.
From the same sequencing data, digital healthcare company My Gene Counsel produces patient-focused reports, making it possible for patients to dig into their own genomic results and become part of the search for a successful treatment.
"We've certainly seen the tide of patients as consumers of healthcare," said Danielle Bonadies, My Gene Counsel co-founder and director of genetics, adding that patients are increasingly at the center of their healthcare journey and desire tools for making better decisions about their own care.
Tumor profiling to trials?
Breaking down obstacles to tumor profiling may also chip away at the barriers preventing some patients from accessing clinical trials, Matloff observed. That is particularly true now that the COVID-19 pandemic has prompted some clinical trial flexibility, allowing greater use of telehealth and digital health tools.
"We've been forced to say, 'We can do that by phone, or we could do this with digital tools.' We can make this successful and not force someone to take the day off of work, to get childcare, to get a ride an hour to a healthcare system. We might be able to make this easier for them to do from home," she said. "We think that that is going to be incredibly important for clinical trials — not only in getting more people involved in clinical trials, but in breaking down the barriers for many groups of people who have, in the past, felt that that just wasn't open to them."
That flexibility can be important, even for patients who live close to large cancer centers. Hutchins, who is based not too far from New York City, pointed to the potential appeal of a trial that would allow him to receive treatment at a local hospital.
Such considerations are even more pressing for multiple myeloma patients in remote or rural locations, or for those who face other personal or economic restrictions that make it difficult to enroll in trials or to access the types of tumor testing that can open up new trial options.
Television broadcaster Tom Brokaw, who was diagnosed with multiple myeloma in 2013, voiced such concerns in a video shared by MMRF during last week's CureCloud webinar.
"When I get this kind of a diagnosis, I have access, I have resources," Brokaw said. "I thought a lot about somebody who lives 120 miles outside of Wichita, Kansas — what the hell do they do? What happens? He should have the same treatment that I do."
At the same launch event, Rodney Gilmore, a multiple myeloma patient, member of the MMRF board, and sports analyst with ESPN, noted that Black men remain an underserved group in multiple myeloma, despite being twice as likely to be diagnosed with the disease.
"MMRF is completely committed to making sure it has equity in healthcare," Gilmore said. "I think CureCloud will really help [with] that."
In an interview with Precision Oncology News affiliated news site GenomeWeb, MMRF Chief Scientific Officer David Auclair noted that tumor profiling tends to be centered on a few large centers such as Memorial Sloan-Kettering, Dana Farber, or Mount Sinai, leaving many multiple myeloma patients out in the cold.
"The biggest predictor of your survival of cancer is your zip code," Auclair said. "If you don't have access to these great centers and technologies, sadly your outcome is likely to be much worse. So, [for CureCloud] we thought … how can we bring the power of genomics to patients everywhere in the country, especially patients who would be seen in community centers?"
Myeloma and more
At the moment, CureCloud is limited to multiple myeloma patients in the US, though Quinn Young noted that MMRF is exploring options for expanding into other countries in the future.
The program is not yet available to patients in New York, since the state requires additional testing approval, she said. There are also states such as Alaska and Hawaii that do not currently have mobile phlebotomists contracted to do blood draws for CureCloud.
To participate in the current iteration of CureCloud, patients must also have active multiple myeloma, primarily to ensure that there is enough cell-free DNA available to pick up mutations stemming from the tumor. "If they're responding to treatment, there wouldn't be enough [cell-free tumor DNA] to sequence," MMRF's Quinn Young explained.
She noted that many genes on the current panel test have not been validated for guiding treatment or evaluating treatment resistance risk in multiple myeloma, though the investigators expect to uncover ever more of these associations, while getting a better look at the heterogeneity of multiple myeloma as the project goes on.
"What will happen on the research side is, if these [genetic alterations] keep showing up and showing up, it justifies more research into what that means. Especially as you start to … look at the clinical data with them," Quinn Young explained, noting that it may be possible to add or remove genes from the sequencing panel as the data comes in on the alterations that are most informative for patients.
The MMRF team is also exploring additional assay types, including tests focused on tumor cells circulating in the blood, both for CureCloud and for another project centered on smoldering multiple myeloma cases.
MMRF COO Michael Andreini emphasized the importance of patient privacy throughout the process, noting that the data available to patients and their doctors will be stored in a secure, encrypted database. That data will be anonymized and aggregated when used for research purposes.
More broadly, My Gene Counsel's Matloff said the CureCloud approach is "carving a path" for researchers, institutions, and research foundations working on other conditions, and demonstrating the potential upside of providing genomic data for free. "They really see that having that data on everybody with a certain condition, or in a disease group, is what's going to open doors for discovery [and] for personalized medicine to move forward," she said. "It's really very exciting, and MMRF is leading the way."
--
With additional reporting by John Gilmore.