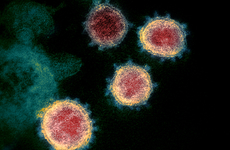 NEW YORK – New research suggests that variation at human leukocyte antigen (HLA) loci may account for the asymptomatic SARS-CoV-2 infections documented in roughly 20 percent of individuals who contract the coronavirus.
"[W]e were able to show a clear, strong, and replicable genetic basis for asymptomatic disease course and provide a clear mechanistic explanation for that association," Jill Hollenbach, a researcher at the University of California San Francisco and the co-senior author of the study, said in an email.
As they reported in Nature on Wednesday, she and her colleagues at UCSF's Weill Institute for Neurosciences and other centers in the US, Brazil, Australia, and the UK turned to high-resolution genotyping data to search for potentially protective variants across five HLA loci in 1,428 unvaccinated individuals with one or more positive tests for SARS-CoV-2 infection, including 136 participants who remained symptom-free for two weeks or more after a positive test.
The participants were recruited through a UCSF effort known as the COVID-19 Citizen Science Study, which relied on a mobile app to follow disease features in almost 30,000 individuals who were part of an existing bone marrow registry. Symptom-free individuals were identified between early 2020 and April 2021, prior to the widespread availability of COVID-19 vaccines.
The team unearthed an association between symptom-free SARS-CoV-2 infection and the HLA variant HLA-B*15:01. The potential ties to this HLA region were subsequently validated through a re-analysis of HLA-specific data from a UK study that included 69 asymptomatic SARS-CoV-2-infected hospital workers.
The investigators also used a combination of targeted enrichment, amplification, droplet digital PCR, and sequencing to assess HLA regions in samples from a longitudinal UCSF effort known as the COVID-19 Host Immune Response Pathogenesis study, together with samples from the Long-term Impact of Infection with Novel Coronavirus cohort, part of an observational clinical trial at UCSF.
"By studying their immune response, this might enable us to identify new ways of promoting immune protection against SARS-CoV-2 that could be used in future development of vaccines or drugs," co-senior author Stephanie Gras, a researcher at La Trobe University in Australia, said in a statement.
The HLA-B*15:01 variant appeared to be more than twice as common in individuals who were impervious to COVID-19 than in their COVID-19 symptom-susceptible counterparts, the researchers reported. While it turned up in some 10 percent of the participants profiled overall, around 20 percent of individuals with a history of asymptomatic SARS-CoV-2 infections carried at least one copy compared to just 9 percent of symptomatic COVID-19 patients.
Together with results from follow-up T cell-focused experiments, the genetic results suggested that the HLA-B*15:01 variant may boost the odds of a symptom-free SARS-CoV-2 infection by prompting CD8-positive T cells to respond to the virus as though they had been exposed to it before — a so-called "memory T cell" response that was assessed further using protein crystallography and CD8-positive T-cell response experiments on peripheral blood mononuclear cell samples from individuals with the protective variant prior to the COVID-19 pandemic.
The team's results suggested the HLA-B*15:01 variant made it possible for immune cells to recognize SARS-CoV-2 due to similarities between a spike protein peptide called NQKLIANQF and a similar peptide in previous and more benign circulating coronaviruses such as the common cold.
"While the existence of pre-existing immunity had been previously demonstrated, this was the first time that [it] had been linked to a genetic association with disease course," Hollenbach noted.
"We are hopeful that these findings can help to inform vaccine design, not just for SARS-CoV-2, but potentially other viruses as well," she explained. "It helps us to think about the potential for focusing on prevention of symptoms rather than prevention of infection."