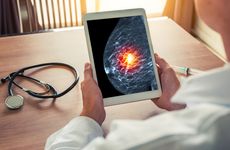 NEW YORK – Studies by two independent research teams are offering a clearer picture of the germline pathogenic variants that contribute to breast cancer risk, suggesting that some risk genes may be linked to specific breast cancer subtypes, while others are more broadly associated with breast cancer.
For one study, published on Wednesday in the New England Journal of Medicine, members of the Breast Cancer Association Consortium considered 34 potentially cancer-related genes, bringing together panel sequence data for almost 60,500 women with breast cancer and nearly 53,500 controls to search for protein-truncating or rare, missense variants that are overrepresented in the germlines of those with breast cancer.
The team highlighted protein-truncating variants in five genes that had the most pronounced ties to breast cancer: BRCA1, BRCA2, ATM, CHEK2, and PALB2. Protein-truncating variants in four more genes — BARD1, RAD51C, RAD51D, and TP53 — showed more moderate ties to breast cancer susceptibility, and 19 genes on the panel were not associated with breast cancer in their cohort.
While rare, missense variants in genes such as ATM, BRCA1/2, TP53, and CHEK2 were linked to breast cancer in general, the researchers reported, more common protein-truncating variants in the ATM and CHEK2 genes were specifically linked to the development of estrogen receptor-positive breast cancer subtypes. Risk for estrogen receptor-negative breast cancer appeared to be enhanced in women carrying protein-truncating variants in BRCA1/2, BARD1, PALB2, RAD51C, and RAD51D.
"[T]he results help to define a more rational 'gene panel' that should be used in genetic testing," senior and corresponding author Douglas Easton, director of the University of Cambridge's Centre for Cancer Genetic Epidemiology, explained in an email, adding that the study "provides more reliable risk estimates that can be used by physicians and genetic counsellors to advise women on their risks, and make informed decisions about how to manage their risks."
He and his co-authors cautioned that additional data, including pedigree insights, may provide more precise risk estimates for genes with known breast cancer associations, and for genes that only showed "equivocal" ties to the disease in the current study.
For a related paper, also published in NEJM on Wednesday, Fergus Couch, a researcher at the Mayo Clinic in Rochester, led a team that used a custom multigene amplicon sequencing panel to profile pathogenic germline variants in 28 cancer predisposition genes in 32,247 individuals with breast cancer and more than 32,500 unaffected controls, who were enrolled through "Cancer risk estimates related to susceptibility" consortium studies.
In the process, they highlighted a dozen pathogenic variants that were overrepresented in the breast cancer cases compared to controls, including changes to BRCA1/2, and found that overall risk mutation frequency was similar in women from different ancestral groups.
That team saw moderate breast cancer susceptibility in individuals carrying pathogenic variants in the PALB2 gene, while pathogenic variants in 16 other genes on the panel did not show clear ties to breast cancer risk.
When it came to the risk of specific breast cancer subtypes, meanwhile, the investigators noted that inherited pathogenic variants in three genes — BARD1, RAD51C, and RAD51D — appeared to coincide with enhanced risk of estrogen receptor-negative or triple-negative tumor subtypes, particularly in Black and Hispanic women. Estrogen receptor-positive cases more often turned up in individuals with germline pathogenic variants in the ATM, CDH1, and CHEK2, they noted.
"Previously, the risks provided to women with mutations were mainly derived from studies of high-risk women with family histories of cancer," Couch said in an email. "Now we can provide more accurate risks for those who don't have these family histories. This may become important as more women, and not just high-risk women, are tested for mutations."
In a NEJM editorial, the Women's College Research Institute's Steven Narod suggested additional prospective studies and analyses aimed at clarifying management options for women with pathogenic variants in genes such as ATM or CHEK2 that are associated with moderate breast cancer risk.
"[H]ow well equipped are we to advise patients who have a variant in CHEK2 or ATM?" Narod wrote. "More research is needed to determine the magnitude of cancer risk and the cancer spectrum for each of these genes."