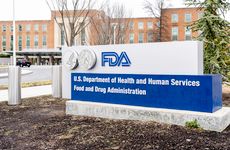 NEW YORK – Ahead of a much-anticipated advisory committee meeting Friday, reviewers from the US Food and Drug Administration raised concerns about the surrogate endpoint Sarepta Therapeutics has chosen to demonstrate the efficacy of its investigational gene therapy for Duchenne muscular dystrophy (DMD).
FDA reviewers outlined their concerns in documents released Wednesday, a few days before experts from its Cellular, Tissue, and Gene Therapies Advisory Committee are slated to meet, discuss, and vote on whether the agency should approve Sarepta's SRP-9001 (delandistrogene moxeparvovec) as a treatment for DMD, a rare and inherited disorder characterized by progressive muscle weakness.
Sarepta's adeno-associated virus (AAV) vector-based gene therapy is designed to treat ambulatory DMD patients with mutations in the DMD gene that result in a lack of the dystrophin protein. Industry observers and biopharmaceutical competitors have been closely watching the path to market for investigational gene therapies like SRP-9001, as Peter Marks, director of the FDA's Center for Biologics Evaluation and Research, has in recent months said the agency wants to use the accelerated approval pathway to expedite getting such treatments to patients.
But FDA reviewers in the briefing document said clinical data submitted by Sarepta "do not provide unambiguous evidence that SRP-9001 is likely beneficial for ambulatory patients with DMD." 
SRP-9001 delivers a transgene that encodes for microdystrophin, an engineered protein that Sarepta says can carry out the normal functions of dystrophin, the protein that is perturbed in DMD patients. Sarepta is seeking accelerated approval for SRP-9001 based on a surrogate endpoint: change in expression of microdystrophin at 12 weeks after an infusion of SRP-9001. The company is hoping the treatment will change patients' disease trajectory to a milder phenotype. 
Sarepta in its biologics license application to the FDA submitted data from Phase I, Phase I/IIa, and Phase II trials. In part I of the Phase II trial — the only randomized, double-blind, placebo-controlled study data available, according to the FDA — the drug failed to demonstrate a statistically significant result for patients treated with SRP-9001 compared to placebo when measuring change from baseline on the North Star Ambulatory Assessment score, one of the study's two primary outcomes. The other primary outcome, quantity of microdystrophin protein expression 12 weeks after treatment, increased with increasing doses of the drug.
However, FDA reviewers said it is unclear the extent to which microdystrophin functions similarly to other dystrophin proteins. "Sarepta's microdystrophin is a novel, engineered protein; no epidemiologic or pathophysiologic evidence of its function is available," reviewers said. "Measurement of levels of Sarepta's microdystrophin in muscle tissue only provides information about expression of the transgene product in cells transduced by SRP-9001, rather than insight into a pharmacologic effect on a biomarker in the pathway of the disease."
In fact, reviewers noted that the agency had suggested as early as 2018 that Sarepta measure an endpoint other than microdystrophin, such as one that would allow the agency to gauge how a patient "feels, functions, or survives" after taking SRP-9001.
The accelerated approval pathway allows sponsors to gain approval for drugs based on a surrogate endpoint, as long as sponsors commit to conducting post-market confirmatory trials that demonstrate the drugs improve clinical outcomes. This post-market data on clinical outcomes is necessary to convert an accelerated approval into a full approval. Still, to gain accelerated approval in the first place, Sarepta must prove that microdystrophin is "reasonably likely" as a surrogate endpoint to predict clinical benefit.
The FDA said it is convening the advisory committee meeting to discuss issues including whether microdystrophin expression is an appropriate surrogate endpoint, safety issues seen with the therapy such as acute liver injury and thrombocytopenia, and other uncertainties associated with administering the gene therapy. For example, the human body can wage an immune response to the AAV vector involved in an intravenous AAV-based gene therapy, which can cross-react with other AAV vectors, meaning that patients may only be able to be treated with an AAV vector therapy once, according to the FDA document. 
"Patients for whom the dose is inadequate are unable to receive additional doses of the same medication," FDA reviewers said. "Moreover, those patients for whom SRP-9001 is ineffective would be unable to receive subsequent treatment with a different, beneficial AAV vector-based gene therapy product."
The briefing document prepared by FDA reviewers does not represent the agency's final position on SRP-9001. Additionally, the recommendations of independent experts on the FDA's advisory committees are nonbinding, though more often than not, the agency follows the advice of its expert panels. The FDA is expected to complete its review of SRP-9001 later this month.