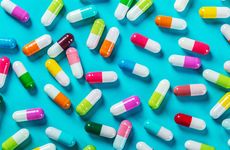 NEW YORK – On Friday, the US Food and Drug Administration announced that it had approved Eli Lilly's selpercatinib (Retevmo) for three RET-driven cancer indications. The drug will be available in specialty pharmacies by next week.
The agency granted accelerated approval to the drug in a line-agnostic manner for RET fusion-positive metastatic non-small cell lung cancer; RET-mutant advanced or metastatic medullary thyroid cancer (MTC) that requires systemic therapy; and RET fusion-positive thyroid cancer that requires systemic therapy and has stopped responding to radioactive iodine therapy. A line-agnostic indication will allow patients with these genetic alterations to use the drug regardless of whether they are treatment-naïve or have received earlier lines of therapy. Selpercatinib is the first therapy approved for cancer patients with RET gene alterations.
The FDA approved the drug three months ahead of its goal date based on data from the LIBRETTO-001 study, in which RET gene alterations were determined prospectively by next-generation sequencing, PCR, and fluorescence in situ hybridization, performed in local labs. Alterations were gauged in tumor tissue and plasma.
In lung cancer, the approval was based on data from 105 adult patients with RET fusion-positive NSCLC who were previously treated with platinum chemotherapy, and 39 patients with RET fusion-positive NSCLC who had never undergone treatment. The overall response rate for previously treated patients was 64 percent, among which 81 percent saw their response last at least six months. The overall response rate for treatment-naïve patients was 84 percent, with 58 percent having a response that lasted at least six months.
According to Anne White, president of Lilly Oncology, selpercatinib is the first drug that has demonstrated clinically meaningful response in patients with advanced lung cancer who also have difficult-to-treat brain metastases. "About half lung cancer patients end up with brain metastases, and we actually have a 91 percent overall response rate in those patients … and the median duration of response in the brain was 10 months," White said in an interview. In the LIBRETTO-001 trial, 11 NSCLC patients had brain metastases.
In MTC, selpercatinib's approval was based on data from 143 patients with advanced or metastatic RET-mutant MTC who had been previously treated with cabozantinib (Exelixis' Cabometyx), vandetanib (Sanofi Genzyme's Caprelsa) or both drugs, and patients with advanced or metastatic RET-mutant MTC who had not received prior treatment with these agents.
Among the 55 previously treated patients, the overall response rate was 69 percent, and 76 percent had a response lasting at least six months. In the 88 patients who had not been previously treated with an approved therapy for MTC, the overall response rate was 73 percent, with 61 percent having a response that lasted at least six months.
In RET fusion-positive thyroid cancer, FDA approval was based on data from 19 patients who progressed on radioactive iodine therapy and had received another prior systemic treatment, and eight patients who were radioactive iodine therapy-refractory and had not received any additional therapy. The overall response rate among the 19 previously treated patients was 79 percent, with 87 percent having response that lasted at least six months. All eight patients who didn't receive another therapy other than radioactive iodine responded to selpercatinib, and 75 percent had a response that lasted at least six months.
Selpercatinib is a selective kinase inhibitor that was developed by Loxo Oncology, which Lilly acquired in 2018. It first entered clinical trials in May 2017 and has sped through the drug development process, spurred by the FDA's growing willingness to approve drugs based on high response rates in single-arm, early-phase trials.  
The Phase I/II LIBRETTO-001 enrolled patients with a variety of RET-fusion positive solid tumors, medullary thyroid cancer, and other RET-activated cancers. Maura Dickler, VP of late-phase development at Lilly Oncology, said in an interview that RET alterations across tumors are rare, but Lilly is interested in a potential pan-tumor indication for selpercatinib and is continuing to enroll patients with RET-altered cancers in other histologies.
In NSCLC, RET fusions have been identified in about 2 percent of patients. In the thyroid population, which includes papillary, Hurthel cell, anaplastic, and other poorly differentiated thyroid cancers, about 10 to 20 percent of patients have RET fusion-positive thyroid cancer. Around half of sporadic MTC cases have RET point mutations, and about 90 percent of germline MTC cases have a RET point mutation.
"All told, it's probably about 5,000 to 6,000 patients a year in the US, probably similar numbers outside the US," said White.
The list price for a month of selpercatinib treatment is $20,600, which Lilly said is in-line with other oral targeted therapies on the market. The company will provide doctors and patients with resources at launch to help them navigate access and affordability measures. Lilly will provide a savings card that may eliminate out-of-pocket cost for commercially insured patients who meet certain eligibility criteria, and the company also has several patient support programs.
Selpercatinib's label includes warnings for hepatotoxicity, hypertension, QT interval prolongation, hemorrhagic events, hypersensitivity, impaired wound healing, and embryo-fetal toxicity. During the LIBRETTO-001 trial, 5 percent of patients discontinued treatment due to adverse reactions. The most serious adverse reaction observed was pneumonia.
Lilly is not launching selpercatinib with an FDA-approved companion diagnostic that can identify patients with RET alterations.  However, the company is working with Thermo Fisher Scientific and Illumina, and hopes to launch an FDA-approved companion diagnostic down the line, according to Dickler.  
Before patients could enroll in LIBRETTO-001, they needed to get tested at a local lab via NGS, PCR, or FISH, to establish that they had RET alterations in tumor tissue or plasma. "In the lung cancer setting, it's really important to identify patients with any [other] genomic alteration, whether it's EGFR, ALK, or ROS1," added Dickler, noting that patients who have genomic alterations in these other genes should receive available drugs that specifically target them.  
Selpercatinib is the second molecularly informed therapy the FDA approved last week for lung cancer. On May 6, the agency approved capmatinib for first-line and previously treated metastatic NSCLC with a MET exon 14 skipping mutation. 
The latest approvals mean that lung cancer patients now have several precision oncology drugs available to them, including treatments indicated for those with mutations in EGFR, ALK, ROS1, RET, and METex14. The availability of multiple therapies all indicated for different molecularly defined patient subsets will likely drive greater use of larger NGS platforms, which can make more efficient use of patients' samples by gauging alterations in many genes at once. 
"Finding the right patient for the right drug is very important. It really drives the high efficacy that we're seeing with the [selpercatinib] in the RET-altered population of patients," Dickler said.
The FDA's accelerated approval of selpercatinib means the drug's continued availability may be contingent on confirmatory data from other trials. In that regard, Lilly is studying the drug in two confirmatory Phase III trials.
LIBRETTO-431 follows on the data from the treatment-naïve patients from LIBRETTO-001 in the RET fusion-positive lung cancer cohort. The randomized study will be in the first-line setting with the control arm being chemotherapy with or without pembrolizumab (Merck's Keytruda).
LIBRETTO-531 will provide additional data on cabozantinib and vandetanib treatment-naive patients in the RET-mutant MTC cohort. The randomized trial will compare selpercatinib to physicians' choice of either cabozantinib or vandetanib.  
Cabozantinib and vandetanib "are multi-targeted tyrosine kinase inhibitors that also inhibit RET, but … they have off-target toxicity and are not very tolerable," said Dickler. "We believe [selpercatinib] will show some significant efficacy and also potentially improved tolerability in that setting."
In the US, selpercatinib is also being studied in an arm in the Lung-MAP basket trial, which is enrolling patients in later-line settings and will garner additional data in the lung cancer cohort. 
Blueprint Medicines also has a RET inhibitor, pralsetinib, in development for RET-mutant medullary thyroid cancer and RET fusion-positive NSCLC.