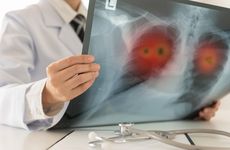 NEW YORK – Researchers have prospectively confirmed that a rare germline EGFR mutation is associated with an increased risk of lung cancer at a younger age in individuals without a smoking history.
In a study published in the Journal of Clinical Oncology this month, researchers identified a proportion of patients diagnosed with lung cancer by age 60 who had inherited an EGFR T790M mutation. These patients came from families in which relatives harboring the same germline mutation commonly had lung nodules but not necessarily cancer.
The Investigating Hereditary Risk from T790M trial enrolled 141 participants from 62 apparently unrelated kindreds over a five-year period. The participants included those with lung cancer who harbored the EGFR T790M mutation prior to treatment and their relatives.
Tumors acquire somatic EGFR T790M mutations as a resistance mechanism in response to EGFR inhibitors. But in this trial, out of 46 participants with lung cancer harboring somatic EGFR T790M mutations at diagnosis, about half (52 percent) were positive for a germline pathogenic variant. Among 37 first-degree relatives of the germline carriers, 20 (54 percent) were positive for the same variant, and among 16 second-degree relatives, five (31 percent) were positive.
Of the 91 confirmed germline EGFR T790M mutation carriers, slightly more than half had a lung cancer diagnosis, with two carriers diagnosed with lung cancer by age 30, seven by age 40, 15 by age 50, and 34 by age 60.
Non-small cell lung cancer is often the poster child for precision oncology, since targeted treatments can be given to patients based on tumor alterations in at least nine genes: EGFR, HER2, ALK, ROS1, RET, NTRK, MET, BRAF, and KRAS. But lung cancer is historically not thought of as a disease that "runs in families" in the way that inherited breast and ovarian cancer syndromes are known to affect families with BRCA1/2 germline mutations.
Prior to this prospective study, other retrospective studies had flagged germline EGFR T790M mutations and inherited abnormalities in other genes as potentially increasing the risk for lung cancer in carriers. For example, one large retrospective study of more than 7,700 lung cancer patients found that nearly 15 percent harbored pathogenic germline variants in BRCA1/2, CHEK2, ATM, TP53, EGFR, APC, and PALB2.
Geoffrey Oxnard, lead author of the JCO study and a thoracic oncologist at Boston Medical Center, said the understanding of familial risk for lung cancer is changing, and his group's prospective assessment has provided more evidence that germline testing may identify and benefit patients at inherited risk for lung cancer.
"The story about lung cancer, which was very much a story about environmental exposure, didn't really have space for inherited lung cancer risk," Oxnard said. "Over the past decade, we have come to realize that the story of lung cancer is way more complex than we realized. It's genomically rich from a somatic genomics view, and now we've come to appreciate there is also an overlooked, rare but real familial risk of lung cancer that we need to revisit."
Among the 42 study participants who had a lung cancer diagnosis and an EGFR T790M mutation, more than half (60 percent) were never smokers and 52 percent had stage IV disease at diagnosis. The median age of diagnosis was 57 years. Nearly all of these patients also harbored a somatic EGFR mutation.
The fact that most patients had a somatic EGFR mutation meant they were eligible for EGFR inhibitors designed to target them, such as AstraZeneca's Tagrisso (osimertinib), Boehringer Ingelheim's Gilotrif (afatinib), Genentech's Tarceva (erlotinib), Pfizer's Vizimpro (dacomitinib), and Janssen's Rybrevant (amivantamab-vmjw).
Tagrisso is a next-generation EGFR inhibitor designed to target somatic EGFR T790M mutations that offer tumors a way to survive the onslaught from first- and second-generation EGFR inhibitors. However, most of the 14 patients with germline EGFR T790M mutations and a somatic EGFR co-mutation who received Tagrisso benefited from it, with the majority having a durable response and 10 remaining on treatment for a year or longer.
The authors suggested in the paper that next-generation EGFR inhibitors could be a treatment or prevention strategy for these high-risk EGFR T70M germline mutation carriers. "These agents deserve study in the future not only as adjuvant therapy but potentially as a cancer interception strategy for patients with germline T790M and growing lung nodules," they wrote.
When researchers examined lung cancer patients' unaffected relatives with germline EGFR pathogenic variants, nine out of 15 available CT scans revealed lung nodules, including one 28-year-old patient with more than 10 lung nodules. One patient with lung nodules developed lung cancer during the follow-up period.
These lung nodules in germline EGFR mutation carriers can turn malignant, the present study suggests. For example, when researchers looked at scans nearly a decade old from one patient who had lung cancer at enrollment, they saw evidence suggesting the patient had lung nodules "growing slowly over this extended period," the authors wrote in the paper.
"Because [hereditary lung cancer] presents with multifocal disease that could be early stage, it needs a distinctive treatment approach with targeted therapies or with local risk mitigation approaches like precision surgeries," Oxnard said. "That distinctive treatment paradigm means that we need to find these families, so we know what kind of lung cancer they get."
The data from Oxnard's group also suggests that EGFR T790M may be a founder mutation for hereditary lung cancer. More than half, or 58 percent, of the study participants with germline EGFR T790M-positive lung cancer were from the US South. The researchers explored whether there was a common ancestor to explain the geographic enrichment in the South and found that 41 of 46 patients from 30 families had a shared haplotype, suggesting a shared ancestor around 250 years ago.
"The phenomenon we're studying is enriched in the US Southeast and is a relatively local phenomenon," Oxnard said. "This may be a North American founder effect, and it occurs in mostly white and sometimes Black individuals."
Based on their finding that patients with an EGFR T790M somatic mutation at diagnosis have a 50 percent chance of having a germline mutation, Oxnard and colleagues are proposing that patients who harbor somatic EGFR mutations when they're diagnosed with NSCLC, such as EGFR T790M or R776H, should also be considered for germline testing to screen for inherited EGFR T790M mutations. They further recommend giving Tagrisso to high-risk or advanced cancer patients with the mutation.
However, the management strategies for germline EGFR T790M mutation carriers who don't have lung cancer are less clear and require further investigation, Oxnard said. The varied penetrance of lung cancer in families with the germline EGFR T790M mutation raises a lot of questions about the most appropriate screening strategy for unaffected mutation carriers.
"Should we be doing CT scans starting at the age of 30? What is the interval? If someone has nodules, how often should they get scanned? I would think the next investigation is the management approach for carriers," Oxnard wondered.
The National Comprehensive Cancer Network's NSCLC treatment guidelines state that if the EGFR T790M mutation is detected prior to treatment, germline testing and genetic counseling may be warranted because this mutation is associated with a high risk of lung cancer regardless of smoking status. But Oxnard believes that based on this latest research, NCCN should update guidelines to more strongly recommend that oncologists offer germline testing to all patients who have a somatic EGFR T790M mutation at diagnosis and conduct cascade testing when appropriate. He believes the NCCN should now also recommend EGFR inhibitor treatment for lung cancer patients with this familial cancer syndrome who are often diagnosed at a late stage and with multiple tumors originating from the primary tumor.
"We have characterized a very real phenomenon in a much more rigorous way than has been done before, and that requires action," Oxnard said of his team's research. "We need to update guidelines, we need to identify these families, and we need to take care of these families when we see them."