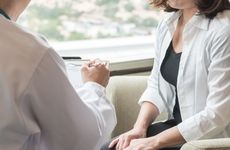 NEW YORK – Doing away with pre-test counseling for all patients and post-test counseling for those without pathogenic cancer risk variants during remote genetic testing could ease barriers to genetic screening for people at risk for hereditary breast and ovarian cancer, a study published Thursday in JAMA Oncology suggests.
Genetic testing is recommended for women with a personal or family history indicating increased risk for breast or ovarian cancer. However, those tests remain underutilized. For example, according to a study published in 2019 in the Journal of the National Cancer Institute, less than 10 percent of patients without cancer who are eligible for BRCA1/2 testing have received it, and there had been no increase in the rate of testing over a 10-year period.
Patients may lack awareness of genetic testing, but their geographic location, race, ethnicity, income, and insurance status are also associated with access disparities. Added to this, the multiple steps patients have traditionally had to take to access testing, which may include pre-test and post-test genetic counseling, can present a further obstacle.
In the Making Genetic Testing Accessible (MAGENTA) trial, Karen Lu, a gynecological oncologist at MD Anderson Cancer Center, and colleagues from around the country sought to assess whether replacing genetic counseling with online education materials in certain settings would increase distress in people receiving genetic tests to learn their breast and ovarian cancer risk.
"We wanted to test what we call genetic testing from your living room," Lu said, noting that people often don't have time to fit in three visits to a medical center for pre-test genetic counseling, a blood test, and an appointment to receive and discuss results.
Earlier studies had shown that telephone counseling was a safe and effective alternative to in-person counseling for patients at risk for BRCA1/2 mutations in terms of minimizing distress, promoting informed decision-making, and delivering patient-centered information. This prior research inspired Lu and colleagues to incorporate telephone counseling into the MAGENTA protocol, but in the study, patients could also fill out their consent forms and questionnaires online, watch an educational video about genetic testing, complete the test via a mail-in kit, and receive their results online.
This genetic testing model was essentially pioneered by the consumer-facing genetic testing company Color. At the American Society of Clinical Oncology's annual meeting three years ago, when the MAGENTA researchers first presented results from the study, Alicia Zhou, Color's CSO and one of the study authors, said she hoped to learn from the study how effective her company's testing and counseling model is and if it "may have consequences" in terms of patients' distress.
In three experimental arms within MAGENTA, patients without pathogenic variants received either no mandated pre- or post-test counseling, mandated post-test telephone genetic counseling, or mandated pre-test counseling. Those with pathogenic variants were required to have post-test counseling. Patients in the active comparator arm received both pre- and post-test counseling.
In more than 3,800 women, Lu and her colleagues found no significant difference in patients' distress levels at three and 12 months after testing, when pre-test and post-test counseling were omitted for those without pathogenic variants, compared to those who received such counseling in the other three arms.
"There was no difference in distress in the arms that had less counseling pre- and post-[testing] compared to what we would consider standard pre- and post-[test] genetic counseling," Lu said.
Furthermore, when researchers considered one of the trial's secondary endpoints, they noted that mandatory pre-test genetic counseling was a barrier to patients getting tested. "Those two groups [that had pre-test counseling] had less completion of the process than those in the arms where there was not required pre-test counseling," Lu said.
One shortcoming of the study that Lu acknowledges is that non-Hispanic Black participants in MAGENTA had lower rates of test completion and higher baseline levels of anxiety and depression. That reflects the generally higher levels of concern that individuals from racial and ethnic minority groups tend to have about genetic testing, which, in turn, may have hindered enrollment of non-white participants in the study.
Lu noted that although the researchers made significant efforts to include diverse participants, MAGENTA's population was 95 percent white, well-educated, and younger with a median age of 44 years. Because of this, Lu and colleagues cautioned that their results may not be generalizable.
Ultimately, Lu said this study is important because there simply aren't enough genetic counselors in the US to carry out the traditional model of in-person or telephone counseling before and after testing. And particularly with guidelines expanding to recommend cancer risk genetic testing for patients with a range of different tumor types, such as pancreatic and prostate cancer, she said new models for hereditary cancer testing are needed.
"We're actually doing well with cancer patients because there are [targeted] therapies and a reason for doctors to order the testing," Lu said. "But for the unaffected, where you're going to have the most impact in terms of preventing future cancers, that's where we are not doing as well." Toward that end, results from the MAGENTA trial show that testing facilitated by at-home sample collection and supported by online education has fewer barriers and is a reasonable option.
Lu said that going forward she would like to conduct both qualitative and quantitative studies of genetic testing in different communities, including in underserved communities.
In a commentary published alongside the study, Huma Rana, clinical director of the division of cancer genetics and prevention at Dana-Farber Cancer Institute, and Judy Garber, chief of the division of cancer genetics and prevention at Dana-Farber Cancer Institute, noted that the model evaluated in MAGENTA represents a shift to a greater emphasis on post-test genetic counseling as opposed to pre-test counseling.
"This shift does not diminish the role of genetic counselors in patient care but does affect the nature of their work," they wrote. "Non-genetics clinicians should still reach out to genetic counselors for help when there are complex genetic results, including variants of uncertain significance with discordant classifications, mosaicism, and unexpected positive results from panel-based testing."