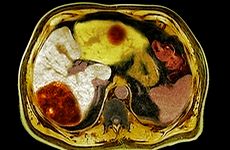 NEW YORK – Geneos Therapeutics has set out to prove that cancer vaccines can do more than prevent disease recurrence in the adjuvant setting, and in a Phase I/IIa trial, the firm wants to show that its personalized DNA vaccine GNOS-PV02 can also treat advanced tumors.
In August, Geneos reported data from the GT-30 trial showing that eight of 34 patients with advanced hepatocellular carcinoma (HCC) treated with a combination of its personalized DNA vaccine GNOS-PV02, Inovio Pharmaceuticals' plasmid-encoded interleukin-12 adjuvant INO-9012, and Merck's checkpoint inhibitor Keytruda (pembrolizumab) had a complete molecular response based on circulating tumor DNA (ctDNA) analysis. Three patients had complete responses, seven had partial responses, nine had stable disease, and 13 had progressive disease.
The typical response rate in this advanced setting is between 13 percent and 18 percent, but Geneos Founder and CEO Niranjan Sardesai explained that the Plymouth Meeting, Pennsylvania-based company is hoping to double that with this combination regimen. The trial is designed so that the vaccine is manufactured while enrolled patients are receiving front-line Keytruda. When they progress and become eligible for second-line therapy, they receive the cancer vaccine alongside INO-9012 and Keytruda.
"The fact that we are seeing three out of these first 30 patients with complete responses is very exciting," Sardesai said. "There's a fourth patient whose tumor shrank to the point where they went from being an unresectable patient to a resectable patient … so we actually have four patients who have reached a tumor-free status."
This trial exemplifies Geneos' ambition to blaze a trail for cancer vaccines outside the adjuvant setting, where they have typically been used since the approval of Dendreon's Provenge (sipuleucel) in prostate cancer in 2010. Thus far, studies of cancer vaccines, such as Moderna and Merck's personalized melanoma vaccine mRNA-4157, have focused on prevention of recurrence post-surgery. 
"These are patients who no longer have cancer," Sardesai said. "That cancer vaccines can play a role in that setting and prevent recurrence … that's been a good story. But what our data is showing is that we can also use cancer vaccines in terms of objectively shrinking tumors in advanced cancer settings."
With GNOS-PV02, Geneos is aiming to commercialize an individualized, n-of-1 therapy. Such therapies face numerous hurdles on the path to market and are often not broadly accessible to patients due to manufacturing challenges and high cost. "The conventional wisdom around personalized therapies is, if they work, then they're too expensive and take too long to produce to be truly amenable for making n-of-1 treatments," Sardesai said. "We set up Geneos with the idea of democratizing personalized treatments, keeping patient access as the number one driver for the products that we are developing."
Sardesai had previously been the head of R&D and COO at Inovio Pharmaceuticals, where his team spent about 10 years developing a DNA-based vaccine platform designed to encode individual antigens into DNA plasmids and deliver them via electroporation to drive an antigen-specific immune response in patients. While Inovio continues to advance this technology within its DNA immunotherapy programs in HPV-related diseases, immuno-oncology, and infectious diseases, Geneos licensed Inovio's electroporation device along with the interleukin-12 adjuvant INO-9012 for its DNA-based personalized cancer vaccines.
Manufacture of GNOS-PV02 begins with a tumor biopsy from the patient followed by whole-exome sequencing, RNAseq analysis, and comparison of the patient's tumor and normal genome. Using a proprietary algorithm, Geneos determines which mutations lead to neoantigens and integrates them into the DNA plasmid backbone vector. The resulting vaccine construct is then manufactured and shipped back to the clinical site to be given to the patient.
"Today we can do this in a six- to eight-week turnaround time from biopsy to treatment," Sardesai said. "In the future, simply by bringing all of these steps in-house, we can reduce this to about three to four weeks."
For comparison, Moderna and BioNTech have said their manufacturing times for personalized cancer vaccines are around six weeks.
Rapid production of its cancer vaccine is an important differentiator for Geneos, Sardesai noted, because it enables timely treatment in acutely ill advanced cancer patients. "These tumors are progressing. … You can't really wait for a treatment to take 12 to 16 weeks to be manufactured," he explained. "But with our platform approach, we can do this really quickly."
Beyond that, Geneos believes its approach to selecting patient-specific neoantigens offers an advantage over companies developing similar vaccines such as Moderna and BioNTech due to the size of the antigenic payload the plasmid is able to carry and the broader immune response the DNA vaccine can drive. The payload of up to 40 neoantigens is important, Sardesai said, because it can "target the tumor from as many directions as possible."
Tumors comprise cell populations that express different neoantigens. In targeting all of the relevant neoantigens within the tumor, Sardesai explained, the vaccine has an increased ability to drive an immune response to the tumor as well as the potential to better control metastatic lesions or immune escape of the cancer. "We come from the position that targeting more neoantigens is better and targeting all neoantigens in the patient is best," Sardesai said.
That's in contrast to the approach of choosing only the neoantigens that are believed to have the highest value in targeting the cancer due to carrying capacity limitations of the platform. For example, Merck and Moderna's mRNA-4157 encodes up to 34 neontigens and BioNTech's individualized neoantigen specific immunotherapy platform can accommodate up to 20.
Geneos settled on liver cancer as its lead program because of the large unmet need in this setting. "Liver cancer has the second most dismal prognosis of all cancers, after pancreatic cancer," Sardesai said.
There are about 30,000 new cases of advanced liver cancer in the US and EU per year and about 800,000 cases globally. Sardesai noted that while most liver cancers are driven by viral infections such as hepatitis C, the incidence of non-viral liver cancer is growing due to comorbidities such as diabetes and nonalcoholic steatohepatitis, and immunotherapy has shown limited effectiveness. In clinical trials, overall response rates among hepatocellular carcinoma patients to checkpoint inhibitors have ranged from about 10 percent to 20 percent, with median overall survival between 13 months and 17 months and median progression-free survival less than five months.
Sardesai noted that Geneos has chosen a "really difficult" tumor for its first cancer vaccine because these tumors have low mutational burden and typically don't respond to immunotherapies as a result. But that also makes advanced liver cancer a good setting in which to test Geneos' hypothesis that a cancer vaccine can drive T cells to attack the tumor and render the immune-excluded tumors immunologically "inflamed or hot."
In addition to tracking tumor shrinkage and other measures of efficacy in the GNOS-PV02 trial, Sardesai said investigators have also been assessing T cells in blood and tumor samples. This has shown that T cells in the blood are also present in the tumor as tumor-infiltrating lymphocytes.
Although GNOS-PV02 is Geneos' most advanced program, the company's first effort after it was founded in 2016 was GT-10, a compassionate use trial of a personalized cancer vaccine, dubbed GNOS-PV01, for a single patient with glioblastoma.
"We had just set up the company," Sardesai recalled. "There was a patient being treated at Washington University in Saint Louis. At the time she was 19 years old with diagnosed anaplastic astrocytoma, a high-grade glioma."
After tumor resection, the patient received radiation and temozolomide. The patient's doctors approached the founders of Geneos and suggested treating her with its cancer vaccine to see if it could prevent recurrence. The typical recurrence-free survival for that type of tumor is about eight months and median overall survival post-surgery ranges from 12 months to 15 months.
Geneos built a personalized cancer vaccine for the patient based on 30 neoantigens found in her brain tumor and filed with the US Food and Drug Administration for compassionate use of the therapy. They began treating her with the vaccine initially every three weeks for the first four doses, then every nine weeks for two years, and every 12 weeks thereafter. "These last four years, the only treatment she's been getting is our vaccine, and she remains progression-free." Sardesai said. "She's five years out [from surgery] and she's essentially resumed her life, gone back and finished college, and continues in an MBA program."  
While limited conclusions can be drawn about a treatment from the experience of a single patient, Sardesai said, "It's certainly an important event for us that our first patient is coming up on her five-year anniversary on our treatment. And what we are seeing in this patient in the anaplastic astrocytoma setting, we are now seeing in our patients with liver cancer, as well."
In terms of safety, Sardesai said that Geneos has not seen any issues with safety or tolerability, either in the single glioblastoma patient or the liver cancer patients.
Building from that single-patient study, in 2020, researchers at Washington University began an investigator-initiated clinical trial of GNOS-PV01 in patients with newly diagnosed, unmethylated glioblastoma. In that small, open-label pilot study, the researchers will enroll about nine patients to receive GNOS-PVO1 and INO-9012 in addition to any standard radiation therapy the patient may receive outside of the study. Investigators will evaluate safety and tolerability of the vaccine and the feasibility of generating the neoantigen DNA vaccine for patients. As secondary outcome measures, they will also monitor immunogenicity, the number of quality neoantigens present in the tumor, progression-free survival, and overall survival.
Although Geneos plans to expand its own studies into promising indications such as glioblastoma and other low tumor mutational burden cancers, Sardesai said that its startup funding limits the number of programs the firm can pursue. The company raised $50 million from 2019 to 2023, but it is hoping to raise additional capital to start a Phase IIb registrational trial for its cancer vaccine in second-line liver cancer.
Geneos is also looking to partner with other firms to advance the vaccine into liver cancer and additional indications, and study it with PD-1 inhibitors.