Exarafenib, a pan-RAF inhibitor being investigated as a monotherapy in BRAF and NRAS-driven solid tumors by Kinnate Biopharma, was well-tolerated and demonstrated early signs of activity with durable responses in various patient populations, including those with BRAF Class II and NRAS-mutant melanoma, according to early Phase I trial results. The investigational agent could potentially contribute to meeting the significant medical need posed by patients whose tumors harbor alterations such as BRAF Class II and NRAS.
BRAF alterations play a significant role in the development of various cancers, like lung, skin, colorectal, ovarian, and thyroid cancers. These alterations are grouped into three classes. Class I alterations involve BRAF acting as an activated individual molecule, or monomer. Class II alterations occur when two BRAF molecules combine to form a pair — or homodimer — independent of RAS and activate the MAPK pathway. This often happens due to mutations, gene fusions, or genetic changes by which the kinase domain of BRAF is abnormally joined to another gene. Class III alterations involve BRAF with low kinase activity and lead to its pairing with other members of the RAF kinase family, such as ARAF or CRAF. This heterodimerization results in increased interaction with activated RAS, enhanced enzymatic activity, and subsequent signaling.
Currently, there are approved drugs that specifically target the Class I alteration of BRAF, which is a well-known and actionable target in cancer treatment. However, targeting Class II and Class III alterations has been more difficult, and there are no approved therapies available for these alterations. Class II and III alterations make up more than half of all BRAF alterations and are found in approximately 2.1 percent of solid tumors. Patients with Class II and III alterations have shown shorter overall survival compared to those with Class I alterations, particularly in non-small cell lung cancer and melanoma.
Additionally, there is a need for new strategies to target NRAS-driven cancers, which are implicated in driving various cancers, including melanoma. NRAS-mutant melanoma is a RAF-dependent cancer, representing about 20 to 25 percent of melanoma. Currently, the only option for patients with certain BRAF and NRAS-mutant cancers involves immune checkpoint inhibitors with or without chemotherapy, which have poor outcomes. Therefore, novel targeted approaches for these patients are important areas of research in cancer treatment.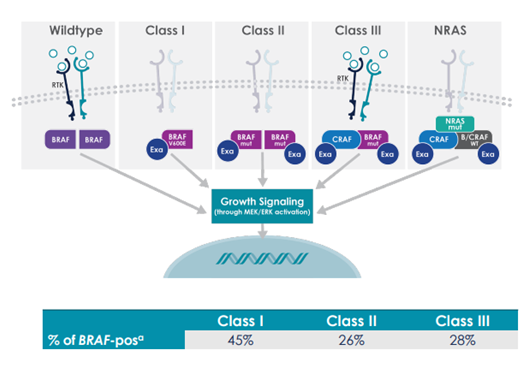 To address this need, the investigational compound exarafenib was developed to target these alterations and others that involve a dimer. The compound is designed to inhibit both parts of the dimer equally. Exarafenib has shown some advantages over other inhibitors in clinical development. It is highly selective, mainly targeting the intended isoforms, thus reducing the risk of side effects. It also covers a wide range of alterations and avoids the paradoxical activation liability known with BRAF Class I inhibitors. Its chemical structure has been optimized for solubility and high concentration in the body, which can improve effectiveness. 
 The early Phase I data has shown that, at 300 mg twice daily, exarafenib achieved high levels of exposure. This was a key focus in designing exarafenib to ensure it had strong therapeutic potential.
The safety and tolerability of exarafenib were also favorable. A group of 60 patients, including 29 patients treated at 300 mg twice daily, were assessed for safety. Importantly, no skin issues related to paradoxical activation, a problem seen with approved BRAF inhibitors, were observed at effective exposure levels. The rate of discontinuation due to side effects was very low, with only two patients out of 60 stopping treatment. This indicates that most patients were able to tolerate exarafenib well without experiencing intolerable side effects. The drug was also well-tolerated in terms of dosage, with a high dose intensity of 97 percent overall and 95 percent at the highest dose.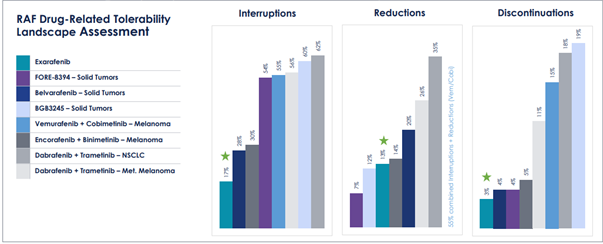 At the time of data collection, there were six partial responses in the monotherapy group, with five of them confirmed. The responses observed were significant and long-lasting. On average, responders experienced a 61 percent reduction in tumor size and continued the treatment for seven months, with many still showing benefit. Among patients with BRAF Class II alterations, the response rate was 33 percent at a specific dosage, and across all doses, 71 percent showed tumor reductions and 86 percent achieved disease control.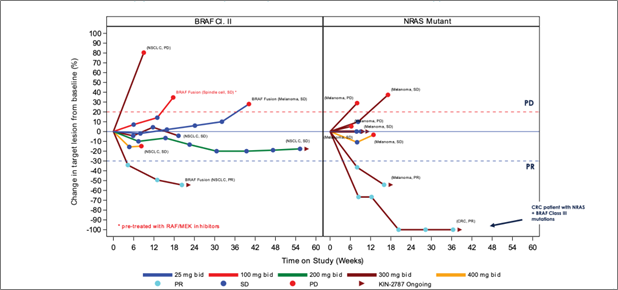 Approximately 2 to 4 percent of patients with non-small cell lung cancer (NSCLC) have BRAF mutations. While patients with BRAF V600E alterations in NSCLC tend to have a poorer prognosis, the use of BRAF Class I inhibitors has significantly improved survival. However, there is still a significant medical need for patients with lung cancer with non-V600E BRAF alterations, such as Class II alterations.
In the ongoing Phase I trial of exarafenib, early and promising results were observed in patients with BRAF Class II lung cancer when treated with exarafenib as a monotherapy. One patient with a high disease burden, who had previously received immune checkpoint inhibitor and chemotherapy treatments, showed a partial response after four weeks of exarafenib therapy. This patient experienced a reduction in target lesions by 34 percent and improvements in non-target disease. Temporary interruption of the drug was required due to a rash but was resumed at a lower dose of 300 mg twice daily with improved tolerability. Subsequent scans confirmed the partial response at the lower dose with a 54 percent reduction in target dimensions. Additionally, this patient achieved a complete molecular response with a 100 percent reduction in circulating tumor DNA.
Another patient with a point mutation alteration and extensive thoracic disease, previously treated with an immune checkpoint inhibitor and chemotherapy, showed improvement in clinical status. Within two weeks of exarafenib therapy at 200 mg twice daily, this patient was able to reduce supplemental oxygen dependence. CT scans showed significant reductions in lung opacification, representing non-target disease, after the initial two cycles of therapy. The patient also experienced a 20 percent reduction in target lesion dimensions. Importantly, this patient has remained on exarafenib therapy for over 13 months with stable disease demonstrated through successive CT scans and favorable long-term tolerability.
These results indicate the potential effectiveness of exarafenib as a monotherapy in BRAF Class II lung cancer.

Based on its unique structure and promising clinical data, Kinnate is prioritizing the development of exarafenib as a monotherapy for BRAF Class II alterations and in rational combinations for NRAS mutant melanoma. This approach aims to improve clinical responses and prolong survival outcomes for patients with advanced cancer.