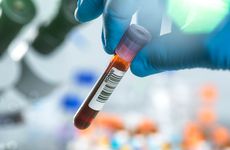 NEW YORK – Leading drugmakers are joining forces as part of a research program to solidify new blood-based biomarkers for diagnosing Alzheimer's disease.
The Global Alzheimer's Platform (GAP) Foundation this summer launched a new phase of its Bio-Hermes study, in which a consortium of about 20 study partners including AbbVie, Eli Lilly, and Merck will analyze biomarker and digital data that was collected from US patients in the first part of the nonprofit's research project.
The overarching goal for the Bio-Hermes study is to create a data resource that is used to study novel biomarkers and what they can illuminate about whether a patient has or will develop Alzheimer's, said John Dwyer, president of the GAP Foundation. Armed with this data, researchers will be able to compare the performance of these biomarkers to the established methods of assessing disease such as cognitive function tests and PET imaging.
Developing and validating blood-based biomarkers for beta-amyloid is of particular interest, given a series of recently approved Alzheimer's therapies that are expected to drive demand for beta-amyloid testing. The US Food and Drug Administration so far has approved two drugs codeveloped by Biogen and Eisai — Leqembi (lecanemab) and Aduhelm (aducanumab) — that target beta-amyloid plaque in the brain, a hallmark of the neurodegenerative disease. And Eli Lilly has said it's seeking traditional approval from the agency for its anti-amyloid Alzheimer's drug donanemab.
While PET scans are an effective and established means of gauging beta-amyloid — elevated levels of which are required to prescribe Leqembi or Aduhelm — such imaging is expensive and not everyone lives near a healthcare facility with the capabilities to perform such scans.
"We had two, three, four, maybe, new drugs coming on market," Dwyer said of anti-amyloid Alzheimer's drugs. "And doctors and trial [investigators] needed better understanding of what they could do."
To create the research database, the GAP Foundation and its network of clinical research sites over the course of a year and a half collected data from nearly 1,000 people with mild Alzheimer's, with mild cognitive impairment, and with healthy cognition. The data are composed of nearly 22 percent Black and Latino patients, surpassing the GAP Foundation's goal of enrolling at least 20 percent of patients with those backgrounds, Dwyer said. Black and Latino patients not only have been historically underrepresented in research but also tend to suffer from Alzheimer's at higher rates than white patients.
The GAP Foundation opted to operate under a pre-competitive approach, in which study partners, though typically competitors, are collaborating and sharing data to address the industrywide challenge of needing suitable biomarkers for Alzheimer's R&D.
The Bio-Hermes study was funded by its industry partners, which also processed genomic, proteomic, and PET imaging profiles; blood-based biomarkers like beta-amyloid, p-tau, and neurofilament light chain; and results from digital cognitive, eye movement, and speech assessments. Merck, for example, contributed test results on beta-amyloid 40, beta-amyloid 42, p-tau 181, p-tau 231, neurofilament light chain, and glial fibrillary acidic protein. Lilly shared genome sequencing results in addition to measuring various beta-amyloid, p-tau, and other protein biomarkers.
The biotech firms "all came together to play side by side," Dwyer said. "In some cases, head-to-head compete on who had the better solution."
Initially, only the firms that participated as study partners will have access to the database, which they will be able to use for independent research projects. At the start of 2025, the database will open to other researchers, Dwyer said.
As one of the Bio-Hermes study partners, Merck plans to investigate the relationship between various blood-based biomarkers linked with disease pathology and inflammation to beta-amyloid status as measured by PET imaging, said Matthew Kennedy, executive director for neuroscience at Merck Research Laboratories, in an email.
"Our expectation is that the Bio-Hermes datasets will enhance our understanding of how best to balance the use of blood-based biomarkers versus the gold standard amyloid PET imaging for patient selection across our AD clinical programs," Kennedy said.
Anthony Bannon, senior scientific director for precision medicine neuroscience at AbbVie, in an email said the company is particularly interested in whether plasma p-tau 217 is predictive of beta-amyloid PET positivity, and whether it or other blood-based biomarkers could one day replace PET scans as a method for measuring beta-amyloid. As part of the Bio-Hermes study, AbbVie provided information on p-tau 231.
This knowledge will help AbbVie and other drugmakers learn how to better conduct clinical trials in Alzheimer's, Bannon said. AbbVie, for its part, has two Alzheimer's drugs in its pipeline for which it is measuring change in beta-amyloid plaque, both of which are in Phase II trials: ABBV-916 and AL002, which the company is codeveloping with Alector.
"The promise of blood-based biomarkers that may predict amyloid PET status would eliminate most of the hurdles associated with amyloid PET," such as cost and access, Bannon said. "This pre-competitive approach is well suited to helping the field generate data and answer questions that are often difficult for one organization to do alone."