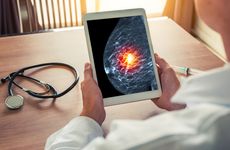 NEW YORK – Researchers have examined the uptake of next-generation sequencing to inform the care of breast cancer patients at community oncology clinics and found a marked increase in test use over a period of five years, particularly liquid biopsy NGS testing.
The real-world data study, published in JCO Precision Oncology last week, also revealed a diverse landscape of tumor mutations that can help personalize treatments for breast cancer patients, which the study authors from Sarah Cannon Research Institute in Nashville, Tennessee, hope will further convince community oncologists of the value of NGS profiling and encourage drugmakers to develop new precision oncology therapies for breast cancer.
For this study, researchers from Sarah Cannon collected retrospective real-world data from community oncology partners, including 180 clinics across Tennessee Oncology, Florida Cancer Specialists, and HealthOne at Denver. The goal was to track community oncologists' use of tumor profiling in patient care and find ways to encourage greater test adoption for breast cancer patients in clinics, said senior author Andrew McKenzie, director of the personalized medicine program at Sarah Cannon.
The study showed that the number of community oncologists ordering NGS testing for breast cancer patients increased sixfold from 2014 to 2019. The increase, according to researchers, is due to more doctors ordering NGS testing for their breast cancer patients rather than a small group of early adopters ordering testing more frequently.
"The increase tells me that not only are clinicians getting information from next-generation sequencing, but they're able to use that information" to inform patients' treatment decisions, "whether it's for off-label usage or in the context of clinical trials," McKenzie said.
The real-world data also showed a marked jump in the adoption of plasma-based NGS tests as liquid biopsy tests hit the market around 2015. By 2019, 47 percent of the total NGS tests ordered by community oncologists were in the form of liquid biopsy tests, the researchers found.
Beyond their market availability, the increase in blood-based NGS test adoption during the study period also is likely due the ease of blood draws compared to tissue biopsies, as well as the utility of liquid biopsy for certain breast cancers, said lead author Emma Sturgill, a program specialist in the personalized medicine program at Sarah Cannon.
For example, metastatic hormone receptor-positive breast cancers can be difficult to biopsy and obtain samples that are sufficient for tissue-based testing, especially when the disease has spread to the bones, McKenzie said. "In those difficult-to-biopsy cases, having an option where you can still survey the mutation landscape and not have to rely on a tissue biopsy, that's been really important for our breast cancer doctors."
The researchers also looked at the frequency of mutations found in their cohort and compared it to a previous study published in 2017, looking at NGS test results in breast cancer patients treated at Memorial Sloan Kettering Cancer Center.
The overall trends were similar between the Sarah Cannon and MSK cohorts, Sturgill noted. The Sarah Cannon study included data from 2,635 NGS tests done on 2,316 breast cancer patients, and the MSK study included NGS analysis of 1,324 samples from 1,234 patients with advanced breast cancer.
In both cohorts, the most frequently amplified gene was CCND1, and the most frequently mutated genes were PIK3CA, TP53, and ESR1.
However, some differences emerged between the two cohorts that the researchers attributed to the differences between tissue and plasma NGS testing. Sturgill noted that the NGS tests in the Sarah Cannon cohort were heterogenous, with plasma-based test making up about half of the dataset. In comparison, the MSK study focused only on NGS testing done on tissue samples. The Sarah Cannon study also included NGS tests from several different companies including Foundation Medicine, Caris Life Sciences, and Guardant Health, while the MSK study relied on results from its MSK-IMPACT NGS panel.
The Sarah Cannon cohort also had fewer gene amplifications than the MSK cohort, but Sturgill said that's likely due to plasma-based testing being less sensitive in assessing amplifications. However, plasma-based testing is better than tissue NGS testing at picking up a wide range of gene mutations, resulting in a higher frequency of mutations in the Sarah Cannon cohort compared to the MSK cohort.
The Sarah Cannon cohort also showed that triple-negative breast cancer patients accounted for 22 percent of tests ordered, despite only TNBC comprising about 12 percent of breast cancer cases in the Surveillance, Epidemiology, and End Results Program registry, a National Cancer Institute-supported resource for cancer statistics. TNBC is the breast cancer subgroup with the worst survival and limited treatment options. According to Sarah Cannon researchers, their real-world data analysis suggests physicians are trying to "identify prognostic markers or actionable alterations in an especially heterogeneous subpopulation with a scarcity of treatment options," they wrote.
Sturgill reflected that these real-world data insights are valuable for community oncologists because they can glean from them the range of NGS test results they might receive for their breast cancer patients. McKenzie added that the comparison between the Sarah Cannon and MSK data sets is also important as it captures how care and genetic test access differs between an academic medical center with a more homogenous population and an internal assay, and community oncology practices that have a more heterogenous population and outsource tests from various commercial labs.
"It's just a different lens that we're looking through," he said. "It gives us a sense of what's happening in the majority of cancer practices across the country, not just what's happening at a limited academic medical center institution."
Sarah Cannon has developed partnerships with community oncology clinics to provide NGS profiling from its commercial lab and clinical research services. A big focus at the institution is to use patients' NGS test results to match them to biomarker-guided early and registrational-phase drug trials.
"A big remit of the program has been to encourage our partnered medical oncology practices to order next-generation sequencing tests on their patients," he said. "In areas like lung cancer, melanoma, and others, it's pretty easy to convince folks to do that."
Despite the increase in NGS test adoption captured in the real-world data study, it has been difficult to encourage community oncologists to adopt NGS testing for their breast cancer patients, McKenzie said, because testing for estrogen and progesterone receptors and HER2 expression has long been standard practice and the established treatments for these biomarker-defined patient groups extend survival. However, this real-world data analysis shows how NGS testing can help refine treatment decisions for subsets of breast cancer patients.
For instance, about 6 percent of HR-positive, HER2-negative patients had mutations in RB1 in this study, which suggests potential resistance to CDK4/6 inhibitors. Also, about 47 percent of patients with the same breast cancer subtype harbored PIK3CA mutations and may be candidates for the alpha-selective PI3K inhibitor alpelisib (Novartis' Piqray) in combination with hormone therapy.
The findings from this study could also help Sarah Cannon work with pharma partners to identify more precision oncology drug development opportunities, McKenzie said. "We've been pretty myopic in the discovery landscape for breast cancer, and data like these can help really expand what people think is possible for setting up a new study and recruiting to those studies," McKenzie added.
This study did not look at community oncology NGS testing based on race, ethnicity, or socioeconomic factors, but McKenzie noted that Sarah Cannon has other studies and surveys looking at disparities in access to genetic testing in their network of medical oncologists. 
Ultimately, the researchers hope their study encourages more community oncologists to order NGS testing for their breast cancer patients and drives home the message that comprehensive genomic profiling is available everywhere, not just in big medical centers.
"The caliber and quality of care that is out there in the community oncology settings is really high and comparatively on par with academic medical centers," McKenzie said, adding that it is also really important for patients to know that they can get access to comprehensive genetic profiling locally in their community practices and that they don't have to travel to an academic medical center.