Precision Oncology News and My Gene Counsel have partnered to produce the "Genetic Testing Challenges in Oncology" series to highlight real-world issues that genetics experts and medical professionals are encountering as genetic tests are increasingly used in cancer care. Experts submit anonymized case reports to My Gene Counsel, and based on the details in these reports, Precision Oncology News writes a feature that describes the case history, challenges encountered by professionals in dealing with the case, and strategies they used in response to challenges or errors. The features also include a discussion with My Gene Counsel genetic counseling experts on better approaches that could be considered if similar cases are encountered in the future. In publishing this series, our aim is to educate experts in the field and foster discussion. If you would like to submit a case report, please email [email protected].
---
What happened?
A doctor told a 59-year-old female patient that she may have Von Hippel-Lindau (VHL) disease because she had several polyps in her abdomen and because the patient said she had a family history of gastrointestinal cancers. The patient's medical record indicated she had a couple of cysts in her liver and kidneys and that she was being evaluated for a number of health concerns, including hypermobility (overly flexible joints), episodes where her heart raced and her blood pressure shot up, chronic pain, tremors, and possible heart problems. At her doctor's suggestion that VHL was the potential cause of these issues, the patient wanted genetic testing to confirm this was the case.
VHL, an inherited condition caused by mutations in the eponymous gene, is characterized by cysts and tumors in multiple organs, including in the blood vessels, brain, spinal cord, inner ear, retina, adrenal glands, kidneys, and reproductive organs. These tumors, which tend to show up in young adults, aren't always cancerous but can cause debilitating complications. For example, tumors in the brain and spine can impact patients' coordination, and tumors in the eye can cause blindness.
How was this case resolved?
The patient was referred for genetic counseling. At the session, the genetic counselor reviewed the patient's medical information as well as her family's cancer history and determined that she didn't have any features suggestive of VHL and did not meet the guidelines for testing. The patient had some kidney cysts, and despite noting a family history of gastrointestinal cancers, there was only one first-degree relative diagnosed with diffuse gastric cancer. This relative had received genetic testing for a broad panel of genes, and fortunately the patient had brought this report with her to the genetic counseling session. The genetic counselor noted that the relative did not have a pathogenic CDH1 variant associated with hereditary diffuse gastric cancer risk but did have a variant of unknown significance (VUS) in an unrelated gene. 
The genetic counselor told the patient that her medical and family history didn't suggest the need to test for variants that increased gastric cancer risk, especially since the one relative with this disease tested negative for any risk variants in CDH1 that she may have also inherited. The patient seemed to understand this but continued to insist on VHL testing. She further shared that several older family members had breast and colon cancers and that she had had colon polyps in the past, fewer than 10.
Despite this additional family and personal history, the patient still didn't meet her insurer's coverage criteria for genetic testing for hereditary breast and ovarian cancer, Lynch, or polyposis syndromes. Based on the information the patient shared, however, genetics experts at this facility were willing to order a multi-gene panel that included genes associated with these syndromes as well as VHL, because the patient was insistent and willing to pay out of pocket.
The patient further insisted that the test also include genes associated with pheochromocytoma, a neuroendocrine tumor that grows on hormone-producing cells of the adrenal gland. These tumors are diagnosed via imaging and by testing hormone levels. Research suggests that certain genetic conditions like VHL and mutations in some 20 genes may increase the chances of pheochromocytomas, but genetic testing isn't used for diagnosis. Even though genetics experts repeatedly told the patient she didn't have clinical features suggesting pheochromocytoma and that genetic testing wouldn't help determine if she had the condition, she felt this was a possibility and wanted as much information as possible from the genetic test she was paying for. The genetics experts ordered the test with the pheochromocytoma-associated genes the patient requested, but the results revealed she had no pathogenic variants or VUS in any of the genes tested.
The genetic counselor, meanwhile, had noted during her evaluation that this patient's doctors had raised the possibility of Ehlers-Danlos syndrome, because she said she was hypermobile. This syndrome comprises a wide range of conditions that are not cancer related and that affect the connective tissues. Patients with EDS tend to have overly flexible joints, frequent dislocations, and a host of other issues. The hypermobility, along with some of the other problems the patient had complained of, led the genetic counselor to refer her to the adult genetics clinic to be evaluated for EDS. While this patient's doctors had raised concern about this condition, it was unclear from her medical records if she had ever had genetic evaluation specifically for it.
Why is this case concerning?
Ellen Matloff, a certified genetic counselor and president and CEO of the digital health firm My Gene Counsel, said this case is concerning because "this patient came in with a real medical issue, but that problem may have been completely overlooked, because her doctors focused on something that wasn't relevant."
Because of a physician's wrong suggestion to this patient that VHL might explain her various ailments, she fixated on this and insisted on genetic testing that was unnecessary. "What I've found in practice is that when a patient has been told she might have a condition before she comes in for a session, un-counseling someone on a topic is almost impossible," said Matloff.
She recounted an experience with a 19-year-old woman diagnosed with breast cancer who had been told she likely had a BRCA1/2 pathogenic variant known to increase the risk for breast and ovarian cancer. Even though this patient's personal and family history suggested she may have a different hereditary cancer syndrome not known to increase the risk of ovarian cancer, the young woman still wanted to have her ovaries removed.
"We could never un-counsel her on that topic," Matloff recalled. "These patients come to the genetic counseling session almost imprinted with information from someone they trust, and it's very hard to take a different route with them."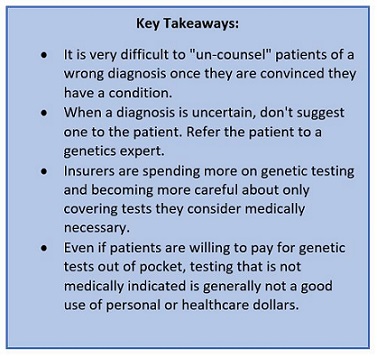 What could have been done differently?
In this case, the physician who suggested the patient could have VHL may have been well-meaning, Matloff said, but clearly didn't have experience diagnosing patients with this condition based on how it presents in patients and family members. In Matloff's view, the patient would have been better off had the doctor referred her to a genetics expert once there was some suspicion that her various ailments may be indicative of an inherited condition, without highlighting a specific cause. That would have increased the chance that the patient was receptive to the counseling of genetics experts who did know how to assess her medical information and her family's medical history and identify the potential causes, Matloff said.
Genetics experts in this case did the right thing by letting the patient know on multiple occasions that she didn't qualify for genetic testing for assessing gastric cancer risk, for various inherited cancer syndromes, and VHL, and that genetic testing wouldn't confirm that she had pheochromocytoma. They only agreed to order the test, which comprised 50 genes, because the patient was insistent and willing to pay $250 out of pocket, which is a much reduced self-pay price some labs offer to patients for genetic tests that aren't covered by insurance.
Even at the reduced price, testing was unnecessary and not an ideal use of her own money or healthcare resources. One analysis of genetic testing claims showed that from 2014 to 2016, tests for assessing hereditary cancer risk accounted for approximately 30 percent of expenditures. Payors are instituting prior authorization and other mechanisms to rein in increasing genetic testing costs, suspecting there's a lot of unnecessary overutilization.
"Was this medically indicated? No. Is it a good use of healthcare or her personal dollars? No," said Matloff. "The only benefit to testing this patient may have been that she was so distressed that VHL was the cause of her medical problems that maybe the negative results gave her some personal relief. But we could likely have avoided all this had the doctor not suggested VHL in the first place."