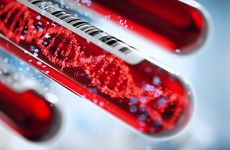 NEW YORK – Strata Oncology wants to bring precision oncology treatments to patients in earlier stages of their disease by combining its StrataNGS tumor sequencing test with a liquid biopsy test it is developing for assessing disease recurrence and treatment response.
The company will begin a 100,000-participant observational trial in the first half of this year, called Sentinel, to validate the investigational liquid biopsy assay's disease monitoring and treatment response prediction abilities. The trial will enroll patients diagnosed with stage I-III solid tumors who are going to have their tumors surgically removed or receive therapy.
Patients will first receive tissue-based tumor genomic profiling on the company's 429-gene StrataNGS, which analyses DNA and RNA in small tumor samples and can identify molecular aberrations that can inform treatment strategies. Strata will use the results from that test to develop a personalized liquid biopsy test that detects tumor-specific genomic alterations after treatment and measures minimal residual disease (MRD).
If successful, Strata aims to provide the liquid biopsy test alongside its tissue-based NGS panel, and such a combined offering could lead to a "paradigm shift" in precision oncology treatment and disease recurrence monitoring, according to Strata CEO Dan Rhodes.
Currently, tumor profiling is typically offered to late-stage cancer patients, since most marketed precision oncology treatments are for advanced or metastatic disease. However, precision oncology proponents have long been eager to test out the efficacy of biomarker-informed treatments in early stages of cancer, when patients are healthier. To do so would require a test that can routinely monitor patients for recurrence after surgery or adjuvant treatment and identify those at high risk of experiencing a relapse so they can be treated accordingly.
"Circulating tumor DNA has the potential to identify the subset of patients who ultimately are destined to recur versus those who are not, and this could allow us to move all these late-stage [treatment] advances into the early stage, where cancer is very likely more treatable," Rhodes said.
Strata's investigational liquid biopsy test analyzes circulating tumor DNA (ctDNA) for certain genetic alterations associated with cancer. The company will personalize each patient's liquid biopsy test to screen for specific alterations identified by StrataNGS in tumor tissue. Sentinel is the first study of its liquid biopsy test, the company said.
In the Sentinel trial, researchers will follow patients from initial treatment, which is usually surgery, until disease recurrence. They will administer the liquid biopsy assay every three months after their initial treatment. If a patient's cancer comes back, their physician can use the combined results from the StrataNGS test and liquid biopsy test to determine the best treatment option.
Strata will launch the study in mid-2021 and scale beyond early-access sites in early 2022, Rhodes said. The study could take more than three years to fully enroll, but Rhodes expects to share early data sometime in 2023, two years after the trial begins.
The first data readout in 2023 will likely show whether the liquid biopsy test is able to predict radiographic recurrence and provide data on the lead time from when genetic changes appear in ctDNA to clinical recurrence. Ultimately, Strata is hoping that the Sentinel study will be able to show that its personalized ctDNA test can identify when patients have a small amount of metastatic disease, long before conventional imaging can detect it. The company expects to present full data sometime in 2024 and show the test's ability to both predict recurrence and match patients to the right type of therapy.
Previous studies have suggested that blood tests can detect signs of recurrence in tumor DNA months before standard methods. In a paper published in Clinical Cancer Research last year, researchers from Harvard University and Dana-Farber Cancer Institute described their efforts to develop a personalized blood test based on the genomic profile of each patient's tumor to monitor breast cancer recurrence. They found the blood test was able to detect positive MRD in patients about 18 months before their cancer was detected by imaging.
In another case study published last year, researchers used Natera's MRD liquid biopsy test, Signatera, to pinpoint recurrence in an esophageal cancer patient's ctDNA nearly a year before a metastatic liver lesion could be detected on radiographic imaging.
A main objective within Sentinel is to demonstrate the Strata liquid biopsy test's ability to identify when early-stage cancer patients will benefit from targeted therapies. "If we can show something like a 30 percent to 50 percent ctDNA clearance rate when you treat patients with biomarker-matched therapy, that can lead to a paradigm shift in when we treat patients with these therapies," Rhodes said.
If the Sentinel trial is successful, Strata's liquid biopsy will enter a market with stiff competition. In the recurrence monitoring market, there are two approaches to these types of tests: personalized liquid biopsy testing based on tumor tissue sequencing, like Strata's, and blood sample-only testing that looks at a larger number of genes.
Strata has pursued the personalized liquid biopsy assay because it makes the testing more specific, which also makes it less costly to perform.
At the JP Morgan Healthcare Conference last month, Guardant Health announced plans to commercialize its own liquid biopsy MRD test this year, called GuardantReveal. Guardant's test is only validated in colorectal cancer patients, but the company is exploring its use in other tumor types.
Grail, which was acquired last year by Illumina for $8 billion, in January said it will collaborate with three global pharmaceutical firms — Amgen, AstraZeneca, and Bristol Myers Squibb — to evaluate a methylation-based technology for the detection of MRD in early-stage cancer patients.
Strata's test would most readily compete with Natera's Signatera, which has been studied in a number of tumor types, and similar to Strata's approach, uses sequencing data from tumor tissue samples to develop patient-specific liquid biopsy assays for monitoring MRD. Signatera received local Medicare coverage last year as a test for guiding adjuvant treatment decisions in colon cancer patients and monitoring MRD in patients previously diagnosed with colon cancer.
Meanwhile, Inivata last year presented proof-of-concept studies involving its RaDaR (Residual Disease and Recurrence) assay, which ranks and prioritizes the detection of up to 48 variants in patients' blood samples based on somatic variants found in tumor tissue via whole-exome sequencing. In one study, the company reported that RaDaR detected ctDNA in lung cancer patients up to a year before standard clinical progression occurred in most of the cases.
Additionally, last year, Guardant and Foundation Medicine received US regulatory approval for their respective liquid biopsy tests, Guardant360 CDx and FoundationOne Liquid CDx, for guiding treatment decisions for patients with advanced cancers. However, these tests aren't approved for disease monitoring.
Where Strata hopes to differentiate its liquid biopsy cancer monitoring test from competitors is in its ability to determine the best treatment option for patients with early-stage disease, whether it is targeted therapy, immunotherapy, antibody-drug conjugates, or chemo, Rhodes said.
"We ultimately view our differentiation in the treatment selection capability paired with the recurrence monitoring," he explained. "A successful study for us would show, across all of these treatment modalities, that biomarker-matched treatment leads to superior patient outcomes. If some of those treatments are guided by our combined DNA and RNA profiling, then that's what would really differentiate us in the market."
Strata is also taking a different approach to studies of its liquid biopsy test. Companies like Guardant and Natera conducted many individual studies of their tests in different cancer types, but Strata's plan with the Sentinel trial is to validate the test across many tumor and treatment types in one overarching program.
"The opportunity to give these treatments much earlier, when the patient has just a miniscule amount of disease burden, that's about as exciting of an opportunity as we've seen in precision medicine," Rhodes said. "That's why we're doing such a large-scale trial, so we can show that generally across these different therapeutic mechanisms, this new paradigm has widespread clinical benefit."