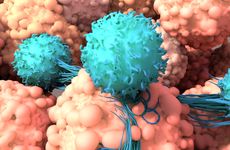 NEW YORK – Researchers at Stanford University have developed a circulating tumor DNA-based biomarker score to identify lymphoma patients who may quickly relapse after treatment with CD19-directed CAR T-cell therapies.
The research, published in Cancer Cell last month, explored biomarkers associated with shorter event-free survival in 138 patients with large B-cell lymphomas treated with Gilead's Yescarta (axicabtagene ciloleucel), a CD19-directed autologous CAR T-cell therapy. The researchers used the CAPP-seq next-generation sequencing method on serial blood samples before and during treatment to characterize ctDNA and CAR19-derived cell free DNA levels.
The researchers relied on data from two cohorts to develop and validate the biomarker score. They first quantified the levels of ctDNA, CAR19-derived cell-free DNA, and non-engineered T-cell receptor cell-free DNA associated with rapid relapse in a discovery cohort of 65 patients. The researchers then developed a platform for simultaneous tumor and effector profiling (STEP) to quantify these levels in patients to generate what is called the STEP score and validated this score's ability to predict relapse in a second cohort of 73 lymphoma patients.
Ash Alizadeh, senior author of the study, one of the developers of the CAPP-seq method, and leader of the Cancer Genomics Program at Stanford Cancer Institute, noted that the cohort of lymphoma patients treated with Yescarta had similar relapse rates as in previous clinical studies, with about half not experiencing cancer recurrence after treatment.
Yescarta was approved in the US in April 2022 as a second-line therapy for large B-cell lymphoma patients. In the Phase III ZUMA-7 study that led to approval, the median event-free survival time on Yescarta was 8.3 months versus two months for patients on standard treatment. The two-year event-free survival rates were 40.5 percent with Yescarta and 16.3 percent with standard-of-care treatment.
"About half of the patients were essentially cured by these CAR T cells, and so we tried to identify the characteristics that distinguish between these patients through the lens of liquid biopsies and the STEP platform," Alizadeh said. "The basic idea is if we're looking at the cancer through the blood and the cell-free DNA, that cell-free DNA can reflect molecules that come from a variety of sources: the tumor cells themselves, the CAR T cells and the endogenous non-engineered T cells that are part of the repertoire of the reaction to the tumor."
A few clinical and molecular features that were associated with relapse were high tumor burden before therapy; certain baseline or treatment-emergent mutations in genes such as IRF8, PAX5, TP53, TMEM30A, and CD19; and CAR T-cell expansion. The STEP score integrates the ctDNA tumor burden and CAR T-cell expansion levels to determine which patients may relapse, Alizadeh said.
Because the STEP platform included CAR T-cell expansion seven days after treatment, the test can only be used after a patient has received the CAR T-cell therapy. In practice, the test could be used within a month of the first treatment to identify patients who might need additional therapy to reduce their chance of relapse. Alizadeh said this could include a second infusion of the same or another type of CAR T-cell therapy to "augment the potency of the residual CAR T cells."
The findings from this study are also fueling research into potential new targets for CAR therapies. The study's first author, Brian Sworder, an instructor at Stanford Medicine, is exploring the treatment-emergent resistance mechanisms identified in this study in preclinical models of new CAR therapies, Alizadeh said.
"Some of the mutations we identified could inform next-generation CAR therapies to overcome those mechanisms of resistance," he added. "New CARs that fix the problems of old CARs and overcome resistance mechanisms of these therapies."
Going forward, Alizadeh and colleagues are working to further validate the STEP score in this population and in other lymphomas, such as follicular lymphoma and mantle cell lymphoma. The team is also exploring the platform's applicability with other CAR T-cell therapies, specifically Bristol Myers Squibb's CD19 cell therapy Breyanzi (lisocabtagene maraleucel).
The STEP platform at present is limited to research use, but Alizadeh's team is conducting additional validation of the score by retrospectively testing all patients receiving standard-of-care CAR19 therapy at Stanford.
"I would consider this use of STEP investigational and funded by research grants for prognostic value," Alizadeh said, noting that while it still costs several thousand dollars to run a research-use assay on a patient, the expense will lessen as sequencing continues to become cheaper using newer instruments such as Illumina's NovaSeq X or Ultima Genomics' UG100.
He hopes that the STEP platform could unify current methods of predicting patient outcomes on CAR T-cell therapies. Currently, oncologists can measure lactate dehydrogenase (LDH) levels to determine a patient's tumor burden through an inexpensive blood test. However, he noted that ctDNA in the STEP study was "substantially better" and more specific than LDH levels in determining outcomes.
There are also methods in use to quantify CAR T-cell expansion alone. These include using fluorescence-activated cell sorting (FACS) to identify CAR expansion by surface markers unique to the CAR T cells and qPCR or ddPCR assays to monitor the retroviral or lentiviral construct used to engineer CAR T cells. However, these methods measure peripheral blood mononuclear cells (PBMCs) rather than ctDNA, which makes comparisons to the STEP platform difficult, Alizadeh said.
"This was a dreamy idea that you could see CAR T cells in the cell-free DNA, even after the core T cells have left the circulation to attack the tumor," Alizadeh said. "They're very easily discernible in the periphery with cell-free DNA, and this was something that really came through in this study. The ability to use the bloodstream and cell-free DNA as a window into these non-circulating compartments, where these important functionally reprogrammed cells are continuing to live, die, and do their thing is really fascinating."