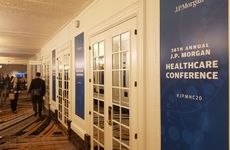 SAN FRANCISCO - On the second day of the 38th annual JP Morgan Healthcare Conference, GlaxoSmithKline discussed its forthcoming plans for niraparib (Zejula), and Amgen noted that given the interest in its KRAS G12C inhibitor that a lung cancer study had quickly finished enrollment at the end of last year. Below are brief reports on the presentations covered by our team at the conference and in our offices in New York.
---
GlaxoSmithKline
GlaxoSmithKline CEO Emma Walmsley said the company is focusing on building out its specialty drug development and commercialization capabilities in oncology, and the $5.1 billion acquisition of Tesaro last year was instrumental in this regard. "We've made substantial progress in the last 12 months in strengthening our oncology capabilities and our commercial infrastructure," she said, noting that the Tesaro acquisition provided GSK with new drugs, such as niraparib (Zejula), and with highly skilled employees with deep expertise in oncology R&D, regulatory issues, and market access. 
At the time of this acquisition a year earlier, niraparib was approved in the US and in Europe as a treatment for recurrent ovarian cancer patients who respond to platinum-based chemotherapy, regardless of whether they harbor mutations in BRCA1 or BRCA2 genes, or harbor other biomarkers. And in acquiring Tesaro, GSK bet that it will be able to market niraparib to all advanced ovarian cancer patients in other settings.
GSK has been using Myriad Genetics'  myChoice CDx test to identify patients with homologous recombination deficiency (HRD) in niraparib studies. The FDA in December approved niraparib as an option for heavily treated ovarian cancer patients who have HRD as determined by Myriad's test. However, at the European Society for Medical Oncology meeting last year, researchers presented data from the PRIMA Phase III, which showed that women with advanced ovarian cancer responding to first-line chemotherapy responded to maintenance therapy with niraparib regardless of their BRCA mutation or HRD status. 
"The data presented … underscored our belief that the PARP [inhibitor] class [of drugs] is underutilized," said Walmsley. "Since Zejula demonstrated a benefit in all patients, we anticipate that doctors will be able to start patients on therapy without any need for HRD testing." GSK is expecting to add this new indication to the niraparib label later this year. The company is planning to study the drug in other cancers where homologous recombination deficiency is seen, such as breast cancer, she added. 
In a breakout session at the meeting, Hal Barron, GSK's president of R&D, said that the firm has submitted a biologics license application with the FDA for its PD-1 inhibitor dostarlimab in microsatellite instability-high (MSI-high) and mismatch repair deficient (dMMR) advanced or recurrent endometrial cancer. GSK is interested in developing this drug in a tissue-agnostic fashion, which would make it a competitor to pembrolizumab (Merck's Keytruda). Last year, in the Phase I/II GARNET trial evaluating dostralimab in this setting, 49 percent of MSI-high patients and 20 percent of dMMR patients saw their tumors shrink. 
In terms of forthcoming partnerships, Walmsley noted that GSK hopes to build on the type of drug discovery collaborations it has with direct-to-consumer testing firm 23andMe and with the University of California to build a CRISPR lab. "We look at those kinds of platforms as accelerators of our pipeline, and very much focused on the strategy of immunology, genetics, and new technologies," she said. 
Amgen
Amgen is expecting to generate more than $5 billion in revenues from its oncology franchise in 2020, which includes several precision oncology assets, such as blinatumomab (Blincyto) in Philadelphia chromosome-negative, relapsed or refractory acute lymphoblastic leukemia, and panitumumab (Vectibix) in wild-type RAS metastatic colorectal cancer. 
Additionally, 2020 will be a data-rich year for Amgen, according to CEO Bob Bradway, particularly in oncology. AMG 510 is Amgen's KRAS G12C inhibitor that the drugmaker is studying in non-small cell lung cancer and in combination with other agents. The company has a Phase II trial underway in NSCLC that is fully enrolled. "The interest in that trial was considerable and we completed enrollment very quickly in the fourth quarter," he said, adding that the first data from that trial is slated for later this year. 
Amgen is working with Guardant Health to develop a blood-based companion test and with Qiagen to advance a tissue-based companion diagnostic to identify patients with KRAS G12C mutations who are likely to respond to AMG 510. 
Despite the interest in AMG 510, due to it inhibiting what was previously considered an "undruggable target," it is not the only promising precision oncology drug in Amgen's oncology portfolio, Bradway assured. He highlighted that Amgen is committed to applying human genetics to discover new drugs, and noted the company's interest in identifying new targetable disease pathways by combining next-generation proteomics and genetic technologies. "We have a lot of eggs in a lot of different baskets, [and] we're excited to continue to focus on a range of first-in-class molecules … that include some differentiated precision medicines that we're advancing into the clinic during the course of the year," Bradway said. 
Eli Lilly
In Eli Lilly CEO David Ricks' view, although a lot of large pharmaceutical companies talk about operating like a small, agile biotech, few have been able to achieve it. With the acquisition of Loxo Oncology last year, Lilly is giving the "biotech inside pharma" model a shot. 
In late 2019, Lilly announced it was merging Lilly Research Laboratories and Loxo Oncology, and creating a new entity, called Loxo Oncology at Lilly. Former Loxo CEO Josh Bilenker and other executives from the company, including Jacob Van Naarden and Nisha Nanda, are leading the new division and report to Lilly CSO Daniel Skovronsky. Lilly also hired Memorial Sloan Kettering's David Hyman, whose research was instrumental for the development of the TRK inhibitor LOXO-195.   
"Competing in oncology takes speed and focus and a strong technical base," Ricks said. "It's clear that small companies in many ways have outcompeted large ones particularly in early-phase oncology development." He said the new team led by Bilenker is applying "biotech principles" to Lilly's early-phase drug development efforts in oncology, and the large pharma will try not to "get in their way" but provide resources and support when needed.  
The Loxo purchase also brought to Lilly promising drug candidates, such as selpercatinib, which is moving quickly through development in a number of solid tumors and into registrational trials (see here, here and here). Ricks also highlighted several early-phase programs, including a Phase I/II trial of LY3499446 in solid tumors with a KRAS G21C mutation, and LY3484356, an oral SERD that the company is exploring in various breast cancer indications.
Some of the early-phase programs may have readouts this year depending on how quickly they enroll. In the late phase, Ricks expects the Phase III MonarchE study of abemaciclib (Verzenio) to yield results in 2021. That study is evaluating the ability of abemaciclib to enhance endocrine therapy in high-risk, early-stage, hormone receptor-positive, HER2-negative breast cancer. 
Caris Life Sciences
David Spetzler, President and CSO of privately held Caris Life Sciences, highlighted how his company is combining comprehensive multi-omic patient testing and in-depth analysis of the resulting data to provide precision oncology services to both patients and biopharma companies.
Spetzler said that Caris has profiled more than 200,000 patients since 2009, about 158,000 of which have outcome data associated with their profiles. The company has a clinical customer reach of about 3,000 oncologists, and has established an academic/medical precision oncology alliance comprising 35 members, including recent new participants Duke University and Cedars-Sinai Medical Center.
The Caris Molecular Intelligence process starts when a patient tissue sample is sent to Caris' lab, where tissue microdissection is performed. Spetzler said that this is a key technical differentiator from its competitors because it results in a higher success rate, identifying actionable biomarkers in 92 percent of patients profiled. Caris then analyzes DNA and RNA with whole-transcriptome (and soon whole-exome) sequencing on every patient with full coverage of about 22,000 genes, as well as proteins with up to 12 clinically relevant immunohistochemistry assays. The company then applies its artificial intelligence engine to compare results against its internal database to generate a full tumor profile including recommended treatments.
Caris currently has two panels going through the PMA submission process with the US Food and Drug Administration. The first, MI Transcriptome, received breakthrough device designation from the FDA in May and is awaiting approval. This panel can detect fusions independent of the DNA breakpoints and can detect rare or novel fusion events better than targeted sequencing of DNA-based shot-read methods, the company said. 
The second, MI Exome, is planned for submission in the first quarter of this year. This assay can detect SNPs, indels, copy number changes, and fusions with a depth of coverage of 200x to 500x and with the ability to modulate depth of coverage on a specific gene level.
The company is also rolling out Caris MI AI — "molecular artificial intelligence" that uses machine learning from combined molecular and clinical data to create molecular signatures for cancer diagnosis and to predict patient treatment response. The company has already shown the feasibility of therapy prediction with this technology by showing internally that an algorithm designed to predict colorectal cancer patients benefit from FOLFOX chemotherapy increased overall survival by 50 percent. 
Spetzler noted that this is only the first version of Caris MI AI built with the core 592-gene assay, and that it will get better with deployment of whole-transcriptome and whole-exome data. "More data generates greater clinical utility," Spetzler said.
Other offerings in Caris' development pipeline include liquid biopsy tests: Carisome Liquid Profiling Circulating Exome Assay for therapy selection (launching in 2020); Carisome Blood-Based Dx, a circulating exome assay intended to provide comprehensive molecular profiling for blood-based diagnostics (2021); and Carisome MRD and Monitoring, a circulating exome assay for minimal residual disease assessment and monitoring.
These assays will all leverage a proprietary cell-free DNA isolation method that delivers 30 to 120 ng of testable material across 100 percent of patients. In general, Spetzler said, most other methods are only able to find cfDNA in about 60 percent of late-stage cancer patients. Spetzler also said the company is seeing above 90 percent concordance back to tissue in early studies.
To prep for the many new technologies and additional testing it will bring, the company has been growing its installation of Illumina NovaSeq systems and plans to open three new precision medicine laboratories: an R&D lab in Phoenix, Arizona; an adjacent clinical lab in Phoenix; and a blood lab in Irving, Texas.
Caris logged about $140 million in revenues in 2019 with 52 percent year over year test volume growth. In 2020, the company is expecting revenues of about $200 million. The company is also very upbeat about its payor relationships, having established 57 in-network contracts covering about 184 million lives.