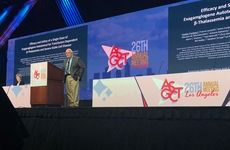 LOS ANGELES – A single dose of Vertex Pharmaceuticals and CRISPR Therapeutics' gene-editing therapy exagamglogene autotemcel (exa-cel) improved outcomes for patients with two inherited, genetic blood disorders, according to data presented Wednesday at the American Society of Gene & Cell Therapy's annual meeting.
Haydar Frangoul, a pediatric hematologist/oncologist at Children's Hospital at TriStar Centennial in Nashville, Tennessee, presented results from the first 75 patients with transfusion-dependent beta-thalassemia (TDT) and sickle cell disease (SCD) dosed with exa-cel in two pivotal trials. Based on one year of follow-up, with a data cutoff in February 2022, patients showed signs of "successful and durable" editing in the targeted gene, BCL11A, in hematopoietic stem and progenitor cells (HSPCs), Frangoul said. 
"Exa-cel has the potential to be the first CRISPR-Cas9-based therapy to provide a functional cure for patients with transfusion-dependent beta-thalassemia and sickle cell disease," he added.
The two clinical trials, CLIMB THAL-111 and CLIMB SCD-121, are ongoing in TDT and SCD patients, respectively. Exa-cel is designed to reactivate elevated fetal hemoglobin, a protein that carries oxygen and is lacking or dysfunctional in patients with TDT and SCD. The therapy uses CRISPR-Cas9 to edit patients' CD34-positive HSPCs ex vivo to alter the BCL11A gene, resulting in increases in fetal hemoglobin in the cells after infusion back into the body.
In the CLIMB THAL-111 trial, investigators enrolled 44 patients with TDT. The primary endpoint is the proportion of patients who achieve improvements in hemoglobin levels without red blood cell transfusions at least 12 consecutive months after treatment. Patients on exa-cel achieved increases in mean total hemoglobin and fetal hemoglobin three months after treatment, according to Frangoul.
Additionally, 42 of the patients stopped blood transfusions after treatment. The two patients who hadn't stopped transfusions saw their transfusion volume reduced by 75 percent and 89 percent, respectively.
Investigators enrolled 31 patients with SCD in the other trial, CLIMB SCD-121. None of the enrolled patients experienced severe vaso-occlusive crises (VOCs) for at least 12 consecutive months following treatment, and patients also experienced increases in mean total hemoglobin and fetal hemoglobin. Severe VOC, the primary endpoint in the trial, is an inflammatory response triggered when sickled red blood cells hinder blood flow such that tissues have no oxygen.
After one year, patients in both groups continued to have stable proportions of edited BCL11A alleles in bone marrow CD34-positive HSPCs and peripheral blood mononuclear cells, "indicating that the cells persisted over time and did not disappear," Frangoul said.
Vertex and CRISPR Therapeutics last month submitted a biologics license application to the FDA for exa-cel as a treatment for TDT and SCD. Data from CLIMB THAL-111 and CLIMB SCD-121 are part of the BLA data package.