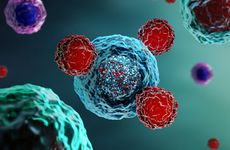 NEW YORK – Nectin Therapeutics became a clinical stage company on Wednesday when it dosed the first cancer patient in a clinical trial of its investigational immunotherapy NTX1088.
The Phase I/II first-in-human trial of NTX1088 will enroll roughly 90 patients with advanced solid tumors at the MD Anderson Cancer Center. The first-in-class immunotherapy is designed to block the poliovirus receptor, or PVR, on the surface of cancer cells. The transmembrane protein has a known association with resistance to PD-1 and PD-L1 checkpoint inhibitors, which gives Nectin's scientists the hunch that blocking the protein could restore some of the immune system's activity against cancer cells.
While there have been several research attempts to address PVR-related immune checkpoint inhibitor resistance, Nectin CEO Fabian Tenenbaum says the firm is the first to actually develop and test an anti-PVR agent.
Tenenbaum explained how the therapy is designed to work, from a biological standpoint. When immune cells, including T cells and NK cells, interact with PVR on the surface of cancer cells, they tend to lose the surface glycoprotein DNAM-1, or CD226, which plays an important role in activating the immune cells to attack tumors. If a monoclonal antibody like NTX1088 can block the PVR expressed on the surface of cancer cells, the thinking goes, expression of this crucial glycoprotein may be restored on the immune cells and increase their anti-tumor activity.
Separately, blocking PVR on the surface of these tumor cells may play a role in suppressing TIGIT and CD96 signaling, which both can dampen immune responses. "The blockade of PVR with NTX1088 essentially inhibits the interaction of PVR with TIGIT and CD96 signaling," he said. "These mechanisms of action play an important role in allowing the immune cells to identify and kill cancer cells more efficiently." In preclinical studies using breast cancer cell lines and human NK cells, Nectin says NTX1088 showed superior activity compared to anti-TIGIT monoclonal antibodies.
Study aims, biomarker analyses
In the newly launched Phase I/II trial, which is funded through a clinical development partnership with MD Anderson's Cancer Focus Fund, Nectin is primarily looking to establish the drug's maximum tolerated dose and study its efficacy when used both as a monotherapy and in combination with Merck's checkpoint inhibitor Keytruda (pembrolizumab). Tenenbaum stressed that the firm is highly focused on exploring biomarkers that he hopes will shed light on the best patient populations to home in on in future clinical studies.
"We have a very significant biomarker evaluation strategy and a number of novel biomarkers that we've developed that we're going to study," he said. "[These] will allow us to understand more specifically in patients the relationship between the levels of PVR expression and their response to NTX1088."
The trial design is adaptive, he added, which will allow Nectin to fine-tune the entry criteria to focus on specific patients who have the highest chance of responding to treatment. For this initial trial, Nectin is enrolling patients with cancer types known to express PVR, or patients with tumors that have been documented to express PVR, including those with liver, colon, adrenal, uterine, lung, stomach, esophageal, ovary, and bladder cancer, among others.
According to Tenenbaum, the firm hasn't yet settled on an ideal cutoff for PVR expression, but the adaptive trial design allows flexibility in this regard. "We have done some extrapolation about what we think a reasonable cutoff could be, but we're not utilizing a specific cutoff immediately," he said. "In our preclinical work, we've seen that PVR expression is required to see a potent response, but even a modest expression of PVR on cells has created a positive outcome."
Investigators will assess PVR, Nectin2, and PD-L1 expression in tumor tissue from a biopsy or an archived sample as well as via liquid biopsies. They will also look at CD8, TIGIT, and DNAM-1 expression levels in patients' tumors and DNAM-1 expression on circulating immune cells. The liquid biopsies required to analyze the circulating immune cells will be taken routinely during every treatment cycle.
According to Tenenbaum, the biomarkers that Nectin is considering as predictive tools, which can possibly become companion diagnostics, can be easily implemented for routine clinical use by a large patient population. For instance, PVR expression can be measured in tumor tissue using immunohistochemistry, the same technology used to assess PD-L1 expression.
Analyzing DNAM-1 expression on circulating immune cells via liquid biopsies might require more education for providers since the biomarkers are more novel, but Tenenbaum noted that Nectin still has a long way to go before establishing whether this approach could be part of a routine biomarker strategy for NTX1088 in the first place.
"These are more novel biomarkers that we have developed and will continue to develop through the clinical program," he said. As data emerge from the first-in-human study, Nectin hopes to home in on the best biomarkers, and then work on refining their testing strategies and cutoffs from there.
Funding, future directions
In tandem with announcing the start of its first clinical trial on Wednesday, Nectin shared that it has extended a Series A financing round to over $25 million. IBF and Peregrine Ventures led the round with participation from aMoon Fund and other existing investors.
"The combined funds that we've just raised are primarily for supporting this Phase I program over the next couple of years, but also supporting the other pipeline assets," Tenenbaum said.
While NTX1088 is the first drug to enter clinical trials, Tenenbaum was optimistic about the prospects for a number of other investigational agents in the firm's pipeline, including antibody-drug conjugates for solid tumors and hematologic malignancies.
The firm also has a novel immune checkpoint inhibitor, NTX2R13, designed to target CD112R on solid tumors. The firm expects to file an investigational new drug application with the US Food and Drug Administration and begin evaluating that agent, potentially combined with NTX1088, in clinical trials during 2024.
"We're in the process of developing these as a potentially novel combination," he said.
Looking ahead, Nectin remains focused on developing drugs to benefit the large proportion of patients who either don't respond or respond and then relapse to existing immune checkpoint inhibitors. This has been Nectin's goal since 2018, when it launched hoping to clinically advance the research out of the Hebrew University in Jerusalem, which focused on PVR as an immunotherapy target. Today, Nectin's labs and discovery facilities are in Israel, and it is headquartered both there and in Fort Lee, New Jersey. The latter site houses its corporate operations and a lot of the clinical development work for the US-based trial.
In Tenenbaum's view, the NTX1088 clinical trial funding from MD Anderson's Cancer Focus Fund is a recognition of not only the promise of the firm's lead candidate but also the pressing need for therapies for the immune checkpoint inhibitor-refractory patient population. "They get to see a lot of assets under development, and it's important that they've selected this asset to bring to their patients," he said.
Nectin anticipates initial data readouts for the NTX1088 clinical trial during 2023.