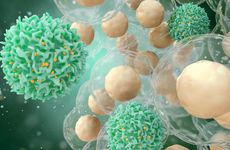 NEW YORK – Cartesian Therapeutics announced the launch of a Phase II clinical trial this week evaluating an autologous, messenger RNA-engineered CAR T-cell therapy, dubbed Descartes-11, as a treatment for high-risk multiple myeloma in the frontline setting.
The indication Cartesian is pursuing is a notable departure from the later, relapsed or refractory settings in which drugmakers typically develop engineered cell therapies. The Gaithersburg, Maryland-based company sees itself as somewhat of a trailblazer in this sense, highlighting the unconventionality of using cell therapies to treat patients who have recently been diagnosed with cancer, as opposed to patients whose cancers have progressed following several lines of treatment and are otherwise out of options.
To be sure, Cartesian's CAR T-cell therapy won't be the very first treatment that the roughly 30 patients enrolled in the Phase II trial will receive; patients are still required to undergo induction therapy with agents like lenalidomide (Bristol Myers Squibb's Revlimid) or proteasome-inhibiting chemotherapy and the steroid dexamethasone, or some combination of these drugs, to minimize their disease burden before treatment. If these patients have residual disease following induction therapy, that's when they'll be considered candidates for Descartes-11.  
The researchers will evaluate the treatment's safety and preliminary efficacy, and track as a primary endpoint how many patients experience a complete response, meaning their tumors completely disappear with treatment. Cartesian is expecting topline results in 12 to 18 months.
A case for mRNA engineering
Cartesian's CEO and cofounder Murat Kalayoglu has a bit of a bone to pick with "conventional" DNA-engineered CAR T-cell therapies. The risk of side effects — including cytokine release syndrome and neurotoxicity — is too high to justify moving these therapies into early lines of treatment, he said.
"The problem is, you can't use toxic therapies when you're first diagnosed, because when you're first diagnosed, you're feeling relatively healthy and you have a number of treatment options available to you," he explained.  
That's why Cartesian is hedging its bets on mRNA-engineered CAR T-cell therapies, which it sees as a workaround for the cytokine release syndrome and neurotoxicity risks that go hand in hand with DNA-engineered CAR T-cells.
"We wanted to design something that was potent, yet safer and could integrate seamlessly into the existing standard of care for patients that are newly diagnosed," Kalayoglu said.
The reason that mRNA-engineered CAR T cells are considered less risky than DNA-engineered CAR T cells, Kalayoglu explained, is that they are less permanent and therefore less unpredictable. DNA-engineered CAR T-cell therapies are permanently altered cells that are designed to proliferate once infused into the body. But this proliferation, Kalayoglu says, can become uncontrollable and lead to both short-term toxicities like CRS and neurotoxicity and longer-term side effects like the risk of the engineered cells transforming into cancer cells themselves.
"The reason that DNA engineering is toxic is that when you modify the cell at the DNA level, you're making a permanent change at the genomic level of the cell such that every time that cell divides … the daughter cell looks identical to the parent cell," he said. "The signal to the cell, which is 'let's proliferate and clear out the target,' doesn't really disappear." Once these cells begin proliferating, they don't know when to stop, he said, which can cause toxicity.  
Infusions of mRNA-engineered CAR T cells, on the other hand, have half lives in the same way that many biologics or small molecule drugs might have. "The body naturally clears out the mRNA, so these cells have predictable, drug-like pharmacokinetics," he said, making it easier to control their exposure to the body and improve the safety profile of the drug. This added control on the safety side has made it possible for Cartesian to investigate Descartes-11 in frontline multiple myeloma.
According to Kalayoglu, before taking the drug into this Phase II multiple myeloma trial, it was tested in a Phase I safety study, in which researchers observed none of the toxicities that are "now synonymous with conventionally engineered CAR T cells." The full results of that trial have not been published, but Kalayoglu was adamant that with mRNA-engineered CAR T cells across oncology, as well as autoimmune and respiratory indications, Cartesian has "never seen any of the side effects that are routinely associated with other CAR Ts."
Because Cartesian aims to administer the mRNA-engineered cells in large quantities in several consecutive therapeutic windows, as opposed to a one-time treatment, lymphodepleting chemotherapy regimens aren't necessary pre-infusion, Kalayoglu pointed out. These regimens, he explained, are intended to create an ideal environment for DNA-engineered CAR T cells to proliferate once they are inside the body, which is necessary due to the subtherapeutic doses of these DNA-engineered CAR T cells that are typically infused. Doing away with the requirement that patients undergo intense lymphodepleting chemo prior to treatment is another reason why mRNA-engineered cells are better suited for earlier lines of treatment, he said.
"While doing that [lymphodepletion] may be acceptable in the most advanced cases, it really is difficult to justify using those types of chemotherapies for patients that are newly diagnosed," he said. The same goes for patients with respiratory illnesses and autoimmune diseases, for which Cartesian is also developing its cell therapies, including an RNA-engineered cell therapy in clinical development for acute respiratory distress syndrome caused by COVID-19. All of the therapies are engineered using a technology that the company has named "RNA Armory." The proprietary platform is designed to engineer any type of cell with mRNA that the cell, in turn, translates into therapeutic proteins that go after an intended target.
In the case of the multiple myeloma treatment, Descartes-11, the target is the B-cell maturation antigen (BCMA), which is commonly expressed on multiple myeloma cells. The company selected the target based on research out of the National Institutes of Health. While there are a number of other anti-BCMA products in development, including Bristol Myers Squibb and Bluebird Bio's CAR T-cell therapy, idecabtagene vicleucel, the biologics licensing application for which is currently undergoing US Food and Drug Administration review, these products mostly take the conventional DNA-engineered approach.
Durability as a 'construct'
Even though Cartesian believes the impermanency of mRNA CAR T cells will prove to be a safety advantage and differentiating factor for its drug, currently approved CAR T-cell therapies are DNA-engineered products precisely because of their permanence. Treatments such as tisagenlecleucel (Novartis' Kymriah), lisocabagene maraleucel (BMS' Breyanzi) and axicabtagene ciloleucel (Gilead's Yescarta) were all FDA-approved in their respective hematologic cancer indications based on clinical trial data that showed that some patients, a minority, derived deep and long-lasting benefit.
Most companies developing CAR T-cell therapies will point proudly to the ability of these DNA-engineered cells to remain in the body for months or years after a one-time infusion and effectively target any recurring cancer cells that crop up down the line. The fleeting nature of the mRNA-engineered CAR T cells that Cartesian manufactures run counter to this concept of lasting durability.
Kalayoglu doesn't see it that way. Instead, he contended that companies developing CAR T-cell therapies the conventional way have created the concept of durability and persistence from a one-time treatment, and that this concept doesn't apply to Cartesian's approach.
"The concept of persistence and durability is an artificial one. It's a construct that is irrelevant for a drug that can be administered repetitively," he said. "If you're limited to having to administer your treatment just once, then of course you need to differentiate it by its ability to last."
Because mRNA CAR T-cell therapies can be repeatedly administered, Kalayoglu said, they don't have to be durable in the same way that DNA-engineered cells must be. Patients will be able to receive Descartes-11 repeatedly, via multiple doses, like a typical cancer drug. "We don't talk about 'durability' and 'persistence' associated with typical biologics and typical small molecules, because those therapies can be given repetitively," he said.
Kalayoglu did not specify how many infusions of the manufactured product he anticipated patients would receive over the course of their treatment, but he estimated around four to six. And even though it takes 10 to 14 days "vein-to-vein" to prepare the treatment — freezing and shipping patients' harvested immune cells to Cartesian's manufacturing facility in Maryland, engineering them with the mRNA, and then freezing and shipping them back for infusion into the patient — he emphasized that this would only need to be done once; the product could be cryopreserved for future administration, should it be necessary.
Next steps, future directions
Cartesian decided to start studying Descartes-11 in multiple myeloma first because Kalayoglu and the firms' CSO and cofounder Michael Singer both had family members diagnosed with the cancer. But the company has bigger plans.  
The founders of the firm, which was founded in 2016 and emerged from stealth mode in 2019, believe their mRNA cell engineering platform will have the flexibility to develop treatments for a variety of cancer types. The next generation of mRNA-engineered CAR T-cell therapies that Cartesian is developing — and expects to matriculate into clinical trials this year — involves engineering multiple proteins into the product.
"We are engineering three or more different proteins into a given cell and using that cell as both a vehicle for delivery to the site of disease, as well as a factory at the site of disease," Kalayoglu said of Descartes-15 and Descartes-25, the two third-generation oncology programs that are next up for clinical development.
"These are very unique ways of approaching cell therapy," he said. "If you have a set of products that are safe to administer and can generate multiple different proteins simultaneously in a combination therapy, you can potentially obviate the need to spend years developing a single protein, like an antibody, to get it into clinical trials."
Kalayoglu wouldn't disclose the specific indications and targets that Cartesian has selected for this next round of oncology CAR T-cell therapies, but he was confident that the company would "absolutely be innovating around products that target oncology for many years to come."