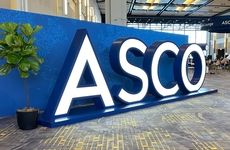 NEW YORK – In a head-to-head study of Amgen's Vectibix (panitumumab) and Genentech's Avastin (bevacizumab) in first-line metastatic colorectal cancer, Vectibix improved survival for RAS-wildtype and left-sided colorectal cancer patients. 
At the American Society of Clinical Oncology's annual meeting on Sunday, Takayuki Yoshino, director of the department of gastroenterology and gastrointestinal oncology at National Cancer Center Hospital East in Chiba, Japan, presented the data from the Phase III PARADIGM trial, which was conducted at 200 sites in Japan. In the trial, researchers compared Avastin, a VEGF inhibitor, against Vectibix, an anti-EGFR monoclonal antibody, when given in combination with chemotherapy.
Vectibix is approved in the US for first-line treatment with chemotherapy of RAS wildtype metastatic colorectal cancer and as a monotherapy treatment for RAS wildtype metastatic colorectal cancer patients who have progressed on chemotherapy. Avastin is also approved in combination with chemo for first- and second-line treatment of metastatic colorectal cancer.
The trial enrolled 823 chemotherapy-naive RAS wildtype metastatic colorectal cancer for treatment with either Vectibix and a chemotherapy regimen comprising oxaliplatin/5-fluorouracil/leucovorin (mFOLFOX6) or Avastin and mFOLFOX6. After a median follow-up of 61 months, median overall survival for the left-sided tumor group in the Vectibix arm was 37.9 months versus 34.3 months in the Avastin arm.
In the whole study population, including both left- and right-sided tumors, Vectibix also showed an improvement in survival with a median of 36.2 months versus 31.3 months in the Avastin arm.
However, there was no difference in survival between the two arms when researchers focused only on patients with right-sided tumors. Patients in the right-sided group fared much worse than patients with left-sided tumors, with a median overall survival of 20.2 months on Vectibix and 23.2 months on Avastin.
Right-sided tumors generally have poorer survival than left-sided tumors, said ASCO gastrointestinal cancer expert Cathy Eng of Vanderbilt University Medical Center in a discussion of the data. Based on earlier studies in colorectal cancer, such as the Cancer and Leukemia Group B/Southwest Oncology Group 80405 trial and FIRE-3 trial of Eli Lilly's Erbitux (cetuximab), researchers have also found that anti-EGFR therapies are more effective in left-sided tumors than for right-sided tumors, she added.
"[The PARADIGM results] will largely validate the role of anti-EGFR therapy in left-sided tumors," Eng said.
Additional data from the study also showed Vectibix plus chemo yielded a response rate of 80.2 percent in left-sided tumors and 74.9 percent in the whole study population, compared to a 68.6 percent response rate for left-sided tumors and 67.3 percent response rate for the overall population in the Avastin arm. Patients in the Vectibix arm also had a higher R0 resection rate, or the rate of patients who had no tumor remaining after post-treatment surgery.
There was no statistically significant difference in progression-free survival between the two arms. Vectibix demonstrated a median progression-free survival of 13.7 months in the left-sided population and 12.9 months in the overall population, while Avastin showed a median progression-free survival of 13.2 months in the left-sided population and 12 months in the overall population.
Chiara Cremolini, a professor of medical oncology at the University of Pisa in Italy, who discussed the PARADIGM data, said this "inconsistency" between an improvement in overall survival, but no progression-free survival benefit, was also observed in the FIRE-3 study comparing anti-EGFR therapy Erbitux to Avastin in colorectal cancer.
"There was an overlap in [survival curves] for the first 28 months of observation [in the PARADIGM trial], then a clear separation in favor of the anti-EGFR based strategy," Cremolini said. "This means that for around 40 percent of patients, similar results are achieved with both strategies, while for the majority, more than 60 percent of patients, there is an advantage from starting chemotherapy with the anti-EGFR agent for a long-term benefit."
She noted that the same inconsistency occurring in two first-line EGFR inhibitor trials "challenges the choice of progression-free survival as a surrogate endpoint when dealing with upfront anti-EGFR containing regimens."
The anti-EGFR therapies, Vectibix and Erbitux, plus chemo were also associated with helping patients achieve deeper responses, Cremolini said. In the PARADIGM study, the median decrease in tumor size for left-sided tumor patients was 59 percent on Vectibix versus 44 percent on Avastin. She hypothesized that the deepness of the initial response on Vectibix led to a lower tumor load at progression and could improve the efficacy of the post-progression treatment.
"This may explain the difference in overall survival with the lack of any benefit in terms of progression-free survival," she said.
In practice, Cremolini said these results suggest that Vectibix plus chemotherapy should be used as a first-line therapy for patients with microsatellite stable RAS- and BRAF-wildtype and left-sided colorectal cancer.
She suggested this specific patient group because there are already approved, effective first-line treatments for microsatellite instability-high (MSI-high) colorectal cancer and for BRAF-mutated colorectal cancer.
"The major driver of the first-line treatment choice is mismatch repair or microsatellite status because mismatch repair-deficient or MSI-high patients should receive upfront immunotherapy," Cremolini said. "In other cases, which are the vast majority of patients, we should look at BRAF mutational status."
She recommended chemotherapy plus Avastin for patients with microsatellite stable BRAF-mutant tumors. For RAS- and BRAF-wildtype patients, she recommended doctors use the tumor location to select treatment. For left-sided tumors, she recommended a chemo doublet plus anti-EGFR therapy, and for right-sided tumors, a chemo doublet plus bevacizumab or anti-EGFR treatment.
Yoshino noted that his team is continuing a biomarker analysis of data from the PARADIGM trial, which will be presented at a future meeting. They are sequencing pre- and post-treatment blood and tissue samples using targeted DNA sequencing, RNA sequencing, immunohistochemistry, and multiplex immunofluorescence, and analyzing tumor mutational burden, microsatellite status, and other biomarkers.