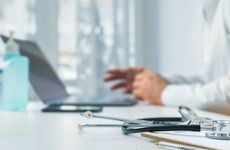 NEW YORK – In an effort to explore how telehealth can be better harnessed in oncology, the National Cancer Institute (NCI) this month awarded more than $23 million to four cancer centers, including the University of Pennsylvania, where researchers want to use the technology to improve lung cancer patients' access to comprehensive molecular testing and personalized treatment.
Through the NCI Telehealth Research Centers of Excellence (TRACE), a Cancer Moonshot-supported initiative, UPenn received $5.7 million to establish its own telehealth center of excellence and begin two studies to assess strategies for improving screening and genetic test access among advanced lung cancer patients. The NCI funding to the Penn Telehealth Research Center in Cancer Care (Penn TRACE) will support the center's studies for five years.
Charu Aggarwal, associate director of the Penn Center for Precision Medicine, said one of the trials will explore how telehealth can facilitate blood-based molecular testing earlier in the course of patients' disease and lead to more timely treatment recommendations. While certain details of the trial are still being finalized, Aggarwal noted that it will be a prospective, randomized trial with an overarching goal to determine how telehealth education can accelerate access to precision medicine in lung cancer.
"It's incredibly important that these patients undergo molecular testing, and, by way of this grant, we hope to use telehealth to accelerate molecular testing in patients with lung cancer," she said. "We hope to integrate liquid biopsy-based molecular testing earlier, so that when patients come in and see us at the time of the first medical oncology appointment, we can be ready to deliver them a treatment recommendation."
Within the context of the study, Aggarwal's group will use telehealth to educate patients about the need for molecular testing prior to their first oncology appointment so they are more prepared to understand and discuss the results and treatment recommendations. Aggarwal hopes the telehealth strategy will reduce patients' wait times to start treatment.
The trial will use synchronous telehealth strategies, which is when patients communicate with their doctors through phone or video calls, and asynchronous strategies, where communication does not happen live but through texts and emails or via sharing patient reports and educational resources.
The second trial UPenn is conducting will investigate whether telehealth is useful for encouraging shared decision-making between lung cancer patients and providers about having diagnostic screening with low-dose computed tomography.
Aggarwal noted that the rapid uptake in telehealth services during the early months of the COVID-19 pandemic has made oncologists more open to integrating its use in the oncology workflow. "We have quickly realized that not all patients need to come into the clinic," she said.
"We have primarily used telehealth so far to discuss and offer treatment recommendations for established patients or maybe to see new patients," Aggarwal said. "But we haven't really used it for novel approaches such as talking to patients about screening, for education, and for provider interactions outside of making treatment recommendations. Those are the things we want to explore."
While telehealth use in cancer care surged during the pandemic, its use is still limited by a lack of research supporting its effectiveness and physician training. The co-leaders of NCI TRACE, Robin Vanderpool, chief of the health communication and informatics research branch at NCI's Division of Cancer Control and Population Sciences, and Roxanne Jensen, a program director in the outcomes research branch in the Division of Cancer Control and Population Sciences, aim to advance both research and training when it comes to telehealth.
Before NCI TRACE, "there was a lot of evidence out there for telehealth benefits, but the evidence base for why you should do it, the scientific rationale to really understand those benefits, wasn't available yet," Jensen said. "What we sought out to do with this initiative is large-scale, real-world projects that are thinking about the methods that we need to conduct telehealth research and better understand the quality of telehealth care."
The aim of the initiative, Jensen noted, is to also train a new generation of researchers, faculty, and providers on the best practices for studying and using telehealth for cancer care.
Vanderpool and Jensen hope that new programs for patients with other types of cancer will be launched by the four telehealth centers of excellence that NCI TRACE has funded at UPenn, Memorial Sloan Kettering, Northwestern University, and a joint center between the New York University Grossman School of Medicine and the Veterans Health Administration. These centers are also exploring using telehealth for remote symptom monitoring; reducing risky behaviors among cancer survivors; and studying how social factors such as race, ethnicity, income level, and geographic location affect the delivery of telehealth cancer care.
Vanderpool noted that in the grant application process, the centers needed to describe how their research findings could be shared with and implemented in other health systems. "We wanted these grants to make a larger impact beyond just the four centers," she said.
"In the Penn study, for example, if we figure out that telehealth nurse navigation helps people with lung cancer receive more timely molecular testing and move into precision treatment sooner, then you want that model of care and that protocol to be one of the products that could be disseminated to other clinical settings," Vanderpool continued.
Telehealth, of course, isn't a panacea for the various factors that cause healthcare access disparities and the NCI TRACE program is cognizant of that. Reliable access to the very tools necessary for telehealth — the internet, computers, or smartphones — can become barriers, Jensen said. Underserved populations, such as rural or low-income patients, already have challenges accessing care in person, but telehealth may also be out of reach for them.
"The digital divide issues are really complex and meaningful," Jensen said. "Telehealth can help people access care that they may not otherwise be able to, but also there are some of the barriers in place such as limited access to technology. We really don't want to see issues being entrenched."
Digital literacy challenges can limit telehealth use, particularly among elderly cancer patients, Vanderpool observed.
"You can have access to the internet and even adopt use of that technology for health, but for cancer patients who may be older, they may need their family members or caregivers to support them," she continued. "We've got to think about how people actually adopt this technology to make it most useful and impactful for their cancer outcomes."
When the NCI initially sought public comment on the TRACE initiative in 2020, they found that the medical community was especially concerned about the digital divide and about the need for cancer care-specific telehealth strategies. "Cancer care is complex, and we saw that there was a real need for tailored methods in this space," Jensen said.
There are also challenges in current telehealth policy. At the beginning of the COVID-19 pandemic, the public health emergency declaration loosened certain policies related to telehealth. The Department of Health and Human Services (HHS) provided more flexibility for which technologies can be used to conduct secure visits under the Health Insurance Portability and Accountability Act (HIPAA), allowing providers to use more accessible services like Zoom, Skype, Facebook Messenger, and other online services to deliver telehealth. HHS also changed how telehealth was covered by Medicare and Medicare during the COVID-19 public health emergency, which is still in effect.
Vanderpool noted that these policies may or may not remain in place once the public health emergency ends. Perhaps hoping to avoid that, the American College of Medical Genetics and Genomics, a group representing genomics professionals, has called for these changes to become permanent to help expand access to genetic services.
In fact, Vanderpool recognized the pandemic as the "springboard" for this work to better understand telehealth.
"Telehealth had been around for many years and had been used in pretty specific circumstances, but all of a sudden, it was made available to all of us and for all types of medical care," which, Vanderpool said, created an opportunity to build the evidence base on using the technology specifically in oncology. "We want to understand how telehealth can be a complement to in-person care for cancer patients and their families, and how telehealth could work for the entire cancer care continuum, from prevention to screening to palliative care."