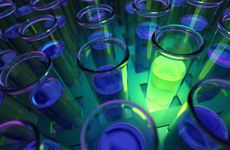 NEW YORK – Ratio Therapeutics officially launched last week hoping to differentiate itself in the crowded targeted radiopharmaceutical space through technology it believes can home in on tumor tissue and spare toxicity to normal cells better than competitors.
The targeted radiopharmaceuticals market is teeming with new drugmakers reinvigorated by the recent market availability of Novartis' Pluvicto (177Lu-PSMA-617) for metastatic castration-resistant prostate cancer (mCRPC) patients with prostate specific membrane antigen (PSMA)-positive tumors. Many of these new companies, including Ratio, are going after the same indication for their debut clinical programs, which sets the stage for potential competition but begs the question as to how these products will differ from one another.
For Boston-based Ratio, which emerged from stealth mode on Friday with over $20 million in seed financing, the differentiator lies in the ability to fine-tune the pharmacokinetics of its targeted radiopharmaceuticals, including their clearance from the bloodstream. The firm has created "scaffolding" for its radiopharmaceuticals, dubbed Trillium, that can be altered according to specific targets, ensuring the greatest possible tumor uptake and least possible normal tissue uptake.
The technology was first developed at Weill Cornell Medicine in the lab of John Babich, who is Ratio's president and chief scientific officer. "Trillium is based on the fact that we have three components of the drug," he said. "We have a component that identifies the antigen on the target surface and binds to that with high affinity; we have an isotope carrying component, the chelate … and then, we have our special sauce, the way of dialing in the kinetics that we want based on slight modifications to the tail of the molecule."
Thanks to that "special sauce," Babich and the drug developers at Ratio can attach small fragments of molecules to their Trillium construct that are known to bind either tightly or weakly to the blood plasma protein albumin. According to Babich, this then determines how fast the therapy is cleared from the bloodstream, which is helpful when dealing with different targets with different binding affinities.
"The binding to the albumin is four to seven orders of magnitude weaker than our target binding component," Ratio CEO Jack Hoppin explained further. "Where the albumin binding is Velcro, the target binding is lock-and-key."
When it comes to fine-tuning blood clearance, the strength of the "Velcro" — that is, the agent's albumin binding element — can make a difference, and that is where Ratio sees its advantage. "PSMA binding ligands typically have a fairly long residence time in the tumor," Babich said, explaining that an isotope with a long half-life will stay and irradiate the tumor for a long while. "But if you had a target where the kinetics were fast in the tumor, meaning that you had residence time in the tumor that was, say, six hours as opposed to six days, you may want to think about having a compound that actually clears the plasma a little faster."
In these cases, he said, it can be helpful to tailor the uptake and retention of the therapy in the blood plasma based on the isotope's retention in the tumor. "It's a way of fine-tuning the kinetics of tumor retention with plasma clearance and the application of a particular isotope," he said. "You sort of match the half-lives with the residence time of all these different phenomena to optimize delivery."
For the part of Trillium's "scaffolding" that binds to the therapeutic isotope metal, called the chelate, Ratio has created a platform capable of binding with actinium-225, an alpha-emitting therapeutic isotope. This technology, dubbed Macropa, can be incorporated into the Trillium structure in a way that Babich claims is both safe and stable. Preclinical data has shown that the technologies allow for improved tumor uptake and avoidance of adverse events that occur when healthy tissue gets exposed to radiation, such as salivary gland and kidney toxicities.
Looking at targeted radiopharmaceuticals as a class of drugs on the whole, Hoppin hammered home his view that successful treatment really comes down to fine-tuning targeted delivery and minimizing off-target exposure.
"We know already that these drugs will be cytotoxic," he said. "If you deliver it, you will get an effect. And because of the success of so many drugs in clinical [trials], everyone is coming to the space because of the efficacy." But cytotoxicity alone won't make a best-in-class drug, according to Hoppin; for that, you need to make sure the cytotoxicity is exclusive to the tumor, necessitating carefully selected targets and fine-tuned pharmacokinetic profiles.
Clinical pipeline, pharma partnerships
PSMA-expressing mCRPC is the first indication that Ratio is going after with its technology via a collaboration with Bayer. The partnership was already in place when Ratio launched.
The deal was actually struck last year with Bayer's acquisition of Noria, a spinout venture from Babich's Weill Cornell lab, that gave Bayer the exclusive rights to the technology specifically for mCRPC treatment. The rights to use the technology outside of the PSMA-positive prostate cancer program and to use the technology as a diagnostic imaging agent in the prostate cancer setting, however, were not part of the Bayer deal and remain with Ratio.
Ratio is about to submit an investigational new drug application with the FDA and start a trial of the PSMA-targeted agent for imaging in mCRPC patients later this year. Bayer will have the rights to subsequently evaluate the technology in the therapeutic setting for these patients.
Meanwhile, Ratio has a partnership with Lantheus — also arranged via an earlier license deal with Noria — to develop PET diagnostic compounds against the fibroblast activation protein (FAP) target, which is expressed on a number of epithelial-derived cancers such as breast, pancreatic, lung, and stomach cancers. In preclinical mouse models, the first such compound, dubbed NTI-1309, has been shown to target FAP-expressing tumors with improved retention and without toxicity.
The firm is also focusing on targets and indications for Trillium outside of the indications being explored by Bayer and Lantheus. For example, Hoppin said Ratio is "very interested" in the carbonic anhydrase IX (CA9) target on the surface of kidney cancers. This is also a focus at Telix Pharmaceuticals, which dosed the first renal cell carcinoma patient in its CA9-directed targeted radiopharmaceutical trial last month.
Ratio is also eyeing a number of targets it hasn't divulged, Hoppin said, and gearing up to move early next year into its new headquarters and research space, a 19,000-square-foot facility in Boston's Seaport District.
Babich and Hoppin are cognizant that Ratio is entering a space with manufacturing and logistical risks that can hinder quick scale-up of marketed products. Novartis, for instance, had to pause manufacturing of Pluvicto, and many prostate cancer patients who are eligible for the radiopharmaceutical are not currently able to get it.
They acknowledged that a few "growing pains" are expected when a new type of therapy enters the scene. While radiopharmaceuticals have technically been around for a long time, they've only recently become options for common cancer types like prostate cancer.
"Things are going to evolve very quickly over the next three years, and I don't think isotope production or isotope availability, or product manufacturing is going to be a limitation in three years," Babich predicted.
"Yes, there will be hiccups," Hoppin echoed. "But the long-term prognosis is outstanding, just given the excitement and efficacy and potential of the class of drugs."