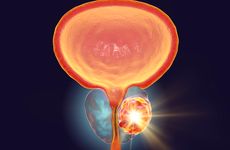 NEW YORK – Biomarker analysis within a Phase II trial of Novartis' Pluvicto (177Lu-PSMA-617 or lutetium vipivotide tetraxetan) has provided further evidence that metastatic castration-resistant prostate cancer patients whose tumors express PSMA have better outcomes on the radioligand therapy than on chemotherapy.
Additionally, researchers have identified tumor metabolic volume as a prognostic biomarker that when paired with knowledge of PSMA status may help oncologists more precisely guide treatment decisions with Pluvicto.
The Phase II TheraP study enrolled 200 previously treated, metastatic castration-resistant prostate cancer patients and randomized them to receive either Pluvicto or cabazitaxel. The primary endpoint was response based on reduction of prostate-specific antigen (PSA) levels in patients with PSMA-positive tumors, but in the study published in The Lancet Oncology on Monday, researchers also explored other biomarkers such as PSMA expression levels and metabolic tumor volume using PET scans.
In the US, Pluvicto is approved for the treatment of PSMA-positive metastatic castration-resistant prostate cancer. The US Food and Drug Administration also approved Novartis' gallium-68-labeled imaging product Locametz (gallium Ga 68 gozetotide) as a way to identify patients with PSMA-positive lesions for treatment with Pluvicto.
In October, the European Medicines Agency's Committee for Medicinal Products for Human Use (CHMP) recommended approval for Pluvicto combined with androgen deprivation therapy for the same patient population.
Before Pluvicto and Locametz's approval, there was debate in the community as to whether it is necessary to ensure that treatment eligible patients have PSMA-positive tumors, since the biomarker shows up in tumors in 80 percent of prostate cancer cases. Given the high cost of PET imaging, some clinicians have worried that a requirement to test for PSMA positivity will hinder access to Pluvicto in low-resource regions. Approving Pluvicto alongside Locametz, however, makes clear the agency's view that PSMA positivity should be established before giving patients the radioligand therapy.
In the TheraP trial, the researchers sought to explore two diagnostic radiopharmaceutical agents using PET imaging. They aimed to validate the use of Locametz and examine the role of metabolic tumor volume as identified by fluorodeoxyglucose F 18 (FDG)-based PET imaging, which illuminates highly proliferative tumor sites.
The researchers found that patients with a PSMA standardized uptake value (SUV) of at least 10 were more likely to respond to Pluvicto, with 91 percent of these patients having a PSA response in the Pluvicto arm compared to 47 percent in the chemo arm. Even patients who had lower uptake of the PSMA agent saw improved responses on Pluvicto versus chemo, according to Michael Hofman, senior author of the study and director of the Prostate Cancer Theranostics and Imaging Centre of Excellence (ProsTIC) at the Peter MacCallum Cancer Centre in Melbourne, Australia.
These results confirm the findings of the Phase III VISION trial that led to Pluvicto's US approval, although Hofman said the two studies measured PSMA positivity differently. The VISION study measured PSMA compared to liver parenchyma uptake of the radiotracer Locametz. Patients were defined as PSMA-positive in that study if their PSMA uptake in their tumors was greater than the uptake in liver parenchyma. In the TheraP trial, the researchers measured the average PSMA uptake in lesions without the comparison to uptake in the liver.
The VISION trial also evaluated Pluvicto plus standard-of-care treatment versus just the standard of care and showed Pluvicto improved median progression-free survival and overall survival over the control arm. The VISION trial excluded several treatments from the standard-of-care control arm, including chemo, immunotherapy, radium-223, and investigational drugs. Hofman's study, by comparison, compared just Pluvicto against chemo.
When Hofman's group looked at the second biomarker, metabolic tumor volume, patients in the TheraP trial with higher uptake of FDG had lower PSA response rates compared to those with lower FDG uptake. This was consistent in both treatment arms.
In patients with higher FDG uptake in both treatment arms, 38 percent had a PSA response, while 56 percent responded in the lower FDG group. They found these patients had poorer outcomes regardless of treatment. While FDG was not predictive of response to Pluvicto, the researchers concluded that FDG-PET-based metabolic tumor volume was prognostic for identifying which patients are unlikely to fare well on either Pluvicto or chemo.
"The study showed that patients with high metabolic tumor volume on FDG-PET have inferior outcomes, regardless of whether cabazitaxel or Lu-PSMA-617 is chosen," Hofman said. "In this third- or fourth-line treatment setting, no direct treatment change is actionable from the information provided in this trial."
Still, such prognostic information is valuable for patient care. "With the knowledge that these patients have inferior outcomes, these patients could be considered for intensified treatment or clinical trials, if available," Hofman added.
He further suggested that patients with high FDG uptake may benefit from combination studies of Pluvicto, such as trials exploring the radioligand in combination with PARP inhibitors, immunotherapy, or chemo. The findings also help provide guidance for the optimal use of Pluvicto in metastatic prostate cancer.
The researchers concluded that these biomarkers combined could help identify patients who should be prioritized for treatment with Pluvicto, such as those with PSMA-expressing tumors who have worse prognosis characterized by FDG PET imaging. "Identification of patients with low PSMA uptake at all sites or sites of PSMA-negative CT-positive or PSMA-negative FDG-positive enables identification of patients who are unlikely to benefit from Lu-PSMA-617," Hofman said.
The researchers will continue following these cohorts to determine if the biomarkers are predictive or prognostic for overall survival on either treatment.
Hofman highlighted that his group's trial validated the PSMA and FDG imaging methods used to perform whole-body tumor quantification in the context of a randomized study. But his group is continuing to explore other ways of personalizing Pluvicto treatment. "There may be better ways to contour tumor, either using different thresholds or using deep-learning neural networks [to support analysis]," he said. "We are studying both of these to see if we can improve on current methods."