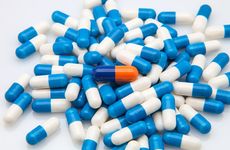 NEW YORK – Looking back at 2022, plenty of new CAR T-cell, radioligand, and biomarker-defined treatments entered the market, as did new tissue and liquid biopsy tests to identify cancer patients eligible for these therapies.
But in evaluating whether the precision oncology space is truly advancing, one must also consider whether these new therapies and tests are reaching patients. Toward that end, 2022 brought no new solutions. Market observers and doctors on the ground continued to report that a significant proportion of eligible cancer patients aren't getting appropriate therapies due to suboptimal testing paradigms, reimbursement issues, and physicians' inability to keep up with rapidly advancing science.
Moreover, after much hype throughout 2022 about the possible passage of the VALID Act, which would have given the US Food and Drug Administration the authority to regulate all diagnostics, including laboratory-developed tests, the contentious legislation was dropped at the 11th hour from a larger government spending bill that became law at the end of the year (see related story). 
In addition to the field's lack of progress on addressing access barriers and regulatory uncertainties, the number of precision oncology treatments approved by the FDA in 2022 was also lower compared to prior years. By Precision Oncology News' count, the US Food and Drug Administration in 2022 approved 21 precision cancer treatments — six indications for autologous CAR T-cell therapies and 15 drugs for a biomarker-defined population (see table here). The agency approved seven new molecular entities and expanded the indications of 14 already marketed treatments. In comparison, in 2021, there were 26 precision oncology treatment approvals and 27 approvals in 2020.

Despite the lower approval count in 2022, several precision oncology drugs became available last year for patients who previously didn't have such options. The FDA kicked off 2022 approving Immunocore's T-cell receptor immunotherapy Kimmtrak (tebentafusp) for patients with HLA-A*02:01-positive uveal melanoma, a rare eye cancer, and Janssen and Legend Biotech's Carvykti (ciltacabtagene autoleucel), a new CAR T-cell therapy for heavily pretreated multiple myeloma patients.
Carvykti marks the second cell therapy option for multiple myeloma patients after the 2021 approval of Bristol Myers Squibb and 2seventy bio's Abecma (idecabtagene vicleucel). Before then, such treatments were relegated to late-line heavily pretreated leukemia and lymphoma patients. However, in 2022, several CAR-T therapies, such as BMS's Breyanzi (lisocabtagene maraleucel) and Gilead Sciences' Yescarta (axicabtagene ciloleucel), also became second-line options for certain refractory or relapsed lymphoma patients. Gilead last year even said it will begin studying Yescarta as a first-line treatment for high-risk large B-cell lymphoma patients.
Among biomarker-targeted drugs, 2022 was AstraZeneca and Daiichi Sankyo's year in terms of expanding Enhertu's (trastuzumab deruxtecan) access to previously treated, advanced non-small cell lung cancer patients with HER2 mutations and to previously treated, advanced breast cancer patients with low HER2-expressing tumors. Enhertu is the first drug approved for the around 2 percent of NSCLC patients with HER2-mutated tumors and the first HER2-targeted therapy approved for breast cancer patients with low HER2 expression, a subset historically ineligible for such treatment.
The data from the DESTINY-Breast04 trial, based on which the FDA approved Enhertu in the HER2-low breast cancer setting, received a standing ovation at the American Society of Clinical Oncology's annual meeting. "That gave me goosebumps," recalled Susanne Munksted, chief precision officer at diagnostics data analytics firm Diaceutics. "I've never experienced anything like it."
The class of KRAS inhibitors added a second marketed agent at the end of 2022. Mirati Therapeutics' Krazati (adagrasib) garnered FDA approval for metastatic, previously treated NSCLC with KRAS G12C mutations. The drug will compete with Amgen's first-in-class KRAS inhibitor Lumakras (sotorasib), which was approved in 2021.
The FDA last year also approved two new therapies for refractory solid tumors based on the presence of a common genomic driver: Novartis' Tafinlar/Mekinist (dabrafenib/trametinib) and Eli Lilly's Retevmo (selpercatinib) for tumors with BRAF V600E mutations and RET fusions, respectively. With these new market entrants, there are now seven treatments that oncologists can prescribe in a tissue-agnostic fashion to advanced cancer patients who are out of options.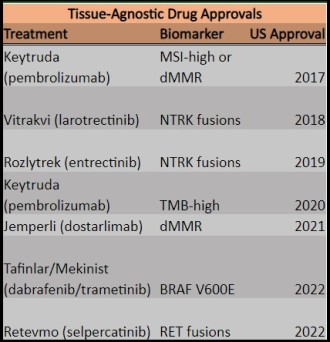 Meanwhile, on the diagnostics side, the FDA continued to approve precision oncology drugs with companion tests, sometimes even simultaneously approving a liquid biopsy and tissue-based assay, as was the case with two new NSCLC drugs approved last year for rare biomarker-defined patient populations: Krazati and Enhertu. "We've seen more approvals for companion diagnostics within liquid biopsy and a move towards removing tissue as the issue [in NSCLC]," Munksted said, cautioning there are still challenges with sensitivity. "I feel it's still a technology that needs to prove itself more."
Since novel precision oncology treatment and testing options continued to enter the market in 2022, particularly new expanded indications, Munksted suspects that the fewer number of FDA-approved therapies may be a consequence of the slowdown in clinical trials during the early months of the COVID-19 pandemic. "The slowdown in clinical trials in 2020 and fewer submissions in 2021, we are now seeing coming through as fewer approvals," she said. "There doesn't seem to be slowdown in the number of [precision oncology] components in pipelines or a slowdown in [companies'] focus on precision medicine, but this may be a delayed impact of COVID."
Lots of options that patients don't receive
No matter how many new precision oncology treatments and tests industry develops and the FDA approves, it matters little unless patients are receiving them. Patients with NSCLC perhaps have the most opportunities for biomarker-informed therapy, and yet, according to an analysis by Diaceutics and the Personalized Medicine Coalition, for every 1,000 patients in its data repository, nearly half did not receive precision therapy due to suboptimal biomarker testing, and 30 percent of those who did manage to get tested didn't end up on the appropriate targeted therapy.
The data clearly demonstrate, Munksted said, that the field is not realizing the promise of precision medicine. "We have so many new drugs and tests coming out, but that's introducing complexity. How do you stay on top of all the information?" she said. "The study just demonstrated that the complexity within precision medicine is something we need to collectively address with all the different stakeholders that are now involved."
The main question raised by the data for Munksted was why aren't patients who receive biomarker testing still not getting the right treatment? Whether its lack of coverage or physicians struggling to stay up to date on the all the available testing and treatment options, "we need to better connect all the different stakeholders and secure that information flow better between them," she said.
Moreover, cutting-edge precision oncology options, such as autologous CAR T-cell therapies and radioligand treatments, are difficult to develop and deliver to patients, and demand for these advances is outstripping drugmakers' ability to produce them. For example, a survey of 15 cancer centers showed that these places had between five and 100 multiple myeloma patients waiting for the chance to get an autologous CAR T-cell therapy. To better satisfy demand for these n-of-1 treatments, which currently can take up to four weeks to engineer and deliver to each patient, many drugmakers are working on automating aspects of the CAR T-cell manufacturing process and reducing hands-on time.
In the burgeoning radioligand therapy field, oncologists were similarly eager for the chance to prescribe Novartis' Pluvicto (177Lu-PSMA-617) for their metastatic castration-resistant prostate cancer patients. But when the FDA approved Pluvicto last March alongside Novartis' gallium-68-labeled imaging product Locametz (gallium Ga 68 gozetotide), many oncologists were disappointed, since not all cancer centers would be able to perform this specific type of PSMA imaging. Locametz is a gallium-68 imaging agent and requires gallium generators, which are in short supply. If the FDA had taken a more liberal stance on the PSMA screening approach, then that would allow doctors to use imaging agents that rely on F18 as the radioisotope, which are easier to generate, particularly at remote locations.
Howard McLeod, executive clinical director of precision health at Intermountain Healthcare, lauded Pluvicto's approval but lamented how challenging radioligand therapies are to deliver to patients. Intermountain, which operates hospitals in Utah, Nevada, and Idaho, serves a lot of rural patients, who have difficulty accessing these types of treatments, he said.
Similarly, Enhertu's approval for HER2-low metastatic breast cancer wasn't even on McLeod's list of advances for 2022, he said, "because the testing part of it is a mess." Enhertu is indicated for patients whose tumors have a HER2-positive immunohistochemistry score 1+ or IHC 2+ and no gene amplification by in situ hybridization. But studies have shown that pathologists are inconsistent when it comes to distinguishing HER2 IHC 1+ from IHC 0 cases.
At the San Antonio Breast Cancer Symposium last month, experts highlighted the need to standardize pathologist scoring, develop more quantitative tests, and do independent studies to validate cutoffs for HER2-low expression associated with Enhertu benefit. "What it comes down to now is, if a pathologist thinks that there are a couple of positive cells, he can call it HER2-low," McLeod said. "It's not like there's some sort of an objective criteria."
The lack of standards undermines Enhertu's label and allows patients who should be deemed HER2-negative to be called HER2-low and receive the drug, he added. "If you can't accurately identify who is HER2-low and you're just going to be lenient, then why even have the designation?" McLeod said. "Just try [the drug] on everybody." But prescribing Enhertu in this way won't do patients any favors, he cautioned, since the treatment has toxicities and is expensive.
In the liquid biopsy space, meanwhile, in step with continued growth in marketing and adoption of minimal residual disease and early cancer detection testing, healthcare providers also tried to better understand how these new tools might impact standard care paradigms. For example, a City of Hope study explored the accuracy of Natera's Signatera MRD test and found it wanting in detecting colorectal cancer recurrences when compared to standard-of-care imaging and blood protein tests.
Several healthcare institutions this year, including the Knight Cancer Institute at Oregon Health & Science University and Henry Ford Health, began offering Grail's Galleri multi-cancer detection blood test in 2022. Intermountain Healthcare, on the other hand, decided to first offer the test to its employees over age 50. Early implementation programs like these might facilitate the collection of real-world data needed to better understand the performance of these tests and how they impact downstream diagnostic workups and healthcare costs.
Looking ahead
2022 was a tough year economically for many drug and diagnostics companies in the precision oncology space. Among drugmakers, Black Diamond Therapeutics, Spectrum Pharmaceuticals, 2seventy bio, Novartis, and Gilead cut staff to save on costs. 
Clovis Oncology, with the PARP inhibitor Rubraca (rucaparib) as its only commercial product, had a particularly bad year. In June, Clovis decided to stop marketing Rubraca as a third-line treatment for BRCA1/2-mutated metastatic ovarian cancer based on the lack of a survival advantage seen in a study. And even though Clovis had hoped to market Rubraca as a maintenance treatment in a first-line biomarker-unselected ovarian cancer setting based on the ATHENA-MONO trial results, the prospects for that started to look dim based on the FDA's feedback.
These regulatory woes hindered the company's ability to raise capital. Clovis had to lay off 115 employees, and in mid-December it filed for Chapter 11 bankruptcy and was delisted from the Nasdaq. The company began selling off assets, including its radioligand therapy candidate FAP-2286 to Novartis Innovative Therapies for $50 million upfront and up to $630.8 million in contingent payments.
In the diagnostics space, similarly, some of the most recognizable names in cancer genetic testing announced layoffs and restructuring in response to economic pressures including NGS platform provider Illumina and molecular diagnostics firms Invitae, Sema4, and NanoString Technologies.
"The macro backdrop is definitely very challenging," said Julia Qin, VP of North America equity research in life science tools and diagnostics at JP Morgan. "You would think that … people get sick, they need to get tested, and [life sciences and diagnostics companies] shouldn't really fluctuate that much." However, diagnostics and tools companies in the precision oncology space, particularly those doing liquid biopsy or genetic testing, tend to have significant cash burn in terms of R&D and sales and marketing, she pointed out, and it takes a long time for them to be profitable.
"When the broader market environment becomes challenging and funding becomes more limited, investors place a heightened focus on companies' operating efficiency and their cash runway," Qin said. "That's what's motivating a lot of the restructuring and expense management efforts that companies are pursuing."
Despite the challenging macroeconomic environment, some genetic testing companies had a pretty good year in 2022. Among the firms in Qin's portfolio, Natera stood out as the best performer. "They were able to sustain significantly higher growth than their peer group," Qin said, due to the continued and rapid adoption of Signatera, the leading test for MRD assessment in cancer patients, but also growth in the company's women's health and transplant testing businesses.
While investors will be closely watching how the companies that have announced restructuring and layoffs are spending their money in 2023, Qin is expecting pandemic-related barriers to growth in the healthcare sector to further dissipate and is optimistic that genetic testing volumes will continue to recover. One positive sign for Qin is that test reimbursement is trending in a positive direction, particularly for MRD testing, and if the NCCN endorses such testing in guidelines next year, then it may spur more commercial payor coverage. 
One company, Myriad Genetics, which underwent its own restructuring and leadership shake-up a few years ago, has said that in 2023, it will begin sharing information on cancer risk variants — a surprise to many in the genetic testing space given the company's longstanding practice of maintaining this information as a trade secret. The change in its data-sharing policy, according to the firm, was spearheaded by its new CEO, Paul Diaz, and reflects its commitment to transparency and access equity.
"Myriad's decision to begin sharing variant data in public databases is nothing short of momentous for patients and their families but also in terms of what it says about Myriad as an evolving company," said Ellen Matloff, CEO of the health technology company My Gene Counsel, who was also a plaintiff in the Supreme Court case against Myriad a decade earlier that did away with gene patents.
"Myriad is under new leadership and claims to want to change their culture and ethos," Matloff said. "Talk is cheap, but making a move of this magnitude speaks volumes." Next year, Matloff and others have said they are interested to see the variants Myriad deposits and how other labs, genetic counselors, and researchers use the data.
Munksted will be following the development of GSK's anti-PD-1 drug Jemperli (dostarlimab) in early-stage mismatch repair-deficient rectal cancer, after data presented from a small study at the American Society of Clinical Oncology's annual meeting showed that all patients who received the drug saw their tumors disappear. Another area to watch, she said, is the mRNA therapeutics space.
In 2022, for example, Moderna reported that a Phase II trial of its personalized mRNA vaccine, mRNA-4157/V940, plus Keytruda reduced melanoma patients' risk of death by 44 percent compared to just Keytruda. Based on the strength of this data, Moderna is advancing the vaccine to a Phase III trial and has said it wants to translate its success developing mRNA COVID-19 vaccines to the oncology space. "It's not a new technology, but it certainly came into the limelight because of COVID," she said.