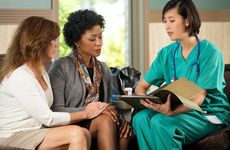 NEW YORK – A communication gap between oncologists and non-small cell lung cancer patients is deepening biomarker testing disparities among lower-income patients and minority groups, a survey has found.
Patient advocacy group LUNGevity surveyed NSCLC patients in the US from April 2020 to June 2020, hoping to better understand biomarker testing patterns in this group and how well test results are communicated. The results were recently published in the Association of Community Cancer Centers' Oncology Issues journal and are similar in scope to another survey the group conducted among community and academic oncologists.
LUNGevity surveyed NSCLC patients both in and outside of its network. The group used social media to reach patients in its network, and recruited others from an online national panel of patients and an email database from the Patient Advocate Foundation, which provides financial and other support services to patients.
"The general patient population, for us, was of greater interest because they're dealing with more barriers than people who end up in an advocacy group's network," said Nikki Martin, head of LUNGevity's precision oncology initiatives. For example, compared to the 87 LUNGevity members in the survey, the 161 patients recruited from outside of the network had lower annual incomes and were more likely to be uninsured or have Medicaid coverage.
Patients outside of the LUNGevity community were also far more diverse in terms of their racial and ethnic backgrounds. Notably, 16 percent of the patients recruited from the general population were Hispanic compared to just 3 percent in the LUNGevity group. Most patients in the LUNGevity group were female, whereas patients from outside of the network were more evenly split in terms of gender.
Among the mostly white, female, and higher-income LUNGevity member cohort, 85 percent said in the survey that they had received biomarker testing, compared to 52 percent of patients recruited from the general population. When patients were part of LUNGevity, they were more likely to receive comprehensive genomic profiling compared to those who weren't.
The survey tried to get at the roots of these patient-reported testing gaps and found that LUNGevity members were more likely to see doctors who brought up biomarker testing compared to patients outside of the network. For example, 93 percent of surveyed LUNGevity members said they were informed of their test results, versus 76 percent in the comparator group.
Sixty-five percent of those in the LUNGevity group and 56 percent from the general population group said they understood the terms included in their testing results. But more patients in the LUNGevity network, 84 percent, said their doctors took the time to explain test results, compared to 55 percent of those not in the network.
A series of focus groups LUNGevity conducted over Zoom to get a more in-depth understanding of patients' perceptions further revealed that individuals with lower socioeconomic status, those who lived in rural locations, and minority patients were more likely to feel that they didn't have enough time with their oncologists for biomarker testing discussions.
This communication breakdown may be due to the fact that busy community oncologists have a high patient volume, which limits the time they can spend with each patient explaining complex biomarker test results — information that they may have trouble interpreting themselves.
In a recent survey that Precision Oncology News conducted of precision oncology programs throughout the country, the "biggest challenge" to its implementation cited by experts was that the field is moving too quickly, and it is difficult to keep up with biomarker testing and treatment guidelines.
If doctors themselves are finding it difficult to keep up with the precision oncology advances, then they will be even more challenged to explain testing and treatment plans to patients. "I don't think providers received training on how to speak in plain language about precision medicine to their patients," Martin said, explaining that analogies can go much further with patients than terms like "driver mutation" or "genomics." She added that patients prefer clear visuals and tangible implications more than scientific nuances, but many oncologists don't have educational resources to help them communicate with patients effectively.
In the absence of such support, some doctors may also be making assumptions about patients' ability to understand biomarker information. Within a focus group that LUNGevity conducted as part of its earlier physician-facing survey, one oncologist said, "If [patients are] not aware [of biomarker testing], I definitely don't want to confuse them and add to their problems … because the more I tell them, the more they ask me questions, and it will be so difficult for me to work with them. … So, I don't volunteer unless they outright ask me and put me on the spot."
Cancer patients understand the time constraints their doctors are under. In the patient-facing survey, a low-income patient said, "The doctors see 10 patients a day. Each of us have different kinds of cancers … I spend 30 minutes with doctors [but] six hours with the nurses in the immunotherapy treatment."
The fact that patients spend more time with nurses than their oncologists can be exploited for good, LUNGevity believes. Several institutions have employed nurse practitioners to standardize molecular testing workflows, including making sure patients are getting tested, and the results are ending up in the electronic medical records and being reviewed by molecular tumor boards. Such intermediaries can also help communicate information on biomarker testing to patients, according to LUNGevity.
Bridging gaps
In another survey presented during the American Society of Clinical Oncology Quality Care Symposium in September, oncologists were given descriptions of two hypothetical stage IV NSCLC patients: one who appeared to have high health literacy, and another who appeared to have low health literacy. For the highly health literate patient, 63 percent of oncologists said they were "extremely likely" to order biomarker testing, versus 32 percent who said the same for the less health literate patient.
Particularly in NSCLC, a cancer for which there are multiple approved targeted treatments that hinge on biomarker testing results, ordering a test for one patient but not another based on their perceived health literacy can perpetuate treatment and outcome disparities, and limit underrepresented groups from partaking in trials.
Recognizing the importance of physician-patient communication in making biomarker testing and precision treatment opportunities more accessible to patients, LUNGevity, ACCC, and the Centers for Business Models in Healthcare are in the early stages of developing care sequence plans to deliver "the right information for the right care for the right patient at the right time." The so-called 4R Oncology methodology has already been used in other settings such as breast cancer and demonstrated benefits, according to Martin.
"The patient and provider can use one of these care sequence plans, which is literally a piece of paper that shows the interdependence of all of the steps in the patient's care," she explained. "Providers can rely on it as kind of a prompt to make sure they speak to patients about where they are in their care plan." This, in turn, helps patients better understand how they're being treated, and the sequence of tests, therapies, and procedures involved.
The 4R Oncology methodology makes sense to implement in the context of precision oncology in NSCLC, because it would address many of the communication challenges that both the patient- and provider-facing biomarker testing surveys uncovered, Martin reflected.
The 4R Oncology methodology would give "patients, especially in underserved communities, … more insight into their care," she said. "Because these are not the typical patients who are already attending a LUNGevity or another advocacy group's webinar or something like that … so they actually need all of this information to understand what their overall care plan looks like and how biomarker testing fits into it."
The care sequence plans can be adapted to different cancer centers to reflect the specific biomarker testing deployed and turnaround times. In the coming months, LUNGevity and ACCC will implement these care plans at three pilot community cancer care sites, which treat underserved communities. They will gather data on how the care sequence plans impacted communication and patient care, and use the learnings to develop a program that any site can implement.
"We thought that if we could create something that resonates with lung cancer patients, who tell us that they often feel overlooked or that they don't receive enough time with their providers, then that could be a big step forward in this whole diagnosis experience," Martin said.
Last year, LUNGevity also launched a separate campaign called "No One Missed" to empower patients to ask the right questions about biomarker testing and understand their rights to results and information.
"As opposed to the 4R program where we're deeply embedded inside of a healthcare system but not out and about in the community, the No One Missed is kind of the inverse of that," Martin said, suggesting that these initiatives together have the potential to improve physician-patient communication in precision oncology and reduce biomarker testing disparities.