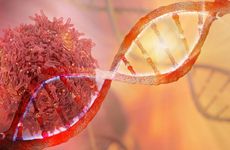 NEW YORK – In a new retrospective analysis, nearly 15 percent of lung cancer patients harbored pathogenic germline variants in known cancer risk genes, raising questions as to whether germline testing for cancer risk variants should be recommended for lung cancer as it is for other cancer types.
Although the National Comprehensive Cancer Network (NCCN) and other guideline bodies generally recommend testing for pathogenic germline variants among patients of certain ages with pancreatic, ovarian, colorectal, and breast cancer, the same is not recommended for those with lung cancer. This is partially because the data on the prevalence of pathogenic germline variants — and their clinical implications — have been limited or inconsistent in lung cancer.
According to a retrospective review of de-identified data from 7,788 lung cancer patients with germline DNA sequencing and exon-level copy number analysis, 1,161 patients harbored a total of 1,503 pathogenic germline variants in 81 known cancer-risk genes. This meant that nearly 15 percent of patients in the analysis had cancer risk mutations, the majority of which had implications for treatment — as determined by NCCN or professional society clinical management recommendations — or for clinical trial eligibility.
Renato Martins, chair of hematology, oncology, and palliative care at the VCU Massey Cancer Center, presented the analysis during an American Society of Clinical Oncology (ASCO) virtual plenary presentation on Tuesday.
"Few studies have investigated the broader prevalence and spectrum of [pathogenic germline variants] in patients diagnosed with lung cancer," Martins said, pointing out that there is a bit more known when it comes to germline variants in TP53 and germline EGFR T790M; these have been associated with a hereditary predisposition to lung cancer.
Identifying germline variants more broadly could have implications for cascade testing for at-risk family members in addition to being useful for treatment, he added.
For the retrospective review, Martins and colleagues, including Steven Sorscher, an oncologist at Wake Forest University School of Medicine and the first author on the study, considered lung cancer patients who underwent germline genetic testing through Invitae between 2014 and 2022. The researchers obtained patients' personal and family cancer histories as well as their demographic data from requisition forms completed by their clinicians and used ICD-10 codes or test requisition forms to flag lung cancer diagnoses. The number of genes tested were not uniform across the cohort, though patients were tested for a median of 79 genes.
According to Martins, the study likely had the largest cohort to date of germline testing in lung cancer.
Prevalence, actionability
Beyond noting the around 15 percent prevalence of risk variants overall, the researchers also found the prevalence of pathogenic variants in specific genes varied across the cohort. For example, 2.8 percent of patients had pathogenic BRCA2 variants; 2.1 percent had CHEK2 variants; 1.9 percent had ATM variants; 1.3 percent had TP53 variants; 1.2 percent had BRCA1 variants; and 1.0 percent had EGFR variants. APC and PALB2 variants occurred in less than 1 percent of patients.
Of all the patients with pathogenic risk variants, 61.3 percent had variants in DNA damage repair or homologous recombination repair-associated genes, which could be therapeutically actionable, given their association with responses to PARP inhibitors in breast, ovarian, pancreatic, and prostate cancers. Martins suggested that these therapies should be investigated in lung cancer patients with HRR variants, too.
Martins and colleagues also performed an analysis specifically in the subset of lung cancer patients who did not have a history of prior cancers. This meant excluding 71 percent of the 7,788-patient cohort.
"It is possible that doctors would be more likely to be ordering germline testing in patients who had a history of multiple cancers [expecting they] would be more likely to have a pathogenic germline variant as the cause behind these cancers," Martins said. His team wanted to test out the theory in this smaller group of patients with only lung cancer diagnoses and showed that 16 percent of cases harbored germline risk variants.
In the end, Martins said that 95 percent of the variants that turned up on these tests were considered to have potential implications for disease management.
Limitations, selection bias
Even though Martins and colleagues performed the sub-analysis of patients with only lung cancer diagnoses, the researchers acknowledged that the study cohort is probably not representative of lung cancer patients in the general population. These 7,788 patients were referred for genetic testing for a range of reasons — be it a prior cancer diagnosis, a family history, or another consideration — and each patient's doctor could choose the specific genes to test.
In a discussion following Martins' presentation on Tuesday, Kara Maxwell, assistant professor of medicine and genetics at the University of Pennsylvania, echoed this concern about selection bias, given that the lung cancer patients probably had a reason they were referred for germline testing.
Maxwell noted that the around 15 percent prevalence of risk variants in Martins' study differed substantially from prior data from Memorial Sloan Kettering's IMPACT panel. In that study, only 3 percent of lung cancer patients had variants. That said, most of the patients in the IMPACT study were not considered high risk, whereas the ones in Martins' study were, leading Maxwell to suggest that "the truth for lung cancer probably falls somewhere in between" the findings of the two studies.
Even if the true prevalence rate is somewhere below 15 percent, Maxwell pointed out that 5 percent positivity has historically been used as a cutoff for justifying testing. In many cancers where the clinical implications for targeted therapy are particularly high, that cutoff for testing is about 2 percent prevalence, she added.
"Honestly, this study's mutation rates are going to be much higher than in real-life practice," she said. "But even if it's 5 percent, that's still a lot of people you wouldn't want to miss."
As such, the question on the minds of oncologists is whether to offer germline cancer risk testing to their lung cancer patients. "By all indications, it seems with the results of this study, we should be testing all lung cancer patients," Maxwell said.
But the logistics and feasibility of implementing testing, given lung cancer's vast prevalence, is a major undertaking that will likely take time to roll out. "Germline genetic testing for all lung cancer patients is likely a bit premature," Maxwell said, suggesting that it might be prudent to stratify testing by other factors such as age of diagnosis, family history, personal cancer history, or even cancer histology.
The patients' goals will be another consideration, Maxwell added. Even though clinical trials are underway and the field is advancing rapidly, there are currently no US Food and Drug Administration-approved targeted therapies for lung cancer patients based on germline variants. Unless this changes, the results are only actionable for clinical trial enrollment or for family or personal risk reduction, she said.
"Of course, no matter what, testing is important for family risk reduction, but for the individual patient, it would really need to be for personal cancer risk reduction, and that would really only be in patients who are unaffected [with lung cancer], non-metastatic, or stably metastatic."
Since lung cancer patients are more likely to receive somatic testing, Maxwell suggested that labs could add on assessment of clinically relevant germline variants. However, such a suggestion might be easier said than done, given there are different workflows and variant classification criteria for germline and somatic genetic testing, and not all labs have the expertise to do both. There may also be reimbursement barriers to adding on germline analysis.
The elephant in the room with such a strategy is that use of next-generation sequencing-based profiling for multiple therapeutically actionable somatic variants occurs in fewer than half of eligible lung cancer patients. Testing practices are worse among minority patients and those with lower socioeconomic status, many of whom are treated in the community oncology setting.
"In general, in our country, we have an issue with so many places not having access to genetic counselors," Maxwell added, suggesting optimistically that the growth in telehealth seen during the COVID-19 pandemic could help connect more patients to telegenetic counseling.
"This is something that we as a society need to tackle very aggressively," Martins said of the disparities in lung cancer molecular testing overall. In Martins' own practice at VCU, he very rarely does germline testing for lung cancer patients and said this is likely even rarer in community settings.
Indeed, a survey from the Association of Community Cancer Centers last year found that 73 percent of oncologists practicing at academic cancer centers reported using biomarker testing to guide conversations with their lung cancer patients about disease prognosis, while only 48 percent of community oncologists surveyed said the same.
"Since exploring these data further, I would say that they are practice changing in the sense that they make me think more about it," Martins said. "I wonder if I am missing the chance to do more than I am doing now."