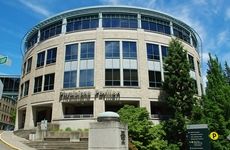 NEW YORK – Oregon Health and Science University's Knight Cancer Institute is expanding its multiomics tumor board to manage patients with different types of cancer, following three years focused on facilitating molecular testing and treatment decisions for breast cancer patients.
Since the program began in 2017, the Serial Measurements of Molecular and Architectural Responses to Therapy, or SMMART, team has refined its process to ensure molecular analysis is done efficiently for patients and their cases are reviewed by the full tumor board quickly. The tumor board members then use the results from DNA, RNA, and protein sequencing to guide patients to a standard-of-care therapy, off-label treatment, or clinical trial.
The SMMART members presented data from 12 of 38 breast cancer patients who enrolled in the program at the American Association for Cancer Research's virtual annual meeting in April. The lead author on that study, Ben Kong, a clinical pharmacist for the OHSU SMMART program, said most patients benefited from the tumor board recommendations.
Among the 12 breast cancer patients, four had HER2-positive tumors, two had PD-L1-positive tumors, several had alterations that resulted in PI3K gain-of-function, BRCA loss-of-function, and ERBB3 gain-of-function, and one had RIT1 amplification and MEK pathway activation. Some patients had tumors with multiple molecular aberrations.
The tumor board made treatment recommendations based on the results of up to five assays, including immunohistochemistry, targeted next-generation sequencing using GeneTrails' Comprehensive Solid Tumor Panel covering 225 genes, exome sequencing using Tempus xE, transcriptome sequencing with the Illumina TruSeq RNA Exome, and a multiplex protein analysis of 22 key cancer proteins and phosphoproteins using the Nanostring Vantage 3D panel.
Based on the biomarkers identified, the tumor board matched patients to several US Food and Drug Administration-approved breast cancer treatments, like pembrolizumab (Merck's Keytruda) for those with PD-L1-positive tumors, olaparib (AstraZeneca's Lynparza) if they had BRCA1/2 mutations, pertuzumab (Genentech's Perjeta) if they had HER2-positive tumors, and alpelisib (Novartis's Piqray) plus fulvestrant for those with PIK3CA mutations.
However, the tumor board also recommended some off-label treatments. For one patient with a HER2-negative breast cancer with an ERBB3 mutation, they recommended trastuzumab (Genentech's Herceptin), which is approved for HER2-positive breast cancer. The tumor board concluded that trastuzumab was suitable because ERBB3 mutations have been shown in previous research to pair with HER2 receptors to drive tumors. Further analysis found other markers that suggested the patient's HER2 pathway was activated, including elevated levels of phosphorylated HER3, phosphorylated HER2, and PIK3/AKT. Once that patient was put on trastuzumab, there was a "dramatic decrease" in these tumor markers, Kong said.
In another case, the tumor board suggested the MEK inhibitor cobimetinib (Genentech's Cotellic) for a patient with triple-negative breast cancer and RIT1 amplification and MEK pathway activation, even though it has only been approved for melanoma. The patient was initially on a PARP inhibitor, but across three biopsies on that treatment, there were increasing levels of phosphorylated cRAF, MEK, and ERK, which Kong said may have been a sign of resistance. That prompted the tumor board to suggest a MEK inhibitor like cobimetinib in combination with the PARP inhibitor.
To track how patients fared on the tumor board-recommended treatments, the researchers compared patients' progression-free survival from their first line of treatment to their progression-free survival from the treatment they received within SMMART, also called the PFS2/PFS1 ratio. Using a benchmark ratio of greater than 1.3, the researchers determined that eight patients benefited from the tumor board-guided treatment and four did not. Three patients had progression-free survival of more than a year on the tumor board-recommended drug.
"In the few years since we started the program, we have seen some preliminary hints that we are doing something good for our patients," Kong said. "We're starting to see that patients who have received [molecularly] matched therapy, either recommended by the tumor board or our physicians, have seen a PFS2 increase compared to PFS1."
The program, beyond finding effective treatments for patients, is also focused on understanding how tumors evolve on treatment and identifying druggable biomarkers and markers of resistance. One strength of the program, according to Gordon Mills, director of SMMART trials and of precision oncology at OHSU's Knight Cancer Institute, is that it facilitates serial analysis of patients' tumors.
"Tumors evolve rapidly, and when you challenge them with therapy, they evolve or adapt to that therapeutic challenge. We need to understand those processes if we are going to target them and benefit patients," Mills said. "If you're going to understand what is truly happening, you need to be able to capture what is going on in the tumor pre-therapy, with a deep analysis of DNA, RNA, and protein, and then following therapy."
In the research presented by Kong at the AACR annual meeting, he highlighted one case where conducting DNA, RNA, and protein sequencing at different points of the patient's disease trajectory came back with markedly different results. This analysis is among the projects being undertaken within the National Cancer Institute's Human Tumor Atlas Network, in which researchers are doing a variety of molecular analyses to create high-resolution maps of how cancers progress and become resistant to treatment.
In this case, the patient's first biopsy showed the tumor was estrogen receptor (ER)-positive and HER2-negative. After progression and a second biopsy, the tumor had changed to ER-negative and HER2-positive, which prompted the tumor board to recommend a different treatment. After mixed results, the SMMART team conducted another round of testing and found the patient's tumor had changed again and was now ER-negative and HER2-negative.
At each stage of testing, the clinician or tumor board reevaluated and changed treatment to fit the tumor's molecular profile. Kong said this case study demonstrates the importance of more frequent biopsies and sequencing, which could help clinicians decide when to stop or change targeted treatments.
But scaling this type of analysis also necessitates investments in additional support services and infrastructure to ensure patients can access the tumor board-recommended treatments. For example, the SMMART team helps physicians and patients access the drugs recommended by the tumor board. The program includes dedicated drug acquisition specialists, Kong said, who try several avenues to access drugs off-label.
If a patient's insurance plan will not cover a tumor board-recommended treatment, the SMMART program will try to gain access for them within the context of a clinical trial. The program has also begun working with pharma companies to gain access to their medicines, Mills said.
The program's protocol, approved by an institutional review board and the FDA, also allows the tumor board to choose from about 50 targeted therapies and to recommend combinations that have not been previously approved by the FDA, Mills said.
Although the SMMART program relies on doctors to identify patients whose cases the tumor board should discuss, Kong said that the board also wanted to ensure that patients and their doctors are not just given recommendations without additional help or follow-up. The tumor board invites treating physicians when their patients' cases are discussed, so they understand how the board evaluated patients' molecular profiling data and the available evidence and arrived at the treatment recommendations. Kong added that the tumor board remains available to the treating physician for long-term follow-up.
As the program has refined its testing process and drug acquisition capabilities over the years, it has started expanding beyond breast cancer, Mills said. Now, the SMMART program is enrolling patients with pancreatic cancer, ovarian cancer, prostate cancer, sarcoma, and acute myelogenous leukemia.
The SMMART team is also starting to develop small trials so it can formally test the efficacy and safety of the tumor board's biomarker-guided recommendations for off-label treatments or investigational therapeutic combinations in more patients. "We're starting with basically an N-of-1 program and we try to make that N-of-3, so we can get some information to design trials where we can test the hypothesis in more detail," Mills said.
With the addition of new cancer types, OHSU's Knight Cancer Institute has begun collaborating with other institutions to bring in more patients and demonstrate how the SMMART program works and how it could become a standard-of-care program.
However, the team is hoping to address potential speed bumps to expansion, like patient compliance or the feasibility of frequent biopsies, Mills said. While the SMMART program so far has had all patients comply with the research requirements and necessary biopsies, there are challenges, he noted, especially for rural patients who need to travel to a major cancer center, or minority patients who tend to be underrepresented in research. There can also be issues obtaining serial biopsies for biomarker analysis if a patient's tumor has shrunk significantly from treatment or the tumor is not in an accessible location.
To alleviate some of those issues, the program is also exploring liquid biopsies, Mills said. Specifically, researchers are interested in testing for circulating DNA, RNA, microRNA, proteins, and exosomes within the program. "We already have data that suggests we can detect at least some of the [tumor] evolution over time, and we may be able to use this information to obviate the need for additional biopsies and democratize the precision oncology program," he said.