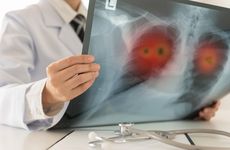 NEW YORK – Half of KRAS G12C-mutated non-small cell lung cancer patients and a third of patients with untreated brain metastases responded to Mirati Therapeutics' KRAS inhibitor adagrasib in data presented at the American Society of Clinical Oncology's annual meeting.
In the registrational Phase I/II KRYSTAL-1 trial, the drug imparted durable responses in KRAS-mutant NSCLC patients with treatment-naive central nervous system (CNS) metastases. Researchers reported the first data on this group of patients at the meeting, which Mirati is focusing on as a key factor differentiating adagrasib from its competitor, Amgen's Lumakras (sotorasib).
The Lumakras CodeBreaK 100 study, which led to Lumakras' approval last year, initially excluded patients with active, untreated brain metastases. Amgen has since started investigating the drug in this population in the CodeBreaK 101 trial but has not yet reported any data from this group.
Mirati CEO David Meek said on a call with investors on Monday that the firm will file the KRYSTAL-1 data on patients with untreated, active brain metastases to the US Food and Drug Administration. "We will do our best to get it in the label as fast as possible, and we also will pursue opportunities to get this in guidelines as soon as possible," Meek said.
In February, Mirati submitted a new drug application to the FDA for adagrasib for the treatment of advanced KRAS G12C-mutated NSCLC patients who have received at least one systemic therapy. The FDA is due to decide whether to approve the drug by Dec. 14.
Alexander Spira, director of the Virginia Cancer Specialists Research Institute, presented overall efficacy data from 112 patients with previously treated KRAS G12C-mutant NSCLC who received adagrasib monotherapy on Friday. The results included 17 patients who were not evaluable for response due to study withdrawal or receiving post-baseline scans too early. Among the 95 evaluable patients, the response rate was 51 percent. Among the 112 patients, 37 percent reached stable disease and the disease control rate was 80 percent. 
This data is included in Mirati's latest regulatory submissions for adagrasib. In addition to submitting an NDA with US regulators, the firm also submitted a marketing authorization application to the European Medicines Agency in May.
The KRYSTAL-1 trial is evaluating adagrasib as a second-line treatment for NSCLC patients who had previously received chemotherapy and immunotherapy. While the researchers analyzed outcomes based on prior treatment with chemo or immunotherapy, they found there was no difference between the groups.
In a discussion of the KRYSTAL-1 data, Sukhmani Padda, director of thoracic oncology at the Samuel Oschin Cancer Center within Cedars-Sinai Medical Center, said adagrasib's activity in KRYSTAL-1 was "very similar" to the observed activity seen for Lumakras among NSCLC patients in the CodeBreaK 100 study.
Cross-trial comparisons aren't ideal. Still, for reference, 43 percent of 112 patients in KRYSTAL-1 responded to adagrasib, while 37 percent of 124 patients responded to Lumakras in CodeBreaK 100. Median progression-free survival was 6.5 months for adagrasib and 6.8 months for Lumakras, while median overall survival was 12.6 months and 12.5 months, respectively.
The main differences between the two KRAS inhibitors were in their adverse events and dose reductions, Padda said. In the KRYSTAL-1 study, 43 percent of patients reported a grade 3 or 4 adverse event, while in the Lumakras study, 21 percent had a grade 3 or 4 event.
In KRYSTAL-1, 52 percent of patients needed to reduce adagrasib's dose and 61 percent had a dose interruption. For Lumakras, dose reductions and interruptions together occurred for 22 percent of patients in the CodeBreaK 100 trial. However, on both drugs, only 7 percent of patients discontinued treatment due to adverse events.
Padda noted she was interested in studies exploring adagrasib at a lower dose due to the greater rate of higher-grade adverse events. In KRYSTAL-1, adagrasib was dosed at 600 mg twice daily, and in CodeBreaK Lumakras was dosed at 960 mg once daily.
"We talk about [dosing] all the time as it relates to targeted therapy," Padda said. "I am curious about a lower optimal starting dose [for adagrasib]. Even with sotorasib a lower dose of 240 milligrams is being explored."
However, Mirati is hoping that the latest data on adagrasib's activity in CNS metastases will help set its drug apart from Lumakras. Among 33 NSCLC patients with previously treated CNS metastases, one-third had an intracranial response to adagrasib, including five patients with a complete response, six with a partial response, and 17 with stable disease.
In a separate analysis presented at ASCO on Monday, researchers led by Joshua Sabari, a thoracic medical oncologist at New York University Langone Health's Perlmutter Cancer Center, reported on adagrasib's efficacy in NSCLC patients with active, untreated CNS metastases. Among 19 evaluable patients, 32 percent, or six patients, had an intracranial response to adagrasib, with three complete responses and three partial responses. The majority of patients, 80 percent, had an intracranial response on adagrasib.
At a follow-up of 6.6 months, the median intracranial progression-free survival was 4.2 months, and the median duration of response was not reached, with 83 percent of responders still on treatment and responding at the time of data cutoff, Sabari said. Median overall survival in this group was also not reached.
While Amgen has not yet reported any data on Lumakras' efficacy in untreated brain metastases, the company did report results from a CodeBreaK 100 trial population of KRAS G12C-mutated NSCLC patients with treated, stable CNS metastases. That analysis showed that 13 percent of patients with CNS metastases responded to Lumakras, which is lower than the 33 percent of treated patients who responded to adagrasib in KRYSTAL-1.
However, Spira noted this data was difficult to interpret because of the differences in prior radiation treatment among patients with brain metastases between the two studies. Spira, who discussed the treated and untreated CNS metastases data on Mirati's call with investors, said this patient population usually has a median overall survival of about five months.
"The choice to give stereotactic radiosurgery or radiation to these patients with multiple nodules is a difficult one, and as oncologists, we look for drugs that now have CNS activity," Spira said. "The data we have so far [on adagrasib] will hopefully validate an approach to forgo radiation in many patients and instead treat them systemically."
However, Sarah Goldberg, research director for the Center for Thoracic Cancers at the Yale School of Medicine, who discussed the data on NSCLC patients with untreated CNS at ASCO, noted that there is little data comparing systemic treatment with targeted therapies against standard local treatment, including surgery or radiation, for patients with brain metastases.
She cited retrospective data from a study comparing the activity of EGFR and ALK inhibitors given alone or in combination with upfront radiotherapy in lung cancer patients with brain metastases. That analysis failed to find a difference in overall survival for the two patient groups but concluded that targeted therapies could be used to delay radiation treatment.
Goldberg noted that the durability of intracranial response with adagrasib, which within KRYSTAL-1 was not reached at 6.6 months of follow-up, also suggests the drug could help delay radiation therapy in some of these patients.
"More data is needed comparing local therapy to systemic therapy for patients with lung cancer brain metastases," Goldberg said. "The median duration of response in the brain and time to brain radiation are very meaningful endpoints, and until we have randomized studies, those [endpoints] can be helpful when trying to decide about treating patients upfront with targeted therapy."