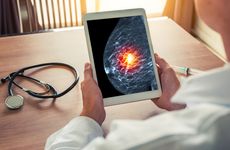 NEW YORK – More than three years after receiving adjuvant treatment with Merck and AstraZeneca's PARP inhibitor Lynparza (olaparib), early-stage breast cancer patients with BRCA1/2 mutations and at high risk of relapse experienced a 32 percent overall survival improvement versus patients on placebo, according to new results from the Phase III OlympiA trial.
In the trial, more than 1,800 patients with germline BRCA1 or BRCA2 mutations received either Lynparza or placebo for one year after local treatment and neoadjuvant or adjuvant chemotherapy. Based on Lynparza's impact on invasive disease-free survival and overall survival, the US Food and Drug Administration on Friday approved the PARP inhibitor for this patient population, designating Myriad Genetics' BRACAnalysis CDx as a test to identify patients with germline BRCA1/2 mutations who are eligible for treatment.
Despite oncologists knowing about Lynparza's invasive disease-free survival benefit in this setting since the American Society of Clinical Oncology's annual meeting last summer, the FDA held off on approving Lynparza until there was proof of overall survival benefit, too.
In a European Society for Medical Oncology plenary presentation on Wednesday, Andrew Tutt, head of the division of breast cancer research at the Institute of Cancer Research, detailed the overall survival analysis. Three years after treatment, the overall survival rate for Lynparza-treated patients was 92.8 percent versus 89.1 percent among patients on placebo. After four years of follow-up, these rates were 89.8 percent versus 86.4 percent, respectively. The safety profile was consistent with what the researchers had previously seen with Lynparza.
The survival benefit, Tutt pointed out, was consistent among patients with both hormone receptor (HR)-positive and triple-negative breast cancers, although TNBC patients made up the vast majority of patients in the trial. The therapy appeared to consistently benefit patients who harbored BRCA1 and BRCA2 germline mutations, although nearly two-thirds of patients in the trial had BRCA1 mutations, so the treatment would need to be tested in a larger BRCA2-mutated group to confirm this.
Universal germline testing implications
When Lynparza's invasive disease-free survival benefit was first presented last summer, many in the field began to ask whether Lynparza's regulatory approval in this setting might spur changes in BRCA1/2 testing patterns so all breast cancer patients are evaluated for these mutations. In the wake of the confirmed overall survival benefit with the PARP inhibitor and the subsequent regulatory approval, the question is again top of mind.
In a discussion following Tutt's presentation on Wednesday, Memorial Sloan Kettering's Chief of Breast Medicine Mark Robson suggested that this universal genetic testing question will be answered differently within different health systems.
In the US specifically, the most recent National Comprehensive Cancer Network (NCCN) guidelines recommend testing for mutations in germline high-penetrance breast cancer susceptibility genes — specifically BRCA1, BRCA2, CDH1, PALB2, PTEN, and TP53 — for any patient diagnosed with TNBC as well as "to aid in adjuvant treatment decisions with olaparib for high-risk HER2-negative breast cancer."
The "high-risk" element of the guideline is not defined, although for patients beyond TNBC the guidelines say testing is clinically indicated for all patients under age 45. For patients between age 46 and 50, they stipulate testing should be ordered for patients with unknown or limited family cancer history; multiple primary breast cancers; or at least one close blood relative with breast, ovarian, pancreatic, or prostate cancer at any age. Above age 51, the guidelines become more limited, but as Robson shared in his presentation, only about 0.4 percent of patients over age 50 who do not meet NCCN criteria will wind up having a BRCA1/2 alteration, and this is an even smaller number under age 60.
The NCCN criteria for germline testing, as they're now written, do cast a wide net but are still likely to miss some patients with BRCA1/2 mutations, Robson said. Knowledge of germline BRCA1/2 mutations have implications beyond breast cancer patients' treatment, including informing patients' future risk of cancers as well as their blood relatives' cancer risks. On the flip side, many health systems, concerned about near-term costs, may balk at the prospect of conducting germline genetic testing on every breast cancer patient.
"If one is focusing on BRCA1 and BRCA2 for treatment-related purposes, testing everybody may not be necessary," Robson said, suggesting that the criteria used to enroll patients to OlympiA could be a good roadmap to follow. In OlympiA, investigators used clinical features like node positivity to determine if patients were at high risk of relapse.
"My thinking is that olaparib should be offered to anyone who meets the entry criteria for the study, and if that means doing testing in a non-NCCN category, then so be it," he said. "Genetic testing should be liberalized for women who are at high risk and meet the OlympiA entry criteria, but the detection rate in women who are over 50 or 60 who don't meet NCCN is extremely low."
Robson also emphasized that this does and should apply to patients with HR-positive breast cancer, who still derived an overall survival benefit in OlympiA, even though this subpopulation was significantly smaller than those with TNBC.
"One thing that we have to remember is to test appropriate hormone receptor-positive patients," he said. "There's such a focus on triple-negative disease that hormone receptor-positive BRCA carriers sometimes get forgotten — and yet they clearly would benefit here, and we must keep them in mind in the future."