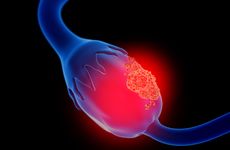 PARIS – Researchers at the European Society for Medical Oncology Congress on Friday suggested that Lynparza (olaparib) may be a cure for some newly diagnosed, advanced ovarian cancer patients after two studies showed that maintenance therapy with the PARP inhibitor improved long-term overall survival both as a single agent and in combination with Genentech's Avastin (bevacizumab).
The overall survival benefits with AstraZeneca and Merck's Lynparza were seen in two Phase III studies, PAOLA-1 and SOLO-1. PAOLA-1 compared Lynparza maintenance therapy when given alongside Avastin against just Avastin in newly diagnosed advanced ovarian cancer patients. Patients could partake in the study regardless of their BRCA1/2 mutation status but had to provide a tumor sample to determine if they had homologous recombination repair deficiency (HRD) using Myriad Genetics' MyChoice HRD test or mutations in BRCA1/2. In SOLO-1, researchers randomized newly diagnosed, advanced, platinum-responsive ovarian cancer patients with BRCA1/2 mutations to either Lynparza maintenance therapy or placebo. 
The improvement in long-term survival seen with the PARP inhibitor in these trials cements it as an effective first-line maintenance treatment for newly diagnosed ovarian cancer patients who have BRCA1/2 mutations or HRD.
In the US, single-agent Lynparza is approved as a maintenance treatment after chemotherapy for germline or somatic BRCA1/2-mutated advanced epithelial ovarian, fallopian tube, or primary peritoneal cancer. It is also approved in combination with Avastin as a maintenance therapy for ovarian cancers that are HRD-positive, defined by either a BRCA1/2 mutation or genomic instability.
Jonathan Ledermann, professor of medical oncology at the University College London Cancer Institute, said in a discussion at ESMO that the data from the SOLO-1 trial, in particular, suggests that some patients, especially those with HRD-positive or BRCA1/2-mutant tumors, may have the chance for a cure with Lynparza maintenance therapy.
"In SOLO-1, median overall survival has not been reached yet on olaparib, so this is perhaps a cure that we're seeing [from this data], but we have to wait to full maturity to be absolutely certain," Ledermann said. "These survival data [from both trials] do confirm the value of biomarker-directed first-line therapy with maintenance PARP inhibitors, here with olaparib, in the treatment of ovarian cancer."
Experts had similar impressions of the value of first-line maintenance therapy with Lynparza in combination with Avastin in the HRD population after seeing the PAOLA-1 data.
PAOLA-1
After five years of follow-up, the final overall survival results from the PAOLA-1 trial showed that patients on Lynparza plus Avastin lived longer than those on placebo and Avastin. The improvement across all patients was clinically meaningful, but not statistically significant, noted Isabelle Ray-Coquard, professor of medical oncology at the University Claude Bernard Lyon. All patients on Lynparza-Avastin lived for a median of 56.5 months compared to 51.6 months on Avastin alone.
Among patients who were HRD-positive, however, the overall survival improvement was more pronounced, with those on the Lynparza combination living for a median of 65.5 months versus 48.4 months on just Avastin. There was no overall survival advantage seen with the addition of Lynparza among HRD-negative ovarian cancer patients.
Mutations in BRCA1/2 are also known to disrupt homologous recombination repair. As such, BRCA1/2-mutant patients also experienced longer survival, living a median of 73.2 months in the Lynparza-Avastin arm compared to 53.8 months in the Avastin-placebo arm.
At ESMO, Ray-Coquard also presented updated progression-free survival data from the trial. In the HRD-positive population, 46 percent of patients were alive for five years without progression in the Lynparza arm compared to 19 percent in the Avastin only arm, "suggesting a potential benefit to cure these patients with the combination who are in the first-line setting and HRD-positive," she said.
SOLO-1
Seven years of follow-up in the SOLO-1 trial also revealed that maintenance therapy with single-agent Lynparza improved overall survival versus placebo in BRCA1/2-mutant newly diagnosed, advanced ovarian cancer patients. With 88 months of follow-up, the median overall survival was not yet reached in the Lynparza arm and was 75.2 months in the placebo arm.
At seven years, 67 percent of Lynparza-treated patients were alive compared to 46.5 percent in the placebo arm. This represents the longest follow-up data on any PARP inhibitor in the newly diagnosed ovarian cancer setting, according to Paul DiSilvestro, director of the women's oncology program at Women and Infants Hospital in Providence, Rhode Island.
"In SOLO-1, maintenance olaparib [therapy] provided a sustained benefit beyond the two-year treatment cap in women with newly diagnosed, advanced ovarian cancer and a BRCA1/2 mutation," DiSilvestro said.
Despite the long follow-up, DiSilvestro reminded the attendees at ESMO that this is not the final survival analysis. That will occur when the survival data has reached 60 percent maturity, but DiSilvestro noted it may be many years before the trial reaches that stage.
DiSilvestro pointed out that the overall survival data was not adjusted to account for patients receiving subsequent PARP inhibitor therapy, and yet, Lynparza maintenance therapy still performed better despite more than 40 percent of patients in the placebo arm switching to a PARP inhibitor.
Among patients who received Lynparza in the trial, the time to first subsequent therapy was also delayed. The median time to first subsequent therapy in the Lynparza arm was 64 months compared to 15.1 months on placebo. At seven years, 45 percent of women in the Lynparza arm had yet to progress on to another treatment, versus 20 percent in the placebo arm.
"For most women on this trial, survival meant survival without subsequent therapy," DiSilvestro said.
Ledermann noted that most patients who have a recurrence of ovarian cancer will eventually die from the disease, so reducing the number of patients who required further treatment is meaningful in terms of managing this disease.
"Women with advanced ovarian cancer are at high risk of relapse, with only approximately 17 percent of patients surviving 10 years after their initial diagnosis," DiSilvestro said. "Relapsed advanced ovarian cancer is rarely curable, highlighting the need for effective first-line therapies that delay relapse, prolong survival, and enhance the potential of a cure."