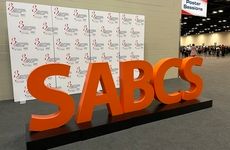 SAN ANTONIO – A Phase II trial of Novartis' CDK4/6 inhibitor Kisqali (ribociclib) plus endocrine therapy showed improvement in progression-free survival versus combination chemotherapy in hormone receptor (HR)-positive, HER2-negative advanced breast cancer.
The results presented at the San Antonio Breast Cancer Symposium on Tuesday are potentially practice changing, according to Yen-Shen Lu, division chief of medical oncology at the National Taiwan University Hospital in Taipei.
In the Phase II RIGHT Choice study, researchers aimed to determine whether Kisqali with endocrine therapy should be the preferred option over combination chemo for younger patients with aggressive disease — defined as symptomatic visceral metastases, rapid disease progression, or symptomatic non-visceral disease. The study also only enrolled pre- or peri-menopausal patients.
Lu also noted that although guidelines suggest using first-line CDK4/6 inhibitors in the advanced HR-positive, HER2-negative breast cancer setting, many doctors will opt for combination chemotherapy instead for aggressive disease because patients respond rapidly and because younger patients can tolerate the side effects better.
"A lot of doctors hesitate to follow [the guidelines] because they still believe combination chemotherapy may provide a higher response rate," Lu said. "These data [from the RIGHT Choice study] endorse the opinion from expert [guidelines]. These data provide very clear evidence that [Kisqali] is safe, it is efficacious, and it can avoid a lot of toxicity. I believe that this is practice changing."
The RIGHT Choice trial enrolled 222 pre- or peri-menopausal patients with HR-positive, HER2-negative breast cancer and randomized them to receive either Kisqali with endocrine therapy or physician's choice of combination chemo. Kisqali plus endocrine therapy reduced the risk of disease progression or death by 46 percent compared to combination chemo. The median progression-free survival was nearly a year longer for patients in the Kisqali arm (24 months) versus the chemo arm (12.3 months).
The Kisqali combination also had somewhat better response rate compared to chemo, 65.2 percent and 60 percent, respectively. The time to response was also similar in the Kisqali arm compared to chemo, 4.9 months versus 3.2 months, respectively.
Lu noted that response rate and time to response are two endpoints that oncologists look at when deciding on treatment for patients with aggressive disease. "Combination chemotherapy is known to have a high response rate, which is why it is conventionally preferred for this patient group," he said, noting that the data from the RIGHT Choice trial shows that Kisqali plus endocrine therapy "could generate a high tumor response rate matching the data with combination chemotherapy."
Along with the improvement in progression-free survival, patients in the Kisqali arm also experienced fewer symptomatic adverse events, such as nausea, vomiting, and diarrhea, than in the chemo arm. The Kisqali arm, however, had higher rates of neutropenia and leukopenia.
Only 7 percent of patients in the Kisqali arm discontinued treatment due to adverse events, compared to 23 percent in the combination chemo arm. As of the data cutoff on April 12 and a median follow-up of two years, 46 percent of patients remained on the Kisqali combination compared to 24 percent of patients remaining on chemo.
"This can impact quality of life and treatment compliance and help to avoid the need for combination chemotherapy and its associated toxicity," Lu said.
Kisqali is currently approved in the US for HR-positive, HER2-negative advanced breast cancer as a first-line treatment with endocrine therapy or fulvestrant and as a second-line treatment after progression on endocrine therapy in postmenopausal women.
Virginia Kaklamani, leader of the breast cancer program at UT Health San Antonio MD Anderson Cancer Center, who discussed the data, agreed that these results will change the standard of care in this setting, considering it was the first time that a CDK4/6 inhibitor was compared to combination chemo.
She has also found that oncologists will default to the combination chemo regimen when looking for a quick response, but the RIGHT Choice data shows that may no longer be the best choice.
"With this study we're finding that chemotherapy, at least in the early stages of HR-positive breast cancer, is probably not appropriate for our patients," Kaklamani said. "We don't use a lot of chemotherapy nowadays because of how well these CDK4/6 inhibitors work, but the little that we do use is probably now dead."