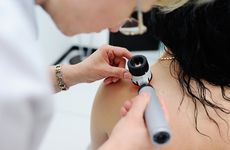 NEW YORK – Immunocore's tebentafusp nearly halved the risk of death in patients with HLA-A*02:01-positive metastatic uveal melanoma compared to standard treatments, including immune checkpoint inhibitors, in a Phase III trial researchers presented at the American Association for Cancer Research's virtual annual meeting on Saturday.
The data could be "practice changing" for the treatment of uveal melanoma, which lacks good treatment options, and patients respond poorly to checkpoint inhibitors due to a tendency toward low tumor mutation burden, according to lead researcher Jessica Hassel, associate professor and section head of dermato-oncology at the University Hospital Heidelberg in Germany.
In the Phase III trial, 378 HLA-A*02:01-positive metastatic uveal melanoma patients were randomized to Immunocore's bispecific fusion protein tebentafusp or investigator's choice of checkpoint inhibitors pembrolizumab (Merck's Keytruda) or ipilimumab (Bristol Myers Squibb's Yervoy), or dacarbazine chemotherapy. Most patients in the comparator arm received pembrolizumab (103 patients), with 15 patients on ipilimumab and seven patients on dacarbazine.
Hassel reported that at one year, the overall survival rate was 73 percent in the tebentafusp arm compared to 57.5 percent for those on investigator's choice of treatment. The disease control rate, including patients with stable disease at 12 weeks, was 46 percent on tebentafusp and 27 percent in the comparator arm.
The trial yielded low response rates: 9 percent among those on tebentafusp, with one patient having a complete response and 22 having partial responses, and 5 percent among those receiving standard treatments. Although the overall response rate analysis is immature, Hassel said the results were likely a function of the way this endpoint is measured using RECIST criteria. "One single new lesion will make the rate fall, but this treatment just needs time," Hassel said.
The researchers also analyzed overall survival in a subgroup of patients who had progressive disease and did not appear to benefit from tebentafusp treatment. In this group, at 100 days, more patients on tebentafusp were alive compared to those receiving standard therapies. Hassel and colleagues noted based on this analysis that RECIST criteria may underestimate the treatment responses to a T-cell receptor bispecific fusion protein like tebentafusp, which slows but may not stop disease progression.
Researchers further considered the association between clinical factors, such as rash, and overall survival in the trial. Out of 254 total patients treated with tebentafusp, 203 developed a rash, but the researchers determined there was no significant difference in overall survival based on this adverse event, Hassel said. She noted that most adverse events seen with tebentafusp, including the rash, were manageable and consistent with the drug's mechanism of action.
"This is the first ever study that has shown improvement in overall survival in patients with uveal melanoma," said AACR President Antoni Ribas in a press conference. "Patients with uveal melanoma that has become metastatic haven't had a new effective treatment for more 40 years. This trial showed improvement in overall survival by 50 percent in patients who receive tebentafusp."
Tebentafusp is a bispecific fusion protein that binds to and targets the gp100 antigen expressed in melanoma cells that are HLA-A*02:01-positive. After identifying and binding to these cells, the drug redirects T cells to attack the gp100-expressing melanoma cells.
Since tebentafusp redirects T cells to recognize a part of the gp100 protein only presented on tumors by HLA-A*02:01, patients will have to be tested to gauge if their tumors have this cell surface molecule. Hassel said HLA-A*02:01 typing is not routine for uveal melanoma patients, but the test is well-established in most university hospitals and samples also can easily be sent to external labs offering HLA typing.
According to Hassel, this HLA type is common among Caucasians who are most likely to develop uveal melanoma, with roughly 50 percent of Caucasians expressing HLA-A*02:01. She noted during her presentation that gp100 is a better target in uveal melanoma than it is in cutaneous melanoma. "In almost all cases, when you test uveal melanoma, you will find gp100," she said.
In February, the US Food and Drug Administration granted breakthrough therapy designation to tebentafusp as a treatment for HLA-A*02:01-positive patients with unresectable or metastatic uveal melanoma. Immunocore has said it plans to submit a biologic license application to the FDA for tebentafusp in Q3 2021.