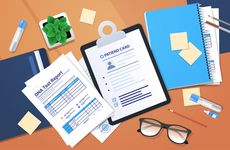 Precision Oncology News and My Gene Counsel have partnered to produce the "Genetic Testing Challenges in Oncology" series to highlight real-world issues that genetics experts and medical professionals are encountering as genetic tests are increasingly used in cancer care. Experts submit anonymized case reports to My Gene Counsel, and based on the details in these reports, Precision Oncology News writes a feature that describes the case history, challenges encountered by professionals in dealing with the case, and strategies they used in response to challenges or errors. The features also include a discussion with My Gene Counsel genetic counseling experts on better approaches that could be considered if similar cases are encountered in the future. In publishing this series, our aim is to educate experts in the field and foster discussion. If you would like to submit a case report, please email [email protected].
---
What happened?
A 49-year-old patient was diagnosed with metastatic, poorly differentiated, stage IIIB invasive ductal, triple-negative breast cancer in February 2021. Around this time, the surgeon ordered genetic testing for this patient, who is of African-American ancestry, to determine if she had inherited a pathogenic variant associated with increased cancer risk. The patient did not receive pre- or post-test genetic counseling from a genetics expert to help her understand why this risk assessment was important to her care.
The patient decided, however, not to stay with this physician and had her bilateral mastectomy with another surgeon. Then in June 2021, the patient's medical oncologist sent her to see a genetic counselor after learning she'd had genetic testing previously. At the genetic counseling session, the patient declined genetic testing because she had already received it through her prior surgeon. The patient shared that she didn't know her results and had never seen her report. The genetic counselor asked the patient to request copies of the report from the first surgeon.
How was the case resolved?
Despite calling the surgeon's office and requesting her results, this patient was unable to get access to her medical information. A year later, in June 2022, when the patient went to see the genetic counselor a second time, she claimed that the first surgeon's office refused to disclose her results because she had an outstanding bill.
The genetic counselor advised the patient to call this surgeon's office again and try to find out which lab performed the analysis. The office provided the names of three labs that doctors at this facility order tests from, but not the name of the specific lab that performed this particular patient's test. The patient signed medical release forms allowing the genetic counselor to call these labs and request reports on her behalf. The genetic counselor located the lab that performed the patient's genetic testing and received a copy of the results in August 2022. The report revealed that this patient had a BRCA1 pathogenic variant associated with increased risk of breast, ovarian, and other cancers.
The genetic counselor called the first surgeon's office and spoke with a medical assistant about this patient's case. The medical assistant said the doctor's office had not documented whether genetic test results were disclosed to the patient and claimed there were no records of any calls the patient said she made to procure a copy of the report. The medical assistant claimed that the office didn't even have a copy of this patient's genetic test results, even though the patient's test report indicated that the surgeon from this facility ordered the test and it is standard practice for labs to send copies of test results to the ordering physician.
The patient is now discussing bilateral salpingo-oophorectomy with her oncologist, as would be recommended based on her cancer history and genetic test results. After discussing her test result with the genetic counselor and understanding that the same pathogenic BRCA1 variant may be inherited by other blood relatives, the patient is sharing this information with family members.
Why is this case concerning?
Triple-negative breast cancer is an aggressive disease with limited treatment options and patients with this breast cancer subtype tend to have especially poor prognosis and survival. However, breast cancer patients with germline BRCA1 pathogenic variants may be eligible for targeted treatment with PARP inhibitors. This case is concerning because a woman with an aggressive type of breast cancer was denied access to genetic test results that could have been important for her treatment.
"Withholding these test results could mean that this patient did not receive a precision medicine she may have needed to treat her breast cancer and that may have changed her outcome and prognosis," said Ellen Matloff, a certified genetic counselor and president and CEO of the health technology firm My Gene Counsel.
Moreover, a pathogenic BRCA1 variant is also associated with increased risk for ovarian and other cancers. In that one-and-a-half-year period where the patient did not know she was a BRCA1 pathogenic variant carrier and, therefore, didn't know that removal of ovaries and fallopian tubes was recommended, she "may have developed ovarian cancer," Matloff said.
Furthermore, an inherited cancer risk variant has implications not just for the carrier but for her blood relatives. Withholding results from this patient, therefore, delayed testing and screening for other family members who may have the same variant but didn't know it, Matloff added, noting that in that time a relative could have developed a cancer that could have been prevented or diagnosed earlier.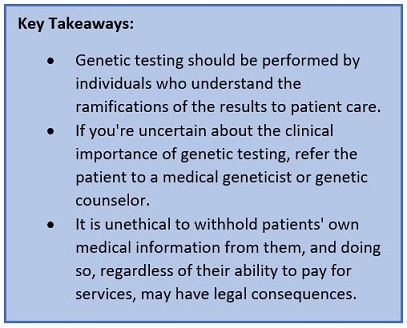 What could have been done differently?
Even though the details of this patient's financial dispute with the first surgeon are not known, this case raises questions about medical ethics. "This patient's genetic test results were not this doctor's to withhold," Matloff said. "Withholding genetic test results that could impact the patient's surgical decision making, therapy, chance of a new primary cancer, and risk to family members is completely unethical."
She pointed out that the genetic counselor had no problem procuring the genetic test results from the lab that performed it. This is likely because the Health Insurance Portability and Accountability Act Privacy Rule gives patients a broad right to request, receive, and review medical records that healthcare providers have on them. Healthcare facilities have to furnish the results within 30 days of a patient's request for these records, and they cannot deny a request because the patient hasn't paid for health services.
Therefore, this surgeon's office should not have withheld this patient's genetic test report, Matloff said, adding that such actions could have negative ramifications for a physician, such as being reported to the state medical board or face a HIPAA violation complaint.
In this case, it may be that the doctor didn't fully appreciate the ramifications of a positive genetic test result. As such, Matloff underscored the importance of referring patients to genetics experts who do have such an understanding as well as an appreciation for the medical ethics surrounding genetic testing. "Frankly, though, the medical ethics issues raised in this case would apply to any testing and isn't specific to genetic testing," Matloff said. "It's just that when you're withholding [germline] genetic test results, you're not only hurting the patient in front of you, but you're also potentially burdening an entire family and multiple individuals."
Lastly, this patient is a person of color. Given the negative experiences people of color have historically experienced in the US medical system, Matloff said this surgeon's behavior raises additional questions in her mind about discrimination and implicit bias.