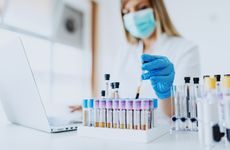 Precision Oncology News and My Gene Counsel have partnered to produce the "Genetic Testing Challenges in Oncology" series to highlight real-world issues that genetics experts and medical professionals are encountering as genetic tests are increasingly used in cancer care. Experts submit anonymized case reports to My Gene Counsel, and based on the details in these reports, Precision Oncology News writes a feature that describes the case history, challenges encountered by professionals in dealing with the case, and strategies they used in response to challenges or errors. The features also include a discussion with My Gene Counsel genetic counseling experts on better approaches that could be considered if similar cases are encountered in the future. In publishing this series, our aim is to educate experts in the field and foster discussion. If you would like to submit a case report, please email [email protected].
---
What happened?
A woman's physician ordered multi-gene panel testing due to her family history of cancer and told her that the lab had found two "errors" in the PALB2 gene. Compared to the general population, patients with a pathogenic variant in PALB2 have between a 20 percent and 58 percent higher lifetime risk of breast cancer and between a 2 percent and 10 percent higher lifetime risk for pancreatic cancer. The risks for all these cancers are even more elevated in individuals with a strong family history of these malignancies.
Because of these genetic findings, the doctor referred the patient, who was in her 60s, to a larger center for pancreatic cancer screening via ultrasound. The gastrointestinal specialist at this center noted that this patient had gotten genetic testing and referred her for genetic counseling before sending her for the ultrasound.
The genetic counselor reviewed the test report and saw that this patient did not have any pathogenic PALB2 variants. In fact, the report noted two variants of unknown significance (VUS) in PALB2. The genetic counselor had never heard of the lab and she could not find published information on the specificity and sensitivity of the testing performed there. She called the lab for more information, and a representative there declined to share a copy of the validation study for the test but claimed that sensitivity and specificity were both 100 percent. This lab employed a part-time genetic counselor, who also "had not been provided the sensitivity or specificity study" on the test, the patient's genetic counselor recalled.
How was the case resolved?
The genetic counselor explained to the patient that expert guidelines do not recommend making clinical decisions based on VUS, because there is not enough evidence currently to determine whether these variants are harmless, which many are later found to be, or disease-causing. The genetic counselor recommended the patient receive screening based on her family's cancer history.
Because the genetic counselor was unfamiliar with the lab that performed the testing, she ordered testing again, this time from a well-known reputable commercial lab, to make sure that this patient had these two PALB2 VUS and to rule out variants in other genes. The second lab reported that this patient only had one PALB2 VUS, and a second BRCA1 VUS.
The genetic counselor reached out to the first lab and informed them that confirmatory testing had found only one PALB2 VUS and a second one in BRCA1. The first lab reviewed the case and noted that testing had detected this BRCA1 variant, but its bioinformatics pipeline had filtered out this variant and didn't report it. Moreover, the genetic counselor noted that the first lab had documented the PALB2 VUS using incorrect nomenclature representing it as two VUS.
The genetic counselor tried numerous times to contact the first doctor about the incorrect genetic information that this patient received. "The doctor refused to speak to me," said the genetic counselor. In her attempts to reach the doctor, she went to the physician's practice website and saw that it advertised the genetic testing services of the lab that evaluated the patient. The genetic counselor became suspicious that there may be a financial arrangement between the lab and this physician's practice and reported the incident to the US Department of Health and Human Services' Office of Inspector General (OIG).
Why is this case concerning?
In this case, a physician ordered genetic testing from a lab, which lacked published information on the accuracy of its test, refused to be transparent about the evidence underlying the test, muddled the reporting of detected variants for a patient by using incorrect nomenclature, and failed to report a VUS in a key cancer-associated gene.
It is further concerning that this patient's doctor interpreted the PALB2 VUS as disease-causing and recommended her for pancreatic cancer screening via ultrasound, which is not appropriate for several reasons. Foremost, doctors shouldn't rely on VUS findings to guide management decisions.
"One, no pathogenic variant was detected, and two, even if there were one, the surveillance recommended by this doctor is not what we recommend for those with pathogenic PALB2 variants," said Meagan Farmer, director of the cancer genetic counseling program at the University of Alabama at Birmingham and genetic clinical operations director at My Gene Counsel. "If someone actually is PALB2 positive and has a family history of pancreatic cancer, endoscopic ultrasound and MRI/magnetic resonance cholangiopancreatography would be recommended for screening. Ultrasound alone is not recommended."
The genetic counselor in this case was right to be suspicious when she saw that the first doctor's practice website advertised the services of the genetic testing lab. Over the past decade, as spending on genetic testing has increased within the Medicare program, so have fraudulent billing schemes.
For example, an operation by the Federal Bureau of Investigation and OIG in 2019 led to charges against a lab owner who billed Medicare more than $125 million in fraudulent genetic testing claims, including for cancer risk tests. Government investigators alleged that part of the lab owner's scheme was paying a kickback to contract physicians who worked at a telemedicine firm to authorize genetic testing. These physicians lacked the ability to understand or interpret genetic tests for cancer risk, and didn't evaluate patients properly or use the test results to guide their care.
"Genetic testing, when used correctly, can be lifesaving for patients and cost-saving for health systems and payors," Farmer said. "I don't want to see fraudulent schemes undermine what is more often appropriate use of genetic testing."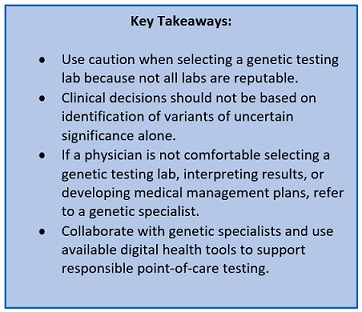 What could have been done differently?
It's not a good sign that the patient's first doctor seemed to be advertising the services of a particular genetic testing company, about which limited technical data were available, and then refused to discuss the case with the genetic counselor. Given the rapid growth in the genetic testing industry in recent years and companies' aggressive marketing tactics, it's becoming increasingly difficult for doctors with limited genetics knowledge to recognize a reputable lab from a questionable one. Although lab quality is regulated under the Clinical Laboratory Improvement Amendments and accredited by the College of American Pathologists, "it's unfortunately still not too difficult to buy equipment, set up a lab, and market genetic testing," said Farmer.
In a prior case highlighted in this series, for example, a woman had submitted a sample for multi-gene panel testing at a booth a lab had set up at a home show. That lab, which met federal lab standards in having CLIA certification and CAP accreditation, said this patient had a BRCA2 pathogenic variant, but further testing revealed she did not.
The genetic counselor was right to ask to see published validation data from the lab. "Any time I come across a result from a lab that I'm not familiar with, I check to see that it's CLIA-certified and CAP-accredited and review their technical data, some of which is usually on the actual test report," Farmer said. "Like the genetic counselor in this case, if I can't find it, I call the lab and ask for it. A lab that is aboveboard should be happy to provide this."
Within the National Society of Genetic Counselors' online message boards, it's not uncommon for genetic counselors to post about labs they've never heard of but that their patients have gotten testing from, in the hopes that their colleagues can share their experiences, Farmer said. It's clear that differentiating good and bad labs "is still a problem for clinicians and patients," she added. "And it's a problem even for payors. We don't want to see limited coverage of legitimate, high-quality testing in response to concerns related to labs like the one in this case."
Physicians ordering genetic tests should learn the different types of genetic variants and results that labs may return — benign or likely benign (considered "negative"), VUS (similar to "inconclusive"), and likely pathogenic or pathogenic (considered "positive") — and understand what the variant classification and result categories mean for patient management, according to the American College of Medical Genetics & Genomics' guidelines. "In this case, it seems almost as if the clinician just kind of came up with their own plan without checking guidelines related to variant classification and management," Farmer said.
In her view, practices should be making more use of digital tools that can guide doctors and patients through risk assessment, result interpretation, and medical management. Furthermore, medical geneticists and genetic counselors are more familiar with the landscape of testing labs, trained in ordering and interpreting genetic testing, and well versed in genetic testing management guidelines. They may also be aware of available tools and programs to support responsible testing.
Non-genetics clinicians should collaborate with colleagues with genetics expertise as they develop point-of-care testing programs, and clinicians should refer patients to these experts when they are uncertain, Farmer said.