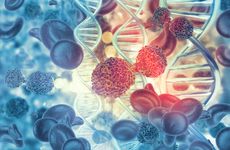 Precision Oncology News and My Gene Counsel have partnered to produce the "Genetic Testing Challenges in Oncology" series to highlight real-world issues that genetics experts and medical professionals are encountering as genetic tests are increasingly used in cancer care. Experts submit anonymized case reports to My Gene Counsel, and based on the details in these reports, Precision Oncology News writes a feature that describes the case history, challenges encountered by professionals in dealing with the case, and strategies they used in response to challenges or errors. The features also include a discussion with My Gene Counsel genetic counseling experts on better approaches that could be considered if similar cases are encountered in the future. In publishing this series, our aim is to educate experts in the field and foster discussion. If you would like to submit a case report, please email [email protected].
---
What happened?
A few months ago, a hematologist-oncologist referred a 61-year-old Ashkenazi Jewish woman with a hematologic malignancy and a family history of breast cancer for genetic counseling. As part of the patient's work-up for her malignancy, the heme-onc had ordered somatic testing of her blood cancer, which revealed a TP53 variant at an allele frequency of 46.8 percent.
When a somatic TP53 variant is driving a patient's cancer, doctors would expect aggressive disease progression, but this patient's blood cancer,* diagnosed seven years ago, was not aggressive. Moreover, since the variant was present at such a high proportion in DNA material in the blood sample, the heme-onc wondered if this patient might have inherited a germline TP53 variant, present in all the cells in her body. Pathogenic germline TP53 variants are associated with Li-Fraumeni syndrome, known to increase the risk of a wide range of solid and hematologic malignancies. If the patient had this pathogenic variant, then that would put the patient's blood relatives at risk for carrying it, too. The heme-onc, wanting to resolve this question about the TP53 mutation, referred the patient to a genetic counselor.
At the appointment, the genetic counselor went over the patient's medical and family history and noted that her mother and maternal grandmother had breast cancer. The genetic counselor also noted in medical records that as part of her initial cancer diagnosis, doctors had performed karyotyping to look for chromosomal abnormalities associated with blood cancers. This testing showed the patient had a balanced autosomal translocation that was thought to be constitutional — meaning the patient since birth has had a chromosomal structural abnormality, which would also be present in some of her egg cells.
If an egg cell with this chromosomal aberration joins with a sperm to make a gamete, there's a high chance of miscarriage or having a child with unbalanced chromosomal translocations often associated with birth defects. Patients with balanced chromosomal translocations can pass them on to their children, and then they, too, would be at increased risk. When the genetic counselor brought this up, this well-educated patient didn't know she had this chromosomal translocation and was not aware of the healthcare implications for her relatives.
The patient was also not aware that the more recent somatic testing done by her heme-onc suggested that she likely carried a germline TP53 finding. The genetic counselor explained the need for germline testing using a skin-punch biopsy as confirmation. In the case of solid tumors, a sample of diseased tissue is used to gauge molecular changes in the cancer, which then must be compared to molecular changes in the blood to determine whether the genetic abnormality is somatic — present only in cancerous cells — or is a germline abnormality — present in every cell in the body. With blood cancers, since the blood sample is the source of diseased cells needed for somatic testing, a skin-punch biopsy enables the necessary molecular comparison to noncancerous germinal cells.
However, when the genetic counselor raised the need for appropriate germline assessment, the patient recalled she had already undergone such testing several years prior because she had Ashkenazi Jewish ancestry and a family history of breast cancer. Women of Ashkenazi Jewish descent are at increased risk for breast and ovarian cancer, often due to three pathogenic variants in BRCA1 or BRCA2 genes. The patient recalled that a few years before her blood cancer diagnosis, she had received this BRCA test through a breast care center and that it didn't identify any pathogenic variants.
The genetic counselor requested a copy of the test report from the laboratory that performed it and saw that the patient had received blood-based germline testing before her blood cancer diagnosis for the three BRCA1/2 Ashkenazi founder variants, which subsequently had been updated to include results from a broader panel that tested for about two dozen genes associated with various inherited cancers.
The results of the limited three-variant BRCA1/2 test were negative. The subsequent broader panel testing, however, revealed a pathogenic APC p.I1307L variant common in those of Ashkenazi Jewish ancestry known to increase the risk of colon cancer. According to clinical practice guidelines, patients with this variant should receive colonoscopies every five years.
The panel test also found a TP53 variant, the same one seen via somatic testing ordered by the heme-onc a few months ago. It's not clear whether the panel test was performed before or after this patient's blood cancer diagnosis, but initially the lab classified this variant as having unknown significance, meaning there was insufficient evidence at the time that the variant was associated with Li-Fraumeni syndrome. But in 2020, a few years after the patient's blood cancer diagnosis, the lab updated the classification to pathogenic.
How was this case resolved?
When the genetic counselor reviewed this information with the patient, she knew she didn't have one of the three BRCA1/2 Ashkenazi Jewish founder mutations, but she seemed to have no knowledge of the other founder mutation in APC with colon cancer screening implications, or about the TP53 variant of unknown significance and its updated pathogenic classification. However, since it's not clear if the patient had active blood cancer at the time she got this testing, it still remained unclear whether she had a germline TP53 variant associated with Li-Fraumeni syndrome or a somatic variant driving her blood cancer.
When the genetic counselor explained that additional germline genetic testing using a skin-punch biopsy would be needed to resolve this uncertainty, the patient declined further testing. The genetic counselor couldn't pinpoint why the patient decided not to get tested since she seemed to understand why it was needed. The patient had an advanced degree, seemed well organized, and worked in a challenging career, the genetic counselor recalled, wondering whether "maybe she had lost trust in genetics, was overwhelmed, or wanted to focus on the [blood cancer] treatment." The genetic counselor also wasn't sure if the patient had told her relatives that they should get tested to see if they had inherited the chromosomal rearrangement known to increase the risk of miscarriages. 
Why is this case concerning?
This case is concerning because a woman of Ashkenazi Jewish descent with a personal and family history of cancer appears entirely unaware of clinically significant diagnostic and genetic test results and has declined necessary testing to confirm if she has a serious cancer predisposition syndrome.
First, the patient lacked knowledge of a chromosomal translocation that placed her and potentially her relatives at higher risk of miscarriages and having pregnancies with unbalanced chromosomal translocations. Second, this patient was unaware that she had an Ashkenazi founder mutation in APC associated with increased colon cancer risk and a TP53 variant of unknown significance that was later reclassified as pathogenic.
The doctors that diagnosed this patient seven years ago should have counseled her about the chromosomal abnormality, and the breast care center should have informed her about the results of the expanded panel testing. It may be possible that this patient failed to recall this information, but the genetic counselor's impression was that this patient was very organized and intelligent, and that this was unlikely.
Third, the breast care center ordered expanded germline testing on a blood sample, which once the patient developed blood cancer, was no longer appropriate or informative of her cancer risk. Lastly, the genetic counselor was not able to convince the patient to get germline testing on a skin-punch biopsy sample to confirm whether the pathogenic TP53 variant was inherited, and therefore there is no definitive confirmation about whether this patient has Li-Fraumeni syndrome and is at greater risk for developing other cancers.
What could have been done differently?
A lot of things went wrong in this case, but first, the heme-onc that noted the high variant allele frequency of the TP53 mutation in somatic testing and referred this blood cancer patient for genetic counseling should be lauded, said Ellen Matloff, a certified genetic counselor and president and CEO of the health technology firm My Gene Counsel.
"Somatic testing is being done on a routine basis by hematologists and oncologists for diagnosis and treatment of many cancers, but often, the underlying germline insights and even chromosome translocation insights are being overlooked or lost not only for the patient but their family members," Matloff said. Recognizing that oncologists need help in this regard, the American College of Medical Genetics and Genomics published a paper a few years ago describing the types of somatic test findings that can indicate patients might benefit from germline testing.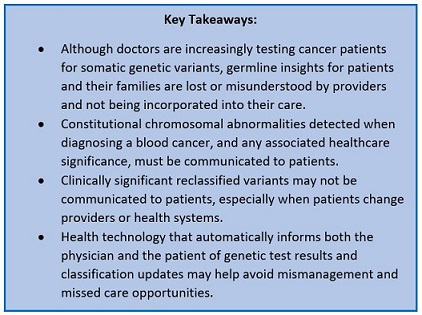 While it seems that the heme-onc may not have discussed with the patient the results of the somatic test, if this physician hadn't flagged something unusual about the somatic test results and referred her for genetic counseling, the missed medical care opportunities in this case would have never come to light. "Let's give a shoutout to the oncologist who realized, 'Hey, this tumor isn't reacting the way I would expect it to react if this were a somatic finding. Let me refer this patient to a genetic counselor and see if this is germline,'" Matloff said.
Other providers involved in this patient's care may not have done so well in their handling of additional genetic and chromosomal tests performed. For example, while it's not clear why this patient didn't understand that she had a chromosomal translocation, this is a clinically important finding. And she should have been counseled years earlier, around the time of her blood cancer diagnosis, about the significance of this finding for her health and potentially her relatives.
The fact that the patient seemed further unaware that she had a clinically significant APC pathogenic variant and possibly a TP53 variant associated with Li-Fraumeni syndrome reflects the challenges of keeping patients up to date on genetic test results in a disjointed healthcare system. The breast care center that performed the expanded panel was not the same place where this patient received her blood cancer diagnosis. More importantly, to Matloff, there seems to be a disconnect among providers ordering somatic testing as part of a diagnostic and therapeutic work-up as to which findings could have implications for that patient on the germline level for other cancers and for family members.
Even if the patient had made the breast center aware of her blood cancer diagnosis, Matloff wondered if the breast specialists there would have necessarily known that a blood sample is inappropriate for germline testing in a patient with an active hematologic malignancy. "This is one of the reasons that patients should see a genetic specialist who gives them and their primary care providers a summary letter, so everyone is on the same page and understands what the findings were," she said.
Seven years after her blood cancer diagnosis, when this patient finally saw a genetic counselor and learned about the pathogenic APC variant associated with increased colon cancer risk and the need to do more testing using an invasive skin-punch biopsy to confirm the germline status of the TP53 variant, the patient declined. As such, the patient remains in the dark about whether she is at greater risk for other cancers due to Li-Fraumeni syndrome.
"What this case shows is that the patients need to get the genetic test results and updates, too, not just the provider," said Matloff, whose company My Gene Counsel specializes in addressing this problem and has built a platform for keeping patients and doctors up to date on genetic test results, including when testing labs update variant classifications.
Under anti-electronic health information blocking regulations that went into effect in 2021, many healthcare facilities are sharing lab results, including genetic test results, clinic notes, and pathology reports as soon as they are finalized with patients who have signed up to receive such information through online portals. And, increasingly, labs are working with providers of electronic health records platforms to report results directly into patients' records so this information can be more easily integrated into care plans. 
But once people stop getting care at a particular medical facility or switch providers, Matloff noted that the healthcare system lacks the infrastructure to reach out to patients, for example, when a variant is updated from an uncertain to pathogenic classification. "Having some way to keep in touch with that patient over time as guidelines change or as variants are reclassified makes it harder for the patient and their provider to misunderstand something that has lifelong implications," Matloff said.
---
*Details about this patient's specific type of blood cancer is withheld from this report to ensure anonymity.