Precision Oncology News and My Gene Counsel have partnered to produce the "Genetic Testing Challenges in Oncology" series to highlight real-world issues that genetics experts and medical professionals are encountering as genetic tests are increasingly used in cancer care. Experts submit anonymized case reports to My Gene Counsel, and based on the details in these reports, Precision Oncology News writes a feature that describes the case history, challenges encountered by professionals in dealing with the case, and strategies they used in response to challenges or errors. The features also include a discussion with My Gene Counsel genetic counseling experts on better approaches that could be considered if similar cases are encountered in the future. In publishing this series, our aim is to educate experts in the field and foster discussion. If you would like to submit a case report, please email [email protected].
---
What happened?
A 46-year-old woman who claimed to have pathogenic variants in both BRCA1 and BRCA2 genes and a strong family history of breast cancer came to a surgeon seeking risk-reducing mastectomies. Although this woman did not have breast cancer, based on her account of her genetic and familial risk factors, the surgeon scheduled the patient for preventive surgery and referred her to a breast specialist to further discuss her future cancer risk, screening, and care options.
The breast specialist, who was at the same medical facility as the surgeon, reviewed the patient's genetic test results that were scanned into the electronic medical records. The specialist noted that the patient had been tested by a commercial lab on a multi-gene next-generation sequencing panel, which did not identify any pathogenic variants in BRCA1 or BRCA2. The test report also provided a polygenic breast cancer risk score of 34.2, though given such scores are still new risk assessment tools in the field and require further validation, this particular healthcare facility does heavily rely on them in patient management.
At the medical appointment, the specialist went over the patient's family history of breast cancer. The patient's account is outlined below.

The specialist compared the above account with the family cancer history detailed in the patient's genetic test report and noticed discrepancies. The family's breast cancer history in the report was not as severe as what the patient had just relayed to the specialist.
How was the case resolved?
Because the patient had said she was BRCA1/2-positive, the specialist called the lab to make sure that she was indeed negative for pathogenic variants in these genes. The lab confirmed the patient's test was negative. The specialist told the patient that she did not actually have BRCA1/2 pathogenic variants and advised that if her relatives with cancer received genetic testing it would allow for a more accurate estimation of her own future breast cancer risk.
The specialist also reached out to the referring surgeon and emphasized the importance of reviewing the actual genetic test report, rather than relying on patients' accounts, before making decisions about surgery. The specialist further told the surgeon to consider first recommending testing for affected family members of unaffected patients, since that may provide more insight into cancer risk.
Eventually, this patient called the specialist to say that her relatives with cancer did not want genetic testing but that she still wanted preventive mastectomies based on her family's experience with breast cancer. The doctor wondered whether this patient initially misunderstood her genetic test results, or if she had been dishonest about the test results and was potentially exaggerating her family's cancer history out of a strong desire for preventive surgery.
Why is this case concerning?
Patients' conflicting or erroneous accounts of their genetic test results and family cancer history can often present management challenges, said Meagan Farmer, a genetic counselor and genetic clinical operations director at My Gene Counsel. If this patient accurately relayed her family's breast cancer experience to the specialist, then some providers may have recommended increased breast cancer screening, such as additional breast MRI, even if genetic test results were negative. In situations where a family has a severe cancer history but there is no known genetic risk factor, some patients do opt for preventive surgery.
However, this case became tricky, Farmer noted, once the specialist saw that the family history recorded in the genetic test report was not as striking as the patient's account during the appointment. "Anybody who sees patients will have times where they wonder if the recorded medical or family histories are correct," she said, noting that people's memories of family cancer histories may be imperfect, or they truly may have learned more information between appointments.
"When it comes to family cancer history, I tell my students to attempt to retrieve medical records or at least death certificates," Farmer said. "But that's a textbook answer, and we know in the real world it's not always possible."
Amid this uncertainty, the specialist in this case was right to recommend the patient's relatives with breast cancer get tested to find out if there is an identifiable familial cancer risk variant or if the patient is a true negative. "The specialist was concerned because originally this patient said she wanted surgery since the genetic test results were positive," Farmer said. "But they weren't, and then none of the affected, living family members had been tested. And surgery then didn't feel like an informed decision or at least not informed based on correct information."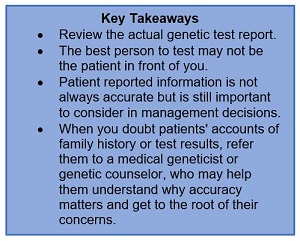 What could have been done differently?
When Farmer suspects that a patient may be exaggerating their family cancer history or test results, she tries to figure out why. She may ask why preventive surgery is important to this patient, find out how the patient's family cancer history impacted her, or explore if she is particularly fearful of getting cancer. If patients open up about these issues, then it provides Farmer with more information she can use to help them understand their cancer risk and work with the patient and their healthcare team to develop the most appropriate management plan.
Farmer isn't always successful in this regard and the uncertainty remains. She recounted examples where she has told patients that they didn't qualify for genetic testing based on their reported family cancer history, and then suddenly they remember a grandmother who had early-onset breast cancer. In such situations, Farmer reinforces with patients why accurate family histories are critical to estimating their future cancer risk, but she cannot ignore that new information despite her doubts about its veracity.
"At the end of the day, we make the best decisions we can, erring on the side of caution, and counsel patients on how a family history might change the interpretation of risk assessment and why it matters that we have the best information available," she said. "Ultimately, we just have to trust our patients."
Finally, in this case, the surgeon should not have made management decisions without looking at the genetic test report. If the surgeon had reviewed the actual report, it would have raised the same red flags the specialist later recognized about this patient's account of her family's cancer history and her own genetic test results.
Farmer lauded the specialist in this case for underscoring the importance of reviewing the test report with the surgeon and urged providers to reach out to their colleagues when there are objective errors in management and opportunities for education. "This specialist didn't just focus on relaying the correct information to the patient but also did this with the surgeon," she said. "This type of interaction is important. It's not just good for our patients, but also our colleagues if it helps them be better and avoid liability."