Precision Oncology News and My Gene Counsel have partnered to produce the "Genetic Testing Challenges in Oncology" series to highlight real-world issues that genetics experts and medical professionals are encountering as genetic tests are increasingly used in cancer care. Experts submit anonymized case reports to My Gene Counsel, and based on the details in these reports, Precision Oncology News writes a feature that describes the case history, challenges encountered by professionals in dealing with the case, and strategies they used in response to challenges or errors. The features also include a discussion with My Gene Counsel genetic counseling experts on better approaches that could be considered if similar cases are encountered in the future. In publishing this series, our aim is to educate experts in the field and foster discussion. If you would like to submit a case report, please email [email protected].
---
What happened?
Around a decade ago, a psychologist in her mid-50s attended a wellness conference, where everyone was discussing a popular direct-to-consumer genetic testing company. The possibility of learning about the underlying genetics of her inherited traits piqued her interest. She decided to get tested, unaware that this consumer genomics company would also test genes that could reveal if she had an increased risk for serious diseases like cancer. While this woman awaited her results, her mother, then in her 70s, developed ovarian cancer.
Subsequently, this woman received her test results from the consumer genomics firm and learned that she harbored one of the pathogenic variants in the BRCA1 gene that commonly occur in individuals of Ashkenazi Jewish ancestry and is associated with an increased risk of breast and ovarian cancer. Though she was Ashkenazi Jewish and her mother was recently diagnosed with ovarian cancer, she was shocked to learn she had one of the BRCA1 founder pathogenic variants. She came from a large family with no cases of breast cancer, no other cases of ovarian cancer, and her mother's oncologist had said her ovarian cancer was unlikely to be due to pathogenic variants in BRCA1/2 given her age.
The woman reached out to a breast specialist colleague to discuss her results. The breast specialist recommended she have medical grade testing to confirm that she did indeed have this pathogenic variant. The woman also told her mother, who lived in a different state, to ask for genetic testing from her oncologist for the same pathogenic BRCA1 variant.
The woman's confirmatory testing showed that she did have this BRCA1 pathogenic variant. However, the mother's test results came back negative. Since this pathogenic variant could have been inherited paternally, the woman's father, who is also Ashkenazi Jewish, got genetic testing from his primary care provider. His results were also negative.
How was the case resolved?
The psychologist was puzzled. She and her breast specialist colleague thought through all the possible reasons why her test results came back positive for a pathogenic BRCA1 variant, but both her parents' test results came back negative. It could be due to a variety of reasons: Her father may not be her biological father; the staff at the hospital where she was born could have mixed up babies and parents; she may be adopted; or any one of the performed genetic tests could be wrong.
Additionally, the BRCA1 pathogenic variant could have emerged de novo, meaning it spontaneously occurred in this woman when her parents' sperm and egg combined. In such a scenario, her parents would not have the same variant. Considering all that may have gone wrong, the psychologist had difficulty acknowledging mistaken paternity or adoption as possible explanations.
The breast specialist asked to review the results of the genetic test that the woman's father had received through his primary care provider and noted that the doctor had ordered a common Jewish carrier screening panel that did not include assessment of the BRCA1 gene. Because the woman may still have inherited the pathogenic BRCA1 variant from her father, the breast specialist recommended that he receive the correct test. He did, and it came back positive for the same pathogenic variant, indicating that he had passed on this variant to his daughter.
Why is this case concerning?
It is concerning that this woman, expecting to learn something fun about herself through DTC genetic testing, wasn't properly educated about the breadth of medically important information she might learn about herself through this company. Testing for inherited genetic features doesn't only impact the person being tested but could have a cascade of implications for other blood relatives and uncover unexpected truths about familial relationships. Upon initially thinking that both her parents did not harbor the same BRCA1 pathogenic variant, this woman had to unnecessarily face all the reasons why that could be, and some of those possibilities were psychologically difficult for her.
This woman clearly wasn't prepared for all the different types of information that genetic testing could reveal about her, observed Meagan Farmer, a genetic counselor and genetic clinical operations director at My Gene Counsel. Lacking an explanation for how she came to have a BRCA1 pathogenic variant, "this woman and the breast specialist literally had to sit around and consider all the different potential explanations," Farmer said. "These conversations can be stressful."
Additionally, the father's primary care provider ordered a test that did not analyze the very gene that mattered for this woman and her family. This gave her father false reassurance that he did not have a cancer risk-associated pathogenic variant, Farmer noted, but it also caused this woman to have to consider the painful possibility that the man who she thought was her biological father may not be.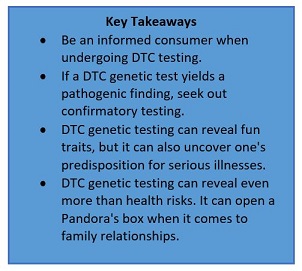 What could have been done differently?
Although this woman's experience took place a decade ago, the potential issues raised by this case could and do happen today to customers of DTC genetic testing services. In this case, it turned out that this woman's father was her biological parent but just got the wrong genetic test. But "misattributed paternity, learning your parents aren't who you thought they were, happens all the time for customers of consumer genetic testing," said Farmer. "People assume this can't happen to them going into it, but genetic testing can reveal big family secrets."
Pre-test education explaining what customers can and cannot learn from testing has evolved over the past decade at consumer genomics firms. "These companies have learned and improved their informed consent process over time," Farmer said, though genetics experts and healthcare providers continue to worry about the limited understanding and false reassurance customers of these services could have about their results.
"DTC genomics companies should continue to think about their customers' experience as they are going into testing," she said. "This woman went into it hoping to learn interesting traits and didn't realize she'd be learning whether she was at increased risk for cancer. … People need to know what kind of Pandora's box they could be opening by getting tested."
Healthcare is becoming more consumer oriented, and patients are being asked to take more responsibility over their own care and be stewards of their own medical information. The genetic testing industry is also becoming more consumer facing, and it is increasingly possible to not only learn one's fun traits through an online testing company, but also get medical grade testing without ever seeing a doctor. Before taking a genetic test online, individual patients should also take it upon themselves to understand what they can and can't learn from this analysis, Farmer added.
Lastly, the primary care provider of this woman's father should have done more due diligence and ordered the right test. When healthcare providers lack genetics know-how and aren't confident identifying appropriate testing, they should refer patients to a medical geneticist or genetic counselor who can, Farmer said.