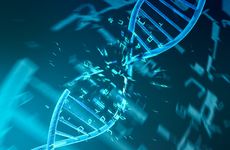 NEW YORK – New data on the efficacy of PARP inhibitors as part of frontline combination treatment for metastatic castration-resistant prostate cancer (mCRPC) are adding fuel to a smoldering debate about the best biomarker strategy — or whether biomarkers are needed at all — to identify best responders. 
As oncologists weigh the pros and cons of employing biomarkers to select prostate cancer patients for these regimens, drugmakers selling PARP inhibitors are pushing to gain approval in all-comer populations, unselected based on whether they harbor mutations in homologous recombination repair (HRR) genes.
During the American Society of Clinical Oncology Genitourinary Cancers Symposium on Thursday, investigators presented data on Pfizer's PARP inhibitor Talzenna (talazoparib) combined with Pfizer and Astellas' anti-androgen therapy Xtandi (enzalutamide); and on Merck and AstraZeneca's PARP inhibitor Lynparza (olaparib) combined with Janssen's anti-androgen therapy Zytiga (abiraterone acetate). Janssen also shared updated data on its PARP inhibitor Zejula (niraparib) plus Zytiga, though in contrast to Pfizer's TALAPRO-2 trial and Merck and AstraZeneca's PROpel trial, data from which the companies are using to push for approvals in all-comer settings, Janssen's MAGNITUDE trial demonstrated a PARP inhibitor benefit exclusively for patients with HRR mutations.
These Phase III trials all compared how patients with newly diagnosed mCRPC fared on a PARP inhibitor plus anti-androgen therapy versus a placebo plus anti-androgen therapy, but the studies used various biomarker criteria to identify eligible patients. In all the trials, the PARP inhibitor-based regimen improved outcomes over the control arm. However, the degree of benefit and the patient subgroup that experienced the greatest benefit diverged across the trials. In discussing the data at the ASCO GU conference, oncologists were not of one mind in terms of how they'd treat patients based on this data.
TALAPRO-2 benefits all comers
In a late-breaking presentation on Thursday morning, Neeraj Agarwal, the director of the genitourinary oncology program and the Center of Investigational Therapeutics at the Huntsman Cancer Institute, shared that in the TALAPRO-2 trial, first-line treatment with Pfizer's PARP inhibitor Talzenna plus Xtandi improved progression-free survival outcomes by 37 percent over just anti-androgen therapy. These results came from an all-comer population of 805 patients with mCRPC. In the overall cohort, the median progression-free survival time for those treated with the PARP inhibitor combination was not yet reached, whereas patients treated with Xtandi lived for a median of 21.9 months without their cancers progressing.
Although the trial didn't enroll patients based on whether their cancers harbored DNA defects in HRR genes, Agarwal presented data from an exploratory biomarker analysis. Using Foundation Medicine's FoundationOne CDx tumor tissue and the FoundationOne Liquid CDx next-generation sequencing tests, investigators evaluated patients for pathogenic alterations in BRCA1, BRCA2, PALB2, ATM, ATR, CHEK2, FANCA, RAD51C, NBN, MRE11A, and CDK12. According to Agarwal, all but one patient underwent NGS testing on tumor tissue, though data on the concordance between the tumor and liquid biopsy tests will be presented later this year. How well results from tumor and liquid biopsy tests align is an important consideration, since oncologists have historically raised concerns about the potential for liquid biopsy to miss HRR gene mutations.
In the biomarker analysis, 85 patients with a confirmed HRR deficiency received the Talzenna-Xtandi combination and lived for a median of 27.9 months without their tumors progressing, and 84 patients with confirmed HRR deficiencies received Xtandi and lived for a median of 16.4 months without their tumors progressing. The PARP inhibitor-based regimen appeared to also benefit the 317 patients who either did not have HRR mutations or whose HRR status was unknown, though it's unclear to what extent compared to the control group since the median-progression-free survival time in this larger group was not yet reached. Meanwhile, 319 patients without HRR mutations or with unknown HRR mutation status who received just Xtandi lived a median of 22.5 months without their cancers progressing.
Based on the data presented Thursday, Pfizer said it has submitted a supplementary new drug application to the US Food and Drug Administration seeking approval for Talzenna plus Xtandi as a treatment for mCRPC. The FDA granted priority review status to the application, and Talzenna expects a decision sometime this year. Pfizer has also shared the data with the European Medicines Agency.
Agarwal agreed with Pfizer's decision to seek approval for the combination as a first-line option for all mCRPC patients based on the data from TALAPRO-2, but not all oncologists felt this was the right move.
"It is perhaps too soon," Elena Castro, a genitourinary oncologist at the Instituto de Investigacion Biomedica de Malaga in Spain, said in a discussion of the TALAPRO-2 data following Agarwal's presentation. "We need to understand better the benefit of combining [androgen receptor pathway inhibitors] and PARP inhibitors, because the balance between the benefit and the side effects, as we've seen, depends on HRR status, and may also depend on other factors."
Indeed, patients who received the PARP inhibitor combination were at a greater risk of severe anemia than those who received just Xtandi, and while the toxicity is manageable, it's not insignificant that many patients with severe anemia have to receive blood transfusions. And while Talzenna is not approved for prostate cancer patients, its wholesale acquisition cost in the breast cancer setting, according to publicly available information, is $18,451.81 for 30 0.5 mg capsules.
Karine Tawagi, a genitourinary medical oncologist at the University of Illinois, Chicago, said in an interview that she, too, would like to see more information on Talzenna-Xtandi's benefit in patients without the HRR biomarkers. "There is a much stronger case for this combination for HRR-mutated [patients], specifically [those with] BRCA1 and BRCA2 [mutations]," Tawagi said.
A window into overall survival benefit
While cross-study comparisons should be viewed with caution, many oncologists couldn't resist viewing the TALAPRO-2 data in light of updated data from the PROpel study evaluating first-line use of AstraZeneca's Lynparza plus Zytiga in a similar patient population.
Noel Clarke, a professor of urologic oncology at The Christie National Health Service Foundation Trust, presented final overall survival data from the Phase III PROpel study on Thursday. The data showed that Lynparza plus the anti-androgen drug Zytiga improved overall survival versus Zytiga alone. In the full population regardless of HRR mutation status, the PARP inhibitor combined with the anti-androgen therapy improved overall survival outcomes. Patients treated with first-line Lynparza-Zytiga treatment lived for a median of 42.1 months, whereas patients on just Zytiga lived for a median of 34.7 months.
The overall survival benefit was seen across all biomarker subgroups, though the degree of benefit varied quite a bit by HRR mutation status. Among 226 patients with HRR mutations, the median overall survival was not yet reached with the Lynparza-Zytiga combination versus 28.5 months on Zytiga. Among 552 patients without known HRR mutations, the median overall survival time was 42.1 months and 38.9 months with the Lynparza-based regimen versus Zytiga, respectively.
Looking specifically at the subgroup of 85 patients with BRCA1/2 mutations, the data showed a not-yet-reached median overall survival versus 23-month median overall survival on Lynparza-Zytiga versus the control arm. Among 693 patients without BRCA mutations, the median overall survival with the PARP inhibitor-based regimen versus Zytiga was 39.6 months and 38 months, respectively.
In Tawagi's view, that additional 1.6 months of survival with the addition of Lynparza is not enough to subject patients to the increased toxicity risks. "We need more data on which HRR-negative patients will benefit," she said.
The overall survival readout comes nearly a year after Merck and AstraZeneca presented at this same meeting data on the trial's primary progression-free survival endpoint. The PARP inhibitor combination led to a 34 percent reduction in the risk of disease progression or death versus Zytiga in the first-line mCRPC setting, regardless of patients' HRR mutation status. Additional readouts later in the year further confirmed this progression-free survival benefit, leading the sponsors to file a supplementary new drug application with the FDA in August 2022 seeking approval for Lynparza with Zytiga and a steroid as a frontline mCRPC treatment. The FDA granted the application priority review, and the drugmakers were expecting a decision by the end of last year.
In December, however, something unexpected happened. Ahead of the FDA's decision, the European Commission approved Lynparza-Zytiga in an all-comer mCRPC setting based on the progression-free survival benefit seen in PROpel. That same month, the FDA notified AstraZeneca and Merck that it would need an additional three months to make up its mind. According to a spokesperson from AstraZeneca, the firm has submitted the latest PROpel data presented at the ASCO GU symposium to the FDA.
As with Pfizer's TALAPRO-2 data, some oncologists felt the PROpel data weren't sufficient to justify treating all mCRPC patients with upfront PARP inhibitors regardless of HRR mutation status.
The trials haven't yet provided any evidence that adding a PARP inhibitor to Zytiga improves overall survival in mCRPC patients without HRR mutations, Johann de Bono, a professor of experimental cancer medicine at The Institute of Cancer Research and Royal Marsden in England, pointed out during a discussion following Clarke's PROpel presentation. "I've given these drugs to a lot of patients, and they are not nontoxic. I would urge caution."
De Bono also vocalized a concern that was undoubtedly on the minds of many oncologists during these presentations: Progression-free survival doesn't always translate to overall survival, especially in the case of PARP inhibitors. Although Merck and AstraZeneca presented overall survival data from their trial, neither study was powered with overall survival as a primary endpoint, and both drugmakers are seeking approval based on progression-free survival.
"To be honest, I don't like this primary endpoint for this trial," de Bono said. His comment echoed a concern that Castro brought up in her discussion of TALAPRO-2.
"We need to keep in mind that a benefit in radiographic progression-free survival may not always translate to a benefit in overall survival," Castro cautioned. "We know that from other trials conducted with PARP inhibitors in ovarian cancer that initially showed a benefit in radiographic progression-free survival but later did not translate to a benefit in overall survival."
Tawagi raised this concern, too. "We don't know if radiographic progression-free survival will be a good surrogate for overall survival," she said. And while staving off disease progression is a meaningful endpoint for patients, Tawagi highlighted the potential toxicities, too; in several cases, PARP inhibitors have been shown to increase the risk of acute myeloid leukemia or myelodysplastic syndrome.
And like Talzenna, Lynparza isn't cheap, either. The wholesale acquisition cost for the PARP inhibitor, which already has FDA approval as a later-line mCRPC treatment in a biomarker-defined population — is $15,886.80 for a 30-day supply.
An all-comers outlier with MAGNITUDE
The debates surrounding Talzenna and Lynparza in the all-comer population come as a third Phase III PARP inhibitor trial showed a narrower benefit. While TALAPRO-2 and PROpel investigators made the case for approving PARP inhibitor-based regimens for all mCRPC patients, updated data from Janssen's trial of niraparib support a biomarker-selected approach. (Janssen prefers to use the drug's generic name to distinguish it from the brand name, Zejula, that GSK uses to market the agent for ovarian cancer.)
In the Phase III MAGNITUDE trial, Janssen pitted niraparib plus Zytiga against Zytiga and placebo, and according to a second interim analysis, patients with HRR mutations on the combination regimen experienced a sustained progression-free survival benefit compared to those in the control arm. Patients whose cancers harbored BRCA1/2 mutations lived for a median of 19.5 months without their cancers progressing on the PARP inhibitor combination versus 10.9 months on Zytiga.
At the ASCO GU meeting last year, Janssen, unlike its competitors, presented data showing that for patients without HRR mutations, the addition of its PARP inhibitor to Zytiga did not improve progression-free survival outcomes over just Zytiga.
Whatever regulators decide in terms of approving these PARP inhibitors in biomarker-defined or all-comer populations based on the data from these trials, oncologists will be challenged to parse the data and apply it to real-world patient care. 
"Coming from a practicing clinical perspective, our job is to take the trials and interpret the results and apply them to our patients," Kim Chi, a medical oncologist specializing in genitourinary cancers at the University of British Columbia's Vancouver Prostate Center, said reflecting on the data from PROpel. "We're not blindly following a statistical benefit. And when I look at the [survival] curves, I don't see a lot of benefit in the biomarker-negative patient population. I don't see much overall survival benefit, and I don't see a quality-of-life benefit. I see increased costs in terms of financial as well as toxicity."
"I don't think we've reached maturity in that particular group of patients," Clarke refuted, pointing out that follow-up is still ongoing in the PROpel trial's non-HRR-mutant patient population. "It's too early to call that."