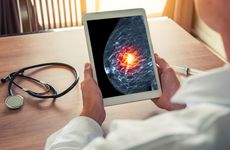 This story has been updated to reflect the correct location of Delphi Diagnostics headquarters and the correct manufacturer of the Prosigna test.
NEW YORK – Delphi Diagnostics hopes to launch a test next year that measures transcriptional activity related to estrogen and progesterone receptors to predict which breast cancer patients will respond better to neoadjuvant endocrine therapy and survive longer.  
The test, dubbed the "sensitivity to endocrine therapy 2,3" (SET2,3) index, comprises two components: the SET estrogen progesterone (SET ER/PR) index including 18 non-proliferative hormone receptor-related transcripts and 10 reference transcripts, and the baseline prognostic index (BPI) combining clinical tumor stage, clinical nodal stage, and RNA4 from the pre-treatment tumor biopsy.
SET itself is an algorithm based on gene expression that measures potential disease progression in patients with hormone receptor-positive, HER2-negative breast cancer. SET ER/PR is adjusted for baseline prognosis based on clinical factors and molecular subtype genes. Higher SET ER/PR index values are associated with a higher level of endocrine-related transcription. Higher BPI values are linked to more indolent prognostic features.
SET2,3 and SET ER/PR were developed at MD Anderson Cancer Center by Fraser Symmans, a professor of pathology. Both have been licensed to Houston, Texas-based Delphi Diagnostics, where they are in advanced stages of development in preparation for commercial launch.
In previous research from the SWOG Cancer Research Network, SET2,3 complemented Exact Sciences' Oncotype DX Recurrence Score for determining the prognosis of postmenopausal patients with HR-positive breast cancer. And in research presented at the 2022 annual meeting of the American Society of Clinical Oncology, SET2,3 was strongly prognostic and predicted survival benefit from dose-dense chemotherapy, independent the proliferation-weighted risk of relapse (ROR-PT) in women with ER-positive breast cancer in the CALGB 9471 Phase III trial as measured by the Prosigna PAM50 test by Veracyte.
In a study published last month, Symmans studied the ability of SET2,3 to predict response and event-free survival using stage 2 and 3 hormone receptor positive breast cancer samples from the American College of Surgeons Oncology Group (ACOSOG) Z1031 trial. That study, in which 377 participants were randomized to neoadjuvant therapy with exemestane, letrozole, or anastrozole, was completed in 2012 and has eight years of follow-up data.
Symmans and his colleagues were able to retrospectively look at how SET2,3 results tracked with patients' early treatment response, the pathologic response when the patients had surgery, and event-free survival outcomes over those eight years.
"It's nigh on impossible to prove prediction of endocrine therapy benefit when everybody gets it," said Symmans, noting that since randomized trials of hormonal therapy were conducted decades ago there is a dearth of samples and no genomic data to revisit. "You can't go back and do a randomized trial of that question ever again. How do you prove that something predicts this and predicts full benefit from a standard-of-care treatment that everyone's going to receive?"
Symmans said this study was an opportunity to demonstrate that a predicted response could align with a demonstrated benefit from a treatment. That the patients responded better and survived longer "is really the only other way to demonstrate prediction of endocrine benefit in today's world," Symmans said. "It's a broadening problem in a lot of… cancers as standards of care become adopted."
The results showed that patients with a high score on SET2,3 had a greater response to therapy than patients with low scores. Approximately 48 percent of patients with a high SET2,3 index prior to neoadjuvant endocrine therapy had significantly improved event-free survival. Symmans and colleagues determined that both the SET ER/PR and the BPI component of the index contributed important prognostic information. However, SET ER/PR was more prognostic in higher-risk tumors and BPI was more prognostic in tumors with lower endocrine-related transcription activity.
Delphi CEO Winz Casagrande said that SET2,3 at this point is clinically validated, and the company is working on demonstrating clinical utility. "What we have been able to prove is that it adds independent, complementary information to tests currently on the market," said Casagrande. "The SWOG trial showed that for Oncotype DX and the CALGB trial showed it for Prosigna."
SET2,3 is now being evaluated in the I-SPY trial at UCSF. The goal of I-SPY is to advance personalized medicine in breast cancer by comparing novel drugs in combination with chemotherapy for different subsets of patients based on biomarkers of the disease. The test is being used along with Agendia's breast cancer prognostic test MammaPrint to identify patients who will start with a neoadjuvant endocrine-based approach rather than a neoadjuvant chemotherapy-based approach.
"We are showing that it adds information independently and complementary to MammaPrint," said Casagrande. "The SET test provides information beyond any test currently on the market to guide therapy decisions for breast cancer patients with hormone-positive, HER2-negative breast cancer to determine the type, dosage, timing, and duration of therapies."
Based on the accumulated data on the test, Delphi is preparing to commercially launch it next year, with plans to enter another trial by early 2023. "We are currently working on building the commercial lab, getting the commercial licenses, and a data management system dealing with cybersecurity," said Casagrande, who added that Delphi has been in negotiations with an undisclosed Brazilian company backed by Goldman Sachs regarding use of the SET tests for patients in South America.
Delphi expects reimbursement for SET2,3 to be similar to comparable products. According to Casagrande, leading breast cancer recurrence tests are reimbursed by Medicare at around $3,873. "Why that crooked number? I cannot tell you, but that seems to be the number and SET2,3's value proposition supports similar pricing," said Casagrande, adding that Delphi will also submit the necessary documentation seeking Medicare coverage next year.
Delphi will market SET2/3 as a laboratory-developed test for patients with stage 2 or 3 hormone-positive breast cancer or stage 2 hormone-negative breast cancer. The test can be done from the same biopsy taken for diagnosis, including fine needle specimens as well as formalin-fixed, paraffin-embedded specimens. Delphi is working with a CLIA-certified lab in Colorado to "process samples for clinical studies" and considering next steps for commercial operations.
"These patients with stage 2 to 3 disease, they have treatment options," said Symmans. "You've got endocrine therapy, you've got CDK4/6 inhibitors, you've got chemotherapy, you've got various combinations, and probably more targeted treatments to come. But they remain at a somewhat higher risk."
In Symmans' view, his recently published study is important to show that patients who had high activity on SET2,3 were much more likely to have an early cellular response to endocrine treatment. "Within two weeks, half of them have completely shut down their cell cycle proliferation, and 88 percent of them had Ki-67 below 10 percent, which is another clinical metric of early pharmacodynamic response to endocrine therapy," Symmans said. "And their event-free survival at eight years was significantly better."
Symmans noted that the study did not show significant improvement in the amount of cancer after three to four months. "Pathologic response after neoadjuvant endocrine therapy is not as well understood as it is after chemotherapy, but it may be that it's more about the biomarker showing that it's affecting the cells early, and that over the long term of many years of treatment there will be a survival benefit," said Symmans. "Looking a few months down the line at the tumor itself may or may not be informative." It might also be that the study was too small to capture a change in the size of the tumors, given that the response rate was only 20 percent.
These studies also offer timely insight in light of the pandemic. "Neoadjuvant endocrine therapy is kind of a research niche. Except when the lockdown happened, suddenly everybody with ER-positive breast cancer got … started on a neoadjuvant course until it was considered safe and appropriate to start doing surgery," said Symmans. That experience, he said, can help physicians consider which patients, in a situation where surgery might be delayed, could benefit from starting on endocrine therapy, and which would not be safe with a delay.