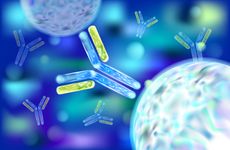 NEW YORK – Even though its lead radiopharmaceutical candidate, CONV01-α, hasn't yet completed Phase I trials for prostate-specific membrane antigen (PSMA)-expressing prostate cancer, Convergent Therapeutics isn't taking any risks with its actinium-225 supply.
"We're trying to create as much redundancy as possible so that availability of actinium will not be a problem for us going into our larger clinical trials," said Convergent CEO Philip Kantoff. The Cambridge, Massachusetts-based firm, founded in late 2020, recently inked supply agreements with Ionetix and North Star for actinium-225, the alpha particle emitter used in CONV01-α, and is in the process of inking a deal with a third supplier.
There's been no shortage of new radiopharmaceutical companies entering the burgeoning therapeutic space with their own spin on targeting PSMA to treat metastatic castration-resistant prostate cancer (mCRPC). Recognizing this, Convergent decided to advance an antibody linked to actinium-225 rather than a ligand linked to lutetium-177, and for its first registrational trial, the firm is going after a mCRPC patient population already progressed on PSMA-targeted radioligands, such as Novartis' recently US Food and Drug Administration-approved Pluvicto (177Lu-PSMA-617). According to Kantoff, the FDA was receptive to the strategy during a pre-investigational New Drug application meeting. The firm is targeting an early 2024 start date for the CONV01-α registrational trial.
Part of the reason CONV01-α may offer a benefit to patients with disease progression after PSMA-targeted radioligand therapy is that the treatment, though technically a radiopharmaceutical, is distinct in its design. While other radiopharmaceuticals like Pluvicto use a ligand to deliver cell-killing radioactive beta particle emitters to PSMA-expressing tumor cells, CONV01-α uses an antibody approach to deliver cell-killing radioactive alpha particle emitters. The therapy, which Convergent has dubbed a "radio-antibody," uses alpha-emitting actinium-225 instead of the beta-emitting lutetium-177.
Antibody, alpha particle advantages
Using antibodies as the method of linking radioisotopes to cancer cell antigens like PSMA may have advantages over using ligands, Kantoff believes.
In contrast to ligands, which bind to cell receptors quickly and are excreted into the blood circulation quickly, antibodies bind to the cell surface receptor more slowly, but are then retained in the cell for a longer period of time. This could offer a therapeutic benefit, since the cell-killing radioisotope — in this case, the actinium-225 — would have a longer window in which to act on the tumor cells.
Antibodies have been used as linkers for non-radioactive cytotoxic payloads with great success including in antibody-drug conjugates for breast cancer and other solid tumors. But historically, Kantoff said, the reason antibodies weren't used as readily to deliver radioactive isotopes to their target is that antibodies also tend to have a longer serum half life in the blood stream, which could expose more of the body to harmful radioactivity. In Covergent's case, Kantoff said the firm is using an antibody, which they've named CONV01 — also known as J591 or rosopatamab — that has a much shorter serum half life than other antibodies. The drug only stays in blood circulation for two to three days, he said.
Additionally, the firm chose to link the PSMA-directed antibody in CONV01-α to actinium-225 because alpha particles are known to pack more punch than beta particles. According to Kantoff, alpha particles — about 7,000 times the size of beta particles — are about one thousand times more powerful than beta particles, as defined by the number of particles necessary to kill a cell. In the case of ligand-binding therapeutics, using the more-powerful actinium can cause off-target effects to the kidneys, Kantoff explained, but antibodies are excreted through the hepatobiliary system rather than kidneys, so the antibody-alpha particle pair may have fewer toxicities.
The Australia-based company Telix Pharmaceuticals, of note, is developing a PSMA-targeted radiopharmaceutical, TLX591, with the same antibody as a linker, but is using lutetium as the therapeutic isotope.
"We believe that antibodies can deliver a larger payload over the course of time," Kantoff said. "We're using an antibody that has a short half-life, is retained by the cell better than the ligand, and is linked to a much more powerful payload in the form of an alpha particle."
Preliminary data readouts from the Phase I trial of CONV01-α in mCRPC have shown that the radio-antibody was well-tolerated and led to significant prostate-specific antigen (PSA) declines in about 44 percent of treated patients. Data are not yet available from the multi-dose second portion of the trial, but Kantoff claimed the results were trending in a "very spectacular" direction.
Convergent has not been selecting patients for enrollment in its CONV01-α trial on the basis of PSMA-positive PET imaging, but rather enrolling allcomers. The reason for this, Kantoff said, is that the threshold for PSMA positivity may be different with antibodies than with ligands, and the firm has not yet figured out the best approach for inclusion-exclusion criteria. All patients enrolled are still undergoing PSMA PET imaging, though, and Convergent plans to use these imaging results to determine the best threshold should they take an imaging biomarker-based approach to enrolling future trials.
Are two approaches better than one?
Beyond its ongoing monotherapy trial for CONV01-α and its plan to bring the radio-antibody to a registrational trial for previously treated mCRPC, Convergent has partnered with Point Biopharma to explore the advantages of simultaneously treating patients with the antibody-alpha particle CONV01-α and Point's lutetium-177-linked beta particle emitter, PNT2002.
Convergent and Point are evaluating the combinatorial approach in previously treated mCRPC in a Phase I/II clinical trial at Weill Cornell Medicine.
"If you radiolabel both the antibody and the ligand … the amount of radioactivity that the tumor retains is much larger," Kantoff explained. "We have reason to believe that adding the two together may be advantageous."
Convergent has presented data on the first nine patients treated on the combination trial, and eight out of nine patients had a PSA decline after the treatment. Out of four patients with measurable circulating tumor cells at baseline, three saw their CTCs disappear. "At least the early returns on the combination clinically are very promising," he said. That trial continues.
Logistical considerations, actinium supply
Even with the potential for improved efficacy with the combination strategy, Kantoff hesitated to call the combo more promising than the CONV01-α monotherapy. Each could have different advantages, he said.
For example, the logistics of treating patients with antibodies, ligands, alpha particles, and beta particles all together would inevitably be more complicated than the antibody-alpha particle approach alone, Kantoff said. Actinium-225, while much more powerful than lutetium-177, is less penetrable because the individual particles are larger.
This has pros and cons from the treatment perspective, but from the manufacturing and supply perspective, it's a clear advantage. "Transport and disposal is not a big issue [with alpha particles]," he said. "This is the sort of therapy that can be administered at the bedside because, as opposed to beta particles and X-rays, which are highly penetrating and require shielding, alpha particles can be shielded with a piece of paper."
As has been seen with Novartis' experience in commercializing Pluvicto, Kantoff acknowledged "there will be a learning curve" when it comes to logistics and manufacturing, even with the less penetrable actinium-225. For example, actinium has not, historically, been as readily available as lutetium. But that's exactly why the firm has taken steps already to partner with actinium-225 suppliers who are working to develop more efficient and reliable methods of supplying the radioactive isotopes. Ionetix, for example, has opened a cyclotron to produce the particle in Lansing, Michigan, and North Star has invested in new, non-uranium production methods.
Future directions, new antibodies
Looking ahead, Kantoff said that Convergent hopes to evaluate CONV01-α as a treatment for other tumor types that express PSMA, perhaps including kidney cancer or glioblastoma. But the long-term goal will involve looking beyond PSMA, too.
The firm has a list of targets and antibodies that it hopes to make into radioantibodies against other cancer types. Kantoff called the antibodies on this list "off-the-shelf" antibodies since many have previously been developed and used either alone or as part of antibody-drug conjugates but "haven't quite made it" despite having "good targets." Convergent has not yet disclosed the identity of any of these additional antibody-target pairs.
"We think that we can make them better by attaching an alpha-emitting radiopharmaceutical like actinium-225," Kantoff said. "We're building a radio-antibody company beyond just PSMA, and we have a number of targets we're going after."