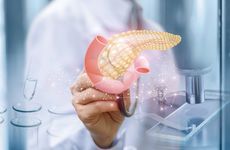 CHICAGO – With a disease as devastating as metastatic pancreatic cancer, any approach that improves survival times, if only by a few months, can be welcome and significant.
During two presentations at the American Society of Clinical Oncology's annual meeting on Friday, researchers shared data suggesting that outcomes for metastatic pancreatic cancer patients could improve with biomarker-selected treatment approaches – something that, relative to other tumor types, has been largely futile to date.
Lacey Padron, VP of informatics at the Parker Institute for Cancer Immunotherapy, presented results of an in-depth analysis showing that a distinct signature of biomarkers could select patients most likely to respond to chemotherapy, immunotherapy, or a combination of both.
Combining biomarkers
The biosignature that Padron presented came from deep multiomic analyses of advanced pancreatic cancer patients treated on the three-arm, Phase II PRINCE study, which was led by Robert Vonderheide, director of the University of Pennsylvania Abramson Cancer Center, and jointly sponsored by Bristol Myers Squibb, the Parker Institute, and the Cancer Research Institute, with collaboration from the drugmaker Apexigen. In that study, newly diagnosed metastatic pancreatic cancer patients were randomized to one of three treatment arms: one in which they received BMS's immune checkpoint inhibitor Opdivo (nivolumab) plus standard gemcitabine and nab-paclitaxel; another in which they received Apexigen's CD40-targeted monoclonal antibody sotigalimab plus the same two-chemotherapy regimen; and a third arm in which patients got Opdivo, sotigalimab, and chemo.
The primary results from the study, which were presented last year, showed that the Opdivo-chemo arm slightly outperformed the others in terms of one-year overall survival rates; after a year on treatment, 57.7 percent of patients were still alive, versus 48.1 percent and 41.3 percent in the sotigalimab plus chemo arm and triple-regimen arm, respectively.
"Very interestingly, we observed that these treatment regimens are likely not appropriate for an all-comer metastatic pancreatic cancer population," Padron said. "However, in each arm, we did see patients who benefitted [and had] improved survival."
The goal of the translational study, she explained, was to find out who these patients are, from a biomarker standpoint, and work toward biological assays that could be used to select patients. The translational work was published Friday in Nature Medicine in tandem with Padron's presentation.
Padron and colleagues collected longitudinal tumor, blood, and stool samples from patients before and during treatment. They then performed a host of tests on the samples. For the tumor samples, they analyzed immune and tumor state by vector imaging and performed both DNA and RNA sequencing. They performed circulating tumor DNA (ctDNA) analyses on blood samples looking for KRAS mutations in addition to conducting targeted panels for serum proteomics, and peripheral blood mononuclear cell (PBMC) analysis by flow cytometry and mass cytometry. Using stool samples, they performed shotgun metagenomic sequencing to analyze microbial characteristics.
"The analysis of all of this really extensive multiomic profiling integrated with clinical data is quite a challenge," Padron acknowledged. For this, researchers used a software platform from the Parker Institute called CANDEL to perform a biological systems approach-based analysis.
The researchers homed in on several predictive biomarkers. In the Opdivo-chemo arm, patients with certain T-cell populations were more likely to respond. Patients with above-median populations of PD-1-positive, CD39-positive, effector-memory 1 CD4 T cells, for instance, responded best to this therapy combination.
Patients whose tumors had specific gene signatures were also more likely to respond to Opdivo-chemo. That gene expression signature had high expression of many genes related to what Padron described as an oxidative lipogenic metabolic state. They also had lower expression of genes related to inflammation and immunosuppression. TNF-alpha signaling in pre-treatment tumors turned out to be a biomarker of resistance to treatment in this arm.
Patients who responded well to sotigalimab-chemo, on the other hand, were more likely to have high populations of PD-1-positive, Tbet-positive, non-naïve CD4 T cells. Their tumors were more likely to have high expression of genes relating to a TH1 and TH2 response and interferon gamma, among other gene-related findings that differed from the Opdivo-chemo responders.
Interestingly, Padron and colleagues found that very few biomarkers predicted survival benefit in patients treated with all three therapies. The biomarker signatures that worked for the other arms didn't quite work for the triplet arm, either. While it will take further investigation to know why, Padron and colleagues theorized that maybe all three treatments together lead to a hyperactive and dysfunctional immune state.
"We think that immune profiling in the periphery could be a novel means of precision oncology, especially for immunotherapies," Padron said, stressing that going forward, it will be important to perform prospective studies to validate the biomarkers, particularly the blood-based biomarkers of response to Opdivo-chemo and sotigalimab-chemo.
KRAS wildtype and nimotuzumab response
Meanwhile, Shukui Qin, a professor and chief physician at the Jinling Hospital Cancer Center of the Nanjing University of Chinese Medicine, presented results from a small but, according to researchers at ASCO, quite significant randomized clinical trial evaluating the drug nimotuzumab for metastatic pancreatic cancer patients whose tumors do not harbor KRAS mutations. Even though most predictive tumor mutations tend to show up in a small subset of cancer patients, KRAS mutations are more prevalent in pancreatic cancer patients, and it's the wildtype patients who are the minority. Only 10 percent to 15 percent of patients do not harbor KRAS mutations.
The randomized Phase III NOTABLE trial pitted the anti-EGFR monoclonal antibody nimotuzumab followed by chemotherapy against placebo followed by chemo. The trial enrolled 92 advanced or metastatic pancreatic cancer patients with KRAS-wildtype tumors.
The drug nimotuzumab, of note, is a joint product of now-dissolved YM Biosciences and Cuba's Center of molecular immunology (CIM) and is commercially available for patients with nasopharyngeal cancers in China, and for glioma and other head and neck cancer patients in a number of other countries including Cuba and India. The drug is not approved in the US or in Europe.
The 46 advanced pancreatic cancer patients who received treatment with the nimotuzumab-chemo combination lived for a median of 10.9 months versus 8.5 months for those who received placebo followed by chemo. After a year following treatment, 43.6 percent of patients who received the combination were still alive versus 26.8 percent of patients in the control arm. After three years, these survival rates were 13.9 percent versus just 2.7 percent for the nimotuzumab combination and the placebo combination, respectively.
"We believe our NOTABLE trial will be a breakthrough in the field of pancreatic cancer," Qin said in a statement to members of the media on Friday. "The outcomes in this trial may bring new hope to patients with KRAS wildtype pancreatic cancer."
Outcomes were also improved in terms of the time patients lived without their cancers getting worse. The median progression-free survival time for patients treated with nimotuzumab and chemo was 4.2 months versus 3.6 months among patients treated with placebo plus chemo.
The researchers also looked into patients' surgical history and found that they lived longer when they received nimotuzumab with chemo versus chemo alone but also did not have prior bile duct obstruction surgery. Among patients who did not need surgery to address biliary tract obstruction, the median overall survival time was 11.9 months with nimotuzumab plus chemo and 8.5 months for just chemo. For patients who had no surgical history, the median overall survival times with nimotuzumab-chemo versus placebo-chemo was 15.8 months and six months, respectively.
In terms of safety, the adverse events were similar in the two treatment arms and were mostly associated with gemcitabine, the chemotherapy used in the trial.
While the survival improvement may have only been about two and a half months, the gain is significant given these patients' dire prognoses. Patients with metastatic pancreatic cancer typically live about three to six months with available treatments.
"To see any survival benefit in a trial for metastatic pancreatic cancer is of interest," Cathy Eng, co-director of gastrointestinal oncology at the Vanderbilt Ingram Cancer Center, said in a statement to members of the press on Friday. Going forward, Eng added that additional studies evaluating the drug with the combination of the two chemotherapy agents, gemcitabine and nab-paclitaxel, would be worth looking into, too. "We should consider validating any potential advances to make a true difference in the lives of all patients with pancreatic cancer," she said.