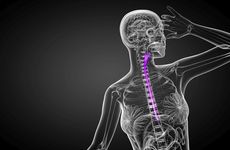 NEW YORK (GenomeWeb) – A team of researchers have developed an array-based classifier that they say can be used to predict whether chemotherapy will be effective on patients with esophageal cancer.
The test relies on a signature that Almac Diagnostics developed for stratifying breast cancer patients, but which, as the researchers showed, can be used in other cancers as well.
The team, led by scientists at Queen's University Belfast, decided to test the use of the classifier, called the DNA damage immune response (DDIR) signature, in esophageal cancer patients. The study was profiled in a paper in the journal Gut last month.
The UK, along with Ireland and the Netherlands, has the highest incidence of esophageal cancer in Europe. According to Cancer Research UK, there were about 9,200 cases of the disease reported in the UK in 2015. It accounts for 3 percent of cancer cases in the UK each year.
Most esophageal cancer patients undergo conventional treatment in which chemotherapy is used to shrink the tumor, followed by surgical removal. However, some patients show no response to chemotherapy at all, making it treatment by chemotherapy unnecessary.
"In esophageal cancer, we have always known there is a subset of patients who respond particularly well to chemotherapy and get a complete response to chemotherapy, and there is a subset that responds little," said Richard Turkington, a clinical senior lecturer at QUB and corresponding author on the paper.
"The usefulness of this test is to try to predict those patients who will respond to the DNA damage in chemotherapy. And for those who are not going to respond, we can offer them an alternative," he said.
Though Almac's DDIR test was initially developed for breast cancer, as profiled in a 2014 JNCI paper, the 44-gene assay includes a number of well-known immune targets and several cytokines associated with inflammation that makes it suitable for assessing pathological response to DNA-damaging chemotherapy in other cancers.
As highlighted in the paper, the authors believed that an assay that could predict pathological response to therapy, and improved survival, could be used to select patients for whom DNA-damaging chemotherapy would be most beneficial.
"It seems to be a common core biology across different cancers," said Turkington.
Turkington and colleagues worked with Craigavon, UK-based Almac on the ensuing study, which also involved sourcing samples and clinical data through the Oesophageal Cancer Clinical and Molecular Stratification (OCCAMS) consortium, a CRUK-funded project led by researchers at the University of Cambridge. Turkington described his work as a "spinout study" of OCCAMS.
The researchers profiled 273, formalin-fixed, paraffin-embedded esophageal cancer biopsies using Almac's Xcel array, a chip the company optimized for use in formalin-fixed, paraffin-embedded samples. Affymetrix, now part of Thermo Fisher Scientific, manufactures the array. All of the samples came from patients who had been treated with platinum-based neoadjuvant therapy between 2003 and 2014 at four centers in the OCCAMS consortium.
Of the 273 samples interrogated, 66, or 24 percent, were DDIR positive. The remainder were DDIR negative. Being DDIR positive was correlated with a higher pathological response rate, as well as the increased presence of CD8+ lymphocytes and PD-L1 expression, both of which signal immune response. Based on these findings, the authors determined the DDIR assay to be "strongly predictive" of benefit from DNA-damaging neoadjuvant chemotherapy followed by surgical resection.
"Essentially, the test can identify people upfront who will do best on the chemotherapy," said Turkington.
The next step for Turkington's team is to validate the assay in a clinical trial cohort. "This was an unselective, retrospective cohort," he said. "We would like to validate our finding in a retrospective trial data set, and we are in discussions as to how this assay could be taken forward in a prospective clinical trial and used to stratify patients." Turkington said his group is in discussion with multiple potential partners, whom he did not identify.
"There is a fair amount of work to do, but we are hopeful this will find its way into routine clinical practice," he said.
Move to NGS
Though the data in the current study were generated using microarrays, Turkington noted that Almac has developed a next-generation sequencing-based assay to profile the DDIR signature in FFPE samples.
Richard Kennedy, global vice president of biomarker development at Almac, confirmed that the company had recently migrated the signature to an RNA exome sequencing platform, due in part to the "increased uptake" of RNA sequencing as a biomarker discovery and development tool.
"The DDIR signature is highly concordant between the microarray discovery platform and the RNA exome delivery platform," said Kennedy.  "Analytical validation of DDIR on RNA exome is ongoing and this is proving to be a robust platform, amenable for delivery and prospective clinical testing," he said.
Kennedy added that Almac plans to have the assay suitably validated so that it "can be used by pharma companies for the purpose of clinical trials, with the possibility of it eventually entering the clinic as a companion diagnostic."
In addition to the ongoing relationship with Turkington's team at QUB, Kennedy noted that Almac has various partnerships and collaborations in progress related to the DDIR signature, including work with some "large global biopharma companies."
Kennedy said the studies span a range of disease indications within oncology, including breast, ovarian, colon, and prostate cancer. He said these partnerships have the potential to not only further validate the DDIR signature for predicting response to DNA-damaging chemotherapy, but also for predicting response to more targeted therapies, such as immune checkpoint inhibitors. This is possible, Kennedy noted, due to the "underlying immune biology that defines the signature."