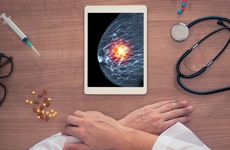 NEW YORK – For patients whose hormone receptor-positive, HER2-negative metastatic breast cancers progress after treatment with combined CDK4/6 inhibitors and endocrine therapy, there's no added benefit of continuing treatment with Pfizer's CDK4/6 inhibitor Ibrance (palbociclib) plus a different endocrine therapy as the next line of treatment, suggest Phase II study results presented during the San Antonio Breast Cancer Symposium.
During a presentation Thursday, Erica Mayer, director of breast cancer clinical research at the Dana-Farber Cancer Institute in Boston, shared the results of the randomized, Phase II Palbociclib After CDK and Endocrine Therapy, or PACE, clinical trial, in which 220 patients were randomized to receive either the endocrine therapy fulvestrant, fulvestrant plus Ibrance, or a triplet combination of fulvestrant, Ibrance, and Pfizer and EMD Serono's PD-1 inhibitor Bavencio (avelumab).
"Whether a CDK4/6 inhibitor should be continued at time of disease progression has been an open question," Mayer said.
The primary aim of the study was to compare progression-free survival across the fulvestrant monotherapy and doublet arms; looking into relative outcomes with the Bavencio triplet therapy was a secondary goal. Mayer said that the third arm was included in the study based on preclinical data suggesting CDK4/6 inhibitors and checkpoint inhibition could have synergistic efficacy after patients progress on prior therapy.
All of the patients enrolled in the trial had to have HR-positive, HER2-negative metastatic breast cancer and had to have previously received treatment with a combination of endocrine therapy — with the exception of fulvestrant — and any CDK4/6 inhibitor, including Ibrance, Eli Lilly's Verzenio (abemaciclib), or Novartis' Kisqali (ribociclib). For over 90 percent of patients, Mayer noted, this prior CDK4/6 inhibitor received was Ibrance.
After a median follow-up time of 23.6 months, Mayer reported, it was clear that combining Ibrance with fulvestrant had no benefit versus fulvestrant alone. Indeed, the median progression-free survival time among patients receiving fulvestrant monotherapy was 4.8 months versus 4.6 months for those who received Ibrance and fulvestrant.
"It seems pretty clear that we cannot recommend the continuation of the use of palbociclib beyond progression on palbociclib [plus endocrine therapy] as a routine strategy for clinical practice," Shom Goel, a clinician-scientist at the Peter MacCallum Cancer Center in Melbourne, Australia, said during a discussion of the PACE results following Mayer's presentation.
Interestingly, progression-free survival times were almost double in the triplet arm; patients receiving Ibrance, fulvestrant, and Bavencio lived for a median 8.1 months without their cancers progressing. The one-year progression-free survival rates were 17.5 percent for fulvestrant alone and 13.5 percent and 35.6 percent for the doublet and triplet arms, respectively.
"The observed longer progression-free survival when a PD-L1 inhibitor was added to fulvestrant and palbociclib is an intriguing signal in this hormone receptor-positive population and deserves further study," Mayer said.
In his discussion, Goel also called the improved results with the triplet an "intriguing trend" and said the effect could be due to the ability of CDK4/6 inhibitors to promote anti-tumor immunity and suppress the otherwise immunosuppressive regulatory T cells and, in turn, spur CD8-positive T cell differentiation in the direction of a more memory- or stem-like state. "This is the kind of phenomenon that gives the immune system stamina to go the long haul," Goel said.
Overall, 10.8 percent, 13.7 percent, and 17.9 percent of patients in the respective monotherapy, doublet, and triplet arms of the PACE study responded to the regimens. And although the trial wasn't designed with overall survival as one of its endpoints, Mayer reported out these data, too; median overall survival times across the three arms were 27.5 months, 24.6 months, and 42.5 months for the monotherapy, doublet, and triplet, respectively. The safety profile of the treatments were manageable across the arms, with no unexpected immunotherapy-related toxicities, she said.
Biomarker analyses
Before randomization on the PACE trial, investigators collected patients' baseline archival tissue samples and circulating tumor DNA samples. Using Guardant Health's Guardant360 blood-based next-generation sequencing panel, they sequenced these samples, which were available for 200 out of 220 patients on the trial.
Here, Mayer and colleagues were particularly interested in mutations in three pre-specified genes: ESR1, PIK3CA, and any Rb mutations. At baseline, 54 percent of patients harbored ESR1 mutations, 35 percent harbored PIK3CA mutations, and 11.5 percent harbored Rb mutations. Through an exploratory analysis considering these baseline genomic characteristics with outcomes, the investigators found that patients who did have a baseline mutation in one of these three pre-specified genes trended toward experiencing more benefit from continuing with Ibrance.
"The presence of the mutations perhaps indicates endocrine resistance," Mayer suggested.
For instance, among patients with ESR1 mutations present in their baseline ctDNA, the combination of fulvestrant and Ibrance improved progression-free survival relative to fulvestrant alone — which contrasted with the trial's overall findings about the lack of added benefit. Patients with ESR1 mutations at baseline lived a median of 3.3 months without their cancers progressing when given fulvestrant alone, but 5.2 months when given fulvestrant plus Ibrance. The same was not true, though, of patients with wild-type ESR1 who, like the overall trial population, had better outcomes with fulvestrant alone than with the combination. For patients with PIK3CA wild-type versus PIK3CA mutated tumors, Mayer and colleagues saw a similar trend to the ESR1 analysis; patients with the mutations actually did benefit from the added Ibrance.
Given these interesting exploratory findings, Mayer said that she and her colleagues are continuing to evaluate serial ctDNA and CTC samples from the study to explore the mutational and resistance landscape as well as potential markers of sensitivity to immunotherapy in this patient population.
Lingering CDK4/6 resistance uncertainties
In his discussion, Goel pointed out that the key question behind the PACE trial — which he called a "really poorly understood issue" in the field right now — is: Why, exactly, do patients relapse following their initial treatment with CDK4/6 inhibitors and endocrine therapy?
"It reflects a breakdown of the synergy, but we don't really know what has gone wrong," Goel said. "The question the PACE trial is asking is: 'Can we fix that breakdown by simply changing one part of the treatment regimen and keeping the other one going in the background?'"
Given the PACE results, the answer seemed to be a clear no, but Goel did point out that the results seemed to disagree with those of the Phase II MAINTAIN trial, which was designed to evaluate another CDK4/6 inhibitor, Kisqali, after patients' progression on a prior CDK4/6 inhibitor plus an aromatase inhibitor or tamoxifen or fulvestrant. In that trial, the combination of the endocrine therapy and Kisqali did improve progression-free survival.
Goel was careful to point out important differences between the trials, namely that one was essentially Ibrance after Ibrance and the other was Kisqali after Ibrance. "We can only speculate if that has anything to do with the differences we see here. … Could there be that there's something beneficial about switching CDK4/6 inhibitors?" he asked as a hypothetical. "What would happen if we did it the other way around [with] palbociclib after ribociclib? We simply don't know."
Ultimately, Goel cautioned against either the PACE or MAINTAIN trials being interpreted as the be-all and end-all for clinical practice, namely due to their small sizes and other limitations. "There are imbalances in the patient characteristics between the trials, within the arms of each trial, and in the performance of the control groups in each study," he noted.
Looking ahead, Goel suggested more valuable insight could come of the results from several larger ongoing clinical trials, including the Phase III EMBER-3 trial evaluating endocrine therapy versus Eli Lilly's investigational imlunestrant versus imlunestrant and Verzenio after prior CDK4/6 inhibitor treatment, and the Phase III PostMONARCH study evaluating fulvestrant plus or minus Verzenio after any CDK4/6 inhibitor.
"Even if a day comes when we do decide continuing these drugs beyond progression is a reasonable strategy, we're going to have to choose when to deploy that strategy while simultaneously considering all the other drugs that are coming up in this therapeutic landscape," he added.