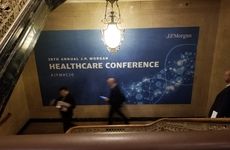 SAN FRANCISCO - On the third day of the 38th annual JP Morgan Healthcare Conference, Puma Biotechnology provided an update on the development program for its HER2-targeted drug neratinib (Nerlynx), while Natera discussed the application of its Signatera genetic test in precision oncology trials. Below are brief reports on the presentations covered by our team at the conference and in our offices in New York.
---
Puma Biotechnology
Alan Auerbach, CEO of Puma Biotechnology, discussed the development of neratinib (Nerlynx), which the company has been exploring in the Phase II SUMMIT basket trial across multiple tumor types with HER2, HER3, or EGFR mutations or with EGFR gene amplification. The drug has already been approved by the US Food and Drug Administration and has marketing authorization from the European Commission for the extended adjuvant treatment of early stage, HER2-positive breast cancer after adjuvant trastuzumab-based therapy. Auerbach said that the drug was recently commercialized in Germany, the UK, and Australia, and that neratinib will become available across Europe in the next two years.  
He also addressed the high discontinuation rates with neratinib due to diarrhea. In the Phase III study that led to the drug's approval, nearly 40 percent of patients had grade 3 or more severe diarrhea, and around 17 percent discontinued the trial due to this adverse event. However,prophylactic use of anti-diarrheal medications was not mandatory in this study, and Puma started the CONTROL trial to see if the use of anti-diarrheal drugs could lessen the side effects. Based on data so far, loperamide prophylaxis appeared to reduce the incidence and severity of diarrhea. The company has also rolled out an education program about starting patients on a lower dose and escalating that to increase tolerability of the drug. In Q4, almost 29 percent of patients started the drug on a reduced dose, Auerbach said. 
Despite this side effect, neratinib has an advantage over other HER2-targeted agents, Auerbach noted, since it can cross the blood brain barrier. This benefit became apparent in the Phase III NALA trial, which compared neratinib and the chemotherapy capecitabine (Genentech's Xeloda) against lapatinib (Novartis' Tykerb) plus capecitabine in third line HER2-positive metastatic breast cancer. The data presented last year at the American Society of Clinical Oncology's annual meeting showed that the combination of neratinib and capecitabine reduced the risk of death and the incidence of central nervous metastases compared to lapatinib and capecitabine. The FDA has accepted Puma's supplemental new drug application based on data submitted from this study, and the company anticipates hearing back from the agency in April. 
Additionally, Auerbach talked about progress in the SUMMIT basket trials targeting tumors with mutations in EGFR exon 18, HER2, or HER4. The design of the trial allows that if at least one of the first seven enrolled patients respond to the therapy, the cohort will be expanded to 18 patients. If at least four patients respond during the second stage, then the cohort will be even further expanded or broken out into a separate trial. 
Auerbach said that the HER2-mutated breast cancer cohort will be expanded. For the hormone receptor-positive/HER2-negative and HER2-mutated metastatic breast cancer cohort, Puma is planning to seek accelerated approval. The HER2-mutated cervical cancer cohort will also expand, and Auerbach thinks that monotherapy data from this indication can also be used to file for accelerated approval based on overall response rate and duration of response. Puma is hoping to meet with the FDA by year end or in early 2021 to discuss expedited approval for its new drug applications. 
Puma is also conducting a trial in which researchers are using the Almac HER-Seq Assay Kit to test metastatic breast and cervical cancer patients for somatic HER2 mutations in their blood. In the trial, patients are eligible for testing at three- to six-month intervals to monitor them for progression. If mutations are detected in ctDNA, patients may be eligible for treatment with neratinib. The company wants to expand screenings in order to expedite enrollment in the SUMMIT trials. 
Natera
Natera CEO Steve Chapman discussed the firm's cell-free DNA-based testing business for oncology, including the launch of a new clinical trial for its Signatera assay for colorectal cancer monitoring and residual disease testing. The trial, called COLUMBIA-2, is being sponsored by AstraZeneca. It is a prospective, randomized platform clinical study of stage II or III microsatellite-stable CRC patients, who are tested with Signatera after surgery to determine which patients should receive adjuvant chemotherapy and/or novel treatments.
Chapman said that the trial is significant because it is the first time that a trial's primary endpoint will be clearance of circulating tumor DNA after six months of treatment, as measured by Signatera.
The news of this trial piggybacked on another new trial Natera announced earlier in the day: the CIRCULATE-IDEA trial in Japan, a collaboration with the National Cancer Center (NCC) Japan. This is a prospective, multi-center, randomized trial to investigate ctDNA-guided treatment strategies for patients with stage II or III colon cancer, based on the results of molecular residual disease testing with Signatera. The trial is organized by the NCC and national in scope, Natera said in a statement, and will enroll approximately 1,500 patients from over 100 cancer centers across Japan.
There will be multiple investigational arms in CIRCULATE-IDEA, including treatment escalation (experimental therapies) in patients who test MRD-positive after surgery, and treatment de-escalation (no chemotherapy at all) in patients who test MRD-negative after surgery. The study's primary objective, Natera said, is to demonstrate that MRD-negative patients derive no significant clinical benefit from adjuvant chemotherapy and thus may safely avoid it.
Natera also launched a new clinical study for Signatera last week, called BESPOKE CRC. This nationwide multi-center prospective registry study aims to measure the clinical impact of serial testing with Signatera in patients with stage II or III colorectal cancer. The test is designed for MRD assessment, early relapse detection, and patient risk stratification after surgery.