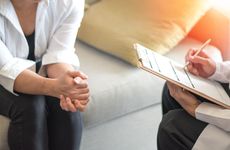 NEW YORK – An autologous non-engineered cell therapy developed at a University of Edinburgh lab has shown promise by reducing complications in patients with end-stage liver disease, according to data presented at the American Association for the Study of Liver Diseases conference in Boston on Monday.
The treatment involves extracting patients' monocyte white blood cells from blood plasma and converting them into macrophage immune cells. Now, Resolution Therapeutics, a biotech startup and University of Edinburgh spinout, will take the learnings from this proof-of-concept program and advance an engineered cell therapy fit for commercialization.
Researchers presented data on Monday from a completed open-label Phase II trial, dubbed MATCH Phase 2, where patients with compensated cirrhosis — the asymptomatic stage of disease — received either a cell therapy infusion or standard care for cirrhosis, in which clinicians treat complications of the disease, like fluid build-up in the abdomen or bleeding issues in the gut, as they develop.
Today, "the [standard] treatments just deal with the consequences of cirrhosis," but not the disease itself, said Stuart Forbes, director of the University of Edinburgh's Center for Regenerative Medicine, whose lab developed the cell therapy. "There's no specific therapy to try to reverse the liver damage, which is what we're trying to do."
Forbes envisions that a cell therapy utilizing macrophages, cells involved in the immune system and associated with fibrosis and tissue repair, will be able to stimulate tissue regeneration in patients with liver cirrhosis. That regeneration will hopefully repair liver tissue enough to reduce complications and even delay patients' need for a liver transplant, which is currently the only treatment option for advanced liver disease.
In the MATCH 2 study, investigators assessed outcomes from 50 patients in Scotland with liver cirrhosis, 26 of whom received the cell therapy and 24 of whom received standard care. After one year, patients in the cell therapy group had no liver-related clinical events, while four patients in the standard care group had liver-related severe adverse events like ascites or infections. Three patients died in the control group, but there were no deaths in the cell therapy arm.
"It's still a relatively small study," Forbes said. "But we're very encouraged by these data."
Following on the data, the cell therapy will be advanced by Resolution, which Forbes cofounded at the University of Edinburgh in 2020. The company then spun off with support from Edinburgh Innovations, the technology commercialization arm at the university, and it still operates out of the university's Center for Regenerative Medicine. Forbes continues to serve as a scientific adviser and member of the board of directors.
Resolution is developing its own engineered version of the autologous macrophage cell therapy, which builds on the proof-of-concept treatment tested in the MATCH 2 study. Dubbed RTX001, the firm's lead therapy is derived from patients' monocytes. But before the macrophage cell therapy can be infused back into the patient, the firm uses messenger RNA to insert two genes that are involved with anti-fibrotic and anti-inflammatory effects when expressed in macrophages.
Resolution declined to disclose which two genes it is modifying in this process, but said it is betting that the insertion of the genes will elicit a more effective and durable response in patients with liver cirrhosis who have already begun to decompensate.
"We believe that these patients, who have suffered for years with liver injury, require a more potent and a more durable clinical response," said Resolution CEO Amir Hefni, who joined the firm in August from Novartis, where he led cell and gene therapy efforts.
Resolution plans to begin recruiting patients in the UK and Spain next year into a Phase I/II clinical trial, dubbed EMERALD, that will evaluate the safety and efficacy of RTX001. Investigators will enroll patients with liver cirrhosis who have been hospitalized after their first decompensation event and monitor clinical outcomes including mortality and disease severity. They will compare patients' outcomes on RTX001 to patients enrolled in a natural history study of end-stage liver disease that is currently underway in the UK.
If the Phase I/II trial is successful, Resolution will advance RTX001 into a pivotal study that will take place in the US and multiple countries in Europe, Hefni said. The firm has begun conversations with regulators at the UK Medicines and Healthcare Products Regulatory Agency and the US Food and Drug Administration, he added.
Although the results presented Monday are for a non-engineered version of the cell therapy, Hefni said it's an "incredible" vote of confidence for the potential of macrophages in cell therapy. "We actually have a clinical proof of concept of the utility of macrophage cell therapy in patients suffering from liver disease," he said. "It really highlights that we're on to a modality here that can have a huge impact on patient outcomes."